Yucatan Adventure

▫ Home

▫ Special Offers

▫ Places to Shop

▫ Things To Do

▫ Contact Us

▫ Join our Eco-Guide

▫ Cenote

▫ Ecotourism

▫ Wedding Photographer

▫ Destination Weddings

▫ Maya People

▫ Maya Spa

▫ Mayan Cooking

▫ MFIL Nutrition Centers

▫ Join our Eco-Guide



▫ Mayan Art Masters

▫ Mayan Calendar

▫ Mayan Rituals

▫ Maya Civilization

▫ Maya Cosmovision

▫ Colonial Traditions

▫ Maya Gods & Deities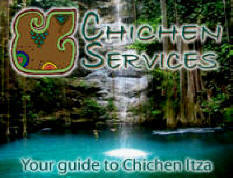 Eco-Cultural Vacation
Packages to fully enjoy
Chichen Itza, Yucatan.

Archaeologists:

▫ Edward Thompson

▫ Jean Charlot

▫ Merle Greene

▫ Tatiana Proskouriakoff



Sponsored Site: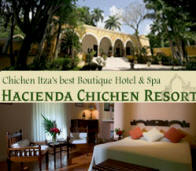 Reserve your stay at great
Hotels & Green Hacienda
in Yucatan, Mexico.

We Recommend:
Mexico's Top Eco-Spa Resorts

Best Green Hotels in Yucatan

Best Eco-Wellness Vacations
Mayan Eco-Travel Packages

Yucatan's Mayan Spa Offers

Top Haciendas in Yucatan

Mexico Top Green Spa Resorts
Yucatan Birding Tours

Chichen Itza Eco-Activities

Yucatan Wedding Destinations

Gourmet Mayan Fusion Cuisine
Yucatan's Best Green

Vacation Packages

Yucatan Cenote Visits

Participate in our
Yucatan Adventure's

YUCATAN ADVENTURE ECO-TRAVEL GUIDE
Spa Health and Beauty Article

Ya'ax Tun:
Mayan Jade Algae Nourishing Care
Yaxkin Spa's Ultimate Spa Therapy and Skin Care

Blue green algae, also known as Spirulina algae, exists as a single celled organism in fresh water ways, turning sunlight into life energy. The blue-green algae from Yucatan's cenotes were used by ancient Mayan healers as a natural organic skin healing and cleansing element and it was highly appreciated by Mayan Royalty due to the algae's detoxification rich nutrients. Like the Maya ancient people, Aztecs also use fresh water blue-green algae or Spirulina as a food supplement for its rich nutrition value.

Yaxkin Spa now offers the ultimate nourishing skin purification and beauty care: Ya'ax Tun Skin Care or Mayan Jade algae body mud and Spa skin rejuvenating treatments. In Yucatan's cenote green algae exist great levels of phycocyanin concentration, an organic pigment within the algae living cells that act as anti-aging and antioxidant agents, protecting the skin cells from damage due to certain radicals. Phycocyanin has been proven to have significant anticancer properties and anti-stress qualities. Blue green algae also contains high quantities of lipids, biologically active enzymes and energizing glyco-proteins.

Today, Yaxkin Spa Mayan healers use cenote fresh water blue-green algae for their rich essential nutrients to detoxify and restore the skin wellbeing; our deluxe algae body mud and skin care leaves skin smooth, nourish, moisturized and with a velvet soft glow improving the overall skin condition of your body. Ya'ax Tun, our Mayan Jade Spa skin nourishing therapy, will revitalize and nourish your body's skin cells with its light rhythmic massage strokes to help absorb the natural rich nutrients of our gentle Mayan Jade algae body mud and wrap. Applied gently this spirulina algae body mud nourish the skin cells after a delicious natural mineral water body wash to increase skin's health, tone, detoxification, moisture and nourishment.

Ya'ax Tun blue green algae abounds in Yucatan's alkaline fresh water cenotes such as the sacred cenote in Chichen Itza, Yucatan, Mexico, where it grows naturally in an 100% organic manner. The blue-green algae contain high concentration of B1, B2, B3, B6, B9, Vitamin C, D, and E; plus, they are rich in potassium, zinc, calcium, iron, selenium, and other minerals. Ya'ax Tun algae skin care use at Yaxkin Spa is a potent anti-aging skin nutrient and Mayan Spa skin treatment that works marvelously in any type of skin. Ya'ax Tun blue green algae body mud, and skin cells Spa treatment, nourishes the body's skin cells prolonging their youth and natural healthy beauty; thus preventing cell aging prematurely.

Yucatan cenotes' blue green algae capitalize on the direct energy of the sun more than any other food or nourishing element; these Mayan Jade algae, as it is called by Elder Mayan Healers, are found in Yucatan's jade cenote waters and collected with great care for Yaxkin Spa green algae body mud and skin care spa treatments. Indeed, no other Mayan Spa in the Riviera Maya or Yucatan, offers such nourishing skin care with this rich body algae mud for skin detoxification. Guests at Hacienda Chichen are highly recommended not to miss the great opportunity to book a Ya'ax Tun (spirulina algae body mud skin spa treatment) in advance to save 10% for all prepaid Spa reservations.

Yaxkin Spa offers a unique blend of Maya Jade algae and herbal medicinal traditions to nourish and health your skin's irritated cells bringing back the natural healthy beauty of the skin, elasticity, glow, tone, moisture, and regenerating the smooth external skin coat of young skin cells by increasing the blood flow and nourishing the skin's various layers.
Indulge in Yaxkin Spa's Ultimate Mayan Jade Algae Skin Care,
Yucatan's rich green blue algae from ancient cenote waters.
IMPORTANT SKIN FACTS:

Skin is a vital organ that covers the entire body, forming a protective barrier against pathogens and injuries from the environment; it is the body's largest organ; about 2 mm thick and weighs approximately six pounds. It shields the body against heat, light, injury, and infection. The skin also helps regulate body temperature, gathers sensory information from the environment, stores water, fat, and vitamins and absorbers vitamin D and collagens. Thus, proper skin care is of utmost importance to avoid cells premature aging and deterioration of the skin health cause by excessive radical agents, intense pollution and sun exposure, lack of nourishing and habits that damage skin cells. It is important to remember that the skin plays a role in the immune system protecting us from many diseases as much as it plays an important role in our personal image and self-esteem; proper skin care should start early in life; skin protection, skin cleansing, and skin nourishing are vital tools to prevent premature aging, diseases, lost of skin elasticity and skin health.
Blue Green Algae Ultimate Skin Spa Care at Yaxkin Spa will revitalize
the natural health of your body's skin layers and slow skin cells aging.

How Mayan Jade Algae Skin Care prevents premature skin cells aging? The stratum corneum is the outermost layer of the epidermis, and is made up of 10 to 30 thin layers of continually shedding, dead keratinocytes; blue green algae Spa wraps help damage skin cells by aiding them recover vital nutrients and by helping the cells retain their healthy resilience, elasticity and by nourishing them. As the stratum corneum outermost cells age and wear down, they are replaced by new layers of strong, long-wearing cells. The stratum corneum is sloughed off continually as new cells take its place, but this shedding process slows down with age due to nourishment depravation, radical agents, excess of sun burns and tans, and other toxin elements during one's life. Complete cell turnover occurs every 28 to 30 days in young adults, while the same process takes 45 to 50 days in elderly adults.

Collagen and Elastin - The dermis is held together by a protein called collagen, made by fibroblasts. Fibroblasts are skin cells that give the skin its strength and resilience. Collagen is a tough, insoluble protein found throughout the body in the connective tissues that hold muscles and organs in place. In the skin, collagen supports the epidermis, lending it its durability. Elastin, a similar protein, is the substance that allows the skin to spring back into place when stretched and keeps the skin flexible. Ya'ax Tun algae skin care and body mud will restore the dermis health supporting the epidermis cells strength by nourishing enriching the skin cells development, purifying the overall skin of the body with its rich natural organic nutrients.

Yaxkin Spa: the Best Mayan Wellness Eco-Spa Destination
Green Spa Retreat in Chichen Itza, Yucatan, Mexico
Eco-Spa Wellness Summer Destinations vacation packages and offers at Yaxkin Spa:
Yaxkin Spa offers you a variety of skin and body natural care, including purification and nutritious organic skin treatments to restore the natural beauty of your body, skin, face, hair, nails. Come enjoy Mother Nature gifts: organic algae body rich care, skin purification, skin aging prevention care, relaxation, stress release massages, feet deluxe Spa treatments and much more!
Holistic Healthy Habits for a Better Life: "Practice Meditation Daily"

.
Read some of our Merit Reviews here:
.
Condé Nast Traveler on Concierge.Com: The World 10 Best Eco-Spas.
National Geographic Travel: 10 Top Wellness Destinations in North America.
Spa Magazine: Seek Out Eco-Spa Innovators, Ten Spa's Good List
▫ Links
An Eco-Travel Spa Article written for Yucatan Adventure
Published March 2009 - Updated June 2013, Jan. 2014 / Oct. 2014 / July 2016