▫ Dioon Cycads
▫ Papaya Tree
▫ Ceiba Tree
▫ Agaves and Cactus








Sponsored Sites: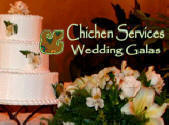 Creative Wedding Galas
in Yucatan, Mexico.





Sponsor Site: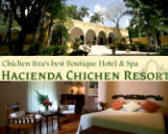 Hacienda Chichen is
Sustainable Tourism in
action and vision.






Sponsor: Site: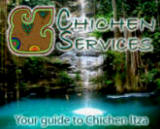 Chichen Services offers
Great Vacation Packages





Sponsor Site: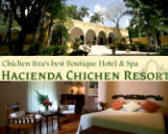 Hacienda Chichen is
Sustainable Tourism in
action and vision.


Mayan Scholar Bios:


Sponsor Site: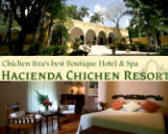 Hacienda Chichen is
Sustainable Tourism in
action and vision.
More Cultural Articles:


▫ Mayan Fine Arts

▫ Mayan Calendar

▫ Mayan Rituals

▫ Maya Civilization

▫ Colonial Traditions

▫ Maya Gods & Deities
▫ Join our Eco-Guide

▫ Maya People

▫ MFIL Nutrition
Xcalacoop Center
▫ Special Offers

▫ Contact Us

▫ Links

Sponsor: Site: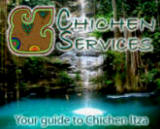 Chichen Services offers
Eco-Spa Vacations
Maya Eco-Cultural
Vacation Packages.

Additional Articles:

▫ Cenote

▫ Ecotourism
Yucatan Flora
Yucatan Fauna

▫ Weddings
Destination

▫ Maya Spa
▫ Mayan Skin Care

▫ Mayan Cooking
▫ Special Offers

▫ Places to Shop

▫ Things To Do
▫ Special Offers

▫ Contact Us

▫ Links
▫ Join our
Eco-Guide

▫ Maya People

▫ MFIL Nutrition
Xcalacoop Center
THE MAYA JUNGLE
FAUNA & FLORA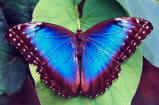 Maya Jungle Conservation
and Reforestation Program.
Sponsor Site: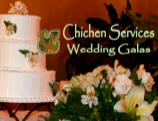 Creative Wedding Galas
for Nature Lovers like you!
Sponsor Site: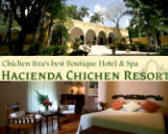 Hacienda Chichen is
Sustainable Tourism in
action and vision.


Mayan Scholar Bios:









Yucatan Adventure Geo-Travel Guide
For the Love of Mother Nature: Yucatan Wildlife. ..

Hacienda Chichen Resort offers you a
Private Bird Refuge and Maya Jungle Nature Reserve
Enjoy Yucatan's Flora and Fauna embraced by majestic
Mayan temples in Chichen Itza, Yucatan, Mexico.
Yucatan's Wildlife: Fauna Quick Links:


.





Remember to visit our article about: Yucatan's Flora
---
SPECIAL CHICHEN ITZA HOTEL OFFER
THREE NIGHTS IN PARADISE 30% Rate Discount!
Book THREE nights at Hacienda Chichen and get 30% off their regular room rates.
Offer valid for new prepaid bookings, arriving Sept. or Oct. 2016.

Visit www.haciendachichen.com
or call USA & Canada Toll Free: 1-877-631-4005 Mexico +52-999-920-8407
Monday to Friday 9 AM to 7 PM and Saturdays 9 AM to 1 PM (MX time)
---
Yucatan's Wildlife: Mammals
found at Hacienda Chichen's private Maya Jungle Reserve
Chichen Itza, Yucatan, Mexico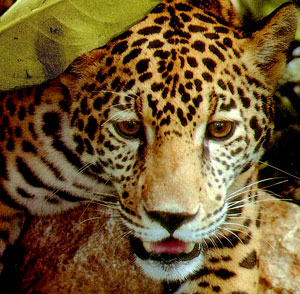 No one can deny the beauty, grace, and power of a big feline such as the "Balam" or Jaguar, Panthera onca, King of the Maya Jungle. His natural territory used to cover this region but such is no longer the case. It is a good thing you will not encounter him in your nature walks at our Nature Reserve. Thus, nature lovers can enjoy close contact with other Yucatan mammals at Hacienda Chichen private Maya Jungle Reserve. In this article you will find brief info and photos of some wonderful animal residents protected in our property. We hope you will enjoy observing their beauty and the lushness of their environment and find in your heart a vital desire to protect them as much as all living expressions in Mother Nature.


One of the most gentle and shy mammals in Yucatan, and at our Maya Jungle Nature Reserve, is the White-tail Deer, Odocoileus virginianus, this deer in Yucatan is a bit smaller than those found in USA and the rest of Mexico. Graceful and lively, the "Ceh" as it is called in Maya, has diurnal habits and can be spotted at dawn and twilight hours grazing on different herbs, shrubs, and fruits, or near "aguadas and sartinejas" water spots. In Yucatan, these mammals are hunted specially by farmers as an important protein source to rural families. Our reserve brings safety and protection to pregnant females and their offspring, and occasionally a few solitary adult male animals.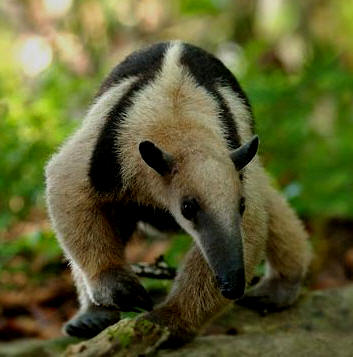 Northern tamandua is an ant eater mammal
that can reach over 5 ft. and weight eight or
more pounds. Their snout is long and thin with
no teeth but a very long, retractile, and sticky.
These shy solitary nocturnal mammals have a
light yellow grayish white fur, strong big claws,
fur, strong long tail that helps stabilize them as
they go from branch to branch searching for a
colony of termites, ants, and insects that hide
or live inside tree bark and trunks. The mammal
Tamandua mexicana is known by Maya people
as "Ahchab" and was hunted massively but now
it is protected to restore its wild population to
continue controlling the insect species density
in Yucatan and Mexico. These animals are shy,
solitary and active during twilight and at night
the ant-eaters distribute their time strolling the
ground and tree branches in deciduous forests.

Kinkajou, Potos flavus, in many ways are the most charming mammals to observe in Yucatan, they love jumping through tree branches at dusk in search of ripe avocados and mamey fruits. Nocturnal, lively, and very likable, Kinkajous can be domesticated as pets but we prefer to enjoy them in their natural wild habitat. Maya people call them "Ak'ab ma'x" or "mico" the Spanish name for Kinkajou. Their body moves with grace atop fruit trees and royal palms in search of foods or insects. They are great seed dispensers and pollinators. Their long tail makes them look like monkeys but watch their face!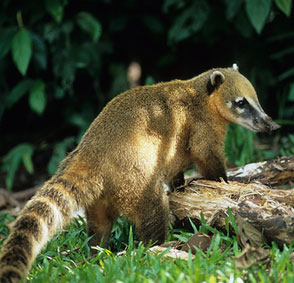 White-nosed coati, Nasua narica, known to
the Maya as "Chiic." Charming small mammals
can reach the size of a common domestic cat
distinguished for its very long tail, carry erect
most of the time. These mammals' have long
pointy snouts; their fur has a cinnamon color
with yellowish undertones. Coatis have truly
defined facial marking with white rings circling
the eyes. A ground dweller active during the
daytime; males are solitary, females and cubs
travel together in groups of six or more. Loves
fallen trunks to dig its burrows. An omnivorous
mammal, the coati feeds on fruit, seeds, small
mammals, birds, eggs and even insects. Lives
in various regions in Yucatan and at our Maya
Jungle Reserve is often found in our low bush
areas, in "rejoyadas" and around the cenotes.
"Chulul" is the Maya name for a Margay, Leopardus wiedii, a small wild cat that is a joy to observe in the wild dense tree tops; at maturity weights an average of ten pounds. Long, slender body, short dense spotted fur, small face and big eyes, the Margay is the only feline to live in the Maya Jungle Reserve in Chichen Itza, a private wildlife reserve in Yucatan that the Hacienda Chichen protects, the species is in danger of extinction and its population severely decreased by illegal hunting and reduction of its habitat. Considered a rare species by Mexican law this lively nocturnal feline hides in deciduous disturbed areas at the crown of tall trees. Resting on branches during the day, Margays mark their territory and feed on small animals.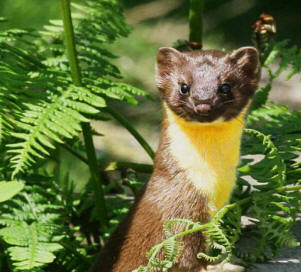 Long-tail weasel, Mustela frenata, known to
the Maya as "Sabin." A charming small mammal
with a slim long body and shinny red brown fur
a top and bright yellow fur under. Their faces
have a long pointy snout, and two white lines
of fur that create a mask effect from snout to
chin. A nocturnal ground dweller active during
the daytime as well, may climb trees nimbly to
catch its pray. Eats fowl, rodents and reptiles.
In the wild, the weasels' charming, intelligent,
and personality is a joy to watch. Adapts well
in various regions, in Yucatan within our Maya
Jungle Reserve, weasels are found in low bush
areas, in "rejoyadas," and around the cenotes.
Known as slippery chiefs, weasels' quick ways
have earned them many representations in our
cartoon prototypes of devious charming thieves.

"Pai och" is the name in Maya for the Striped hog nosed skunk, Conepatus semiestriatus. He can be seen in low deciduous tropical forest and grass areas. Considered a rare species by Mexican law this little fellow is never hunted. A ground dweller with nocturnal habits, hardly ever found during the day; likes to feed mainly with insects although can eat fruits and lizards. A thick black hairy fur with striking white stripes that run from the nose to the sides of the body ending in its fuzzy lush hairy tail; has a long neck and a long snout. Paws with five toes and big sharp nails; it moves in diagonal ways when it gallops or runs. We advise you not to disturbed them to avoid their fetid potent odor.


Nine-banded armadillo, Dasypus novemcintus, is a shy nocturnal small mammal named "Uech" by the Mayas. A likeable chubby fellow with a strong ossified armor that has nine flexible bands and shields that cover the entire upper body. In Yucatan the armadillo can be found with brown or a dark gray color skin an armor. Moving slow and digging hard, the armadillo is more gentle and likeable that an aggressive wild animal. Feeds mainly on insects, butterflies, termites, beetles, etc. Hunted for its delicious tender meat by the Maya farmers as well as for its armor to create crafts, armadillo population has decreased rapidly in Yucatan.


Yucatan yellow bat, Rhogeessa aeneus, Family Vespertiliondae, a small insectivorous bat endemic to the Yucatan Peninsula, Mexico. Bats are the only mammals naturally capable of true sustained flight. Bats forelimps form webbed wings and their spread-out digits are long and covered with a thin membrane or patafium, which bats flap to fly. Bats perform vital ecological roles. Bats in Maya mythology have an important role as they transcend from the underworld (caves) to the celestial realm. All bats are protected at Hacienda Chichen where other bat species are found: Mexican Long-tongued, Lesser dog-like bat, and more.

Enjoy the beauty and grace of Mayan
Wildlife and Bird Refuge Residents:
At the Hacienda Chichen's Bird Refuge and Maya Jungle Reserve in Chichen Itza, Yucatan, Mexico, guests and visitors feel the joy of communing with Mother Nature's wildlife, its Maya flora (plants) and Maya fauna (animals), as the melodies and sight of birds capture guests' hearts! For a full bird photo and ID album go to our:

Hacienda Chichen's Bird Refuge Photos and Brief Info Catalog

Here are some of the birds found in such magnificent Maya wildlife environment at the Hacienda Chichen's Mayan Bird Refuge Gardens and Mayan Jungle Reserve: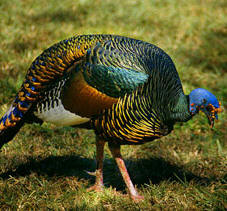 Endemic to Yucatan and protected in our Nature Reserve,
the beautiful Oscellated turkey, Agriocharis ocellata,
is known to the Maya as the grand "Kutz". Males have a
lovely plumage of iridescent golden yellow, violent, indigo
blue, metalic greens and white; their head and neck color
has deep hues of blue and violet with protuberances like
a domestic turkey. Their tails have a semi-circular pattern
near the end of the feathers. Found only in Yucatan, the
Oscellated turkey feeds on seeds, shoots or insects, lives
in small family groups within deciduous low bush forest. A
ground dweller that can not be domesticated and nests in
dense forest spots, sleeping at tree top branches. Mayan
families enjoy to eat these shy and easy to disrupt birds.

The majestic looking Turquoise-browed motmot or "Toh" as the Maya named this bird, Eumomota superciliosa, has distinctive multi-color plumage a light turquoise crown, black eye marks, and two long tail semi-naked feathers with a drop like decorative shape tip. The Blue-crowned motmot, Motmotus momota (right photo) also named "Toh" by the Mayas, has similar facial marks and multi green/blue feathers with yellow/orange bellies, though its two semi-naked tail feathers are a bit shorter. Toh birds are among the few cave dwellers species, nesting in wells and Yucatan's cenotes.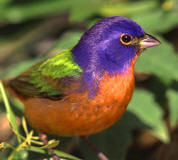 Painted bunting males have a distinctive color pattern plumage:
bright red from their peak's bottom to their belly and tail. Their
backs have bright metallic hues of green, while their head blends
deep indigo blue with violet tones, plus a red circle eye-line. This
beautiful bird is a permanent resident in the Maya Jungle Reserve
in Chichen Itza, Yucatan, Mexico. Passerine ciris female bird has
a pale brown back and yellow/green belly. They inhabit mid - low
scrubland and forest. Shy, reproduces near water areas in wood
dense wild sites. Feeds on seeds, small fruits, and some insects.
At the Hacienda Chichen Bird Refuge it is seen near the pool area.

You will find Summer tanager birds, Piranga rubra, at dawn or during the day perching within our gardens. Males have a distinctive bright red scarlet plumage all over the body but the wings which are a bit darker. A female has a olive-yellow plumage. Although Summer tanager are birds known to migration, at the Hacienda Chichen Nature Maya Jungle Reserve guests and visitors may see these scarlet beautiful birds almost all year around. The main diet of these birds is filled with seeds, insects, or tropical fruits.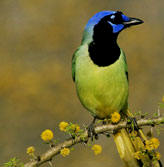 The Green Jay, Cyanocorax yucas, is known in Yucatan as
the majestic "Ses Ib" birds. These wild birds' plumage stands out
with beautiful shades of green on back and wings. A blue-violet
shade top with black marking bib coming from the head sides and
throat. The green tail has yellow feathers on each side that are
seen as it flies. Green Jays inhabit well preserved low or medium
forest, feeding on fruits, tender shoots and flowers. Breeds and
nests in deep foliage areas. Enjoys flying solitary but it is known
to fly in groups of two or more during mating season. Yucatan's
side roads and open forest areas are perfect places to find them.

The Yucatan jay, Cyanocorax yucatecanicus, is an endemic bird species that Maya call "Ch'el." This is a jay with brilliant turquoise blue plumage on back and wings, bright yellow peak, feet, and eyeliner, with black feather head, throat, and belly. Breeds in undisturbed wooded areas, nesting in small flocks. Can be seen eating near banana and fruit crops, or on the ground some insects and seeds. Flies in small groups and enjoys pastures and open fields; very talkative and social. The Yucatan Jay is a medium size bird that can be observed all times of the day. Females birds have black peaks and feet.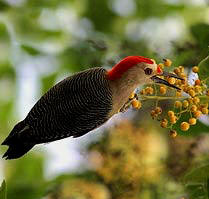 Yucatan woodpecker, Melanerpes pygmaeous, is known
to Maya people as a "Ch'ujum." This woodpecker is endemic
to the Yucatan, living in low forest with plenty of insects to
feed; loves the coconut plantation at Hacienda Chichen, an
area that many families of Yucatan woodpeckers reside year
round. Nests and breeds in old hollow wood branches where
up to four eggs may be incubated for 23 days. Fascinating
birds have black and white strips backs and wings plumage,
and a pale yellow/brown body; the forehead yellow spot is
clearly mark and the crest is vivid red. A large strong peak
with a very long retractable tongue supported by a strong
tendon attached to the skull of these birds help them feed.

Yucatan parrots, "T'uut" in Maya, are another endemic birds, the species is only found in the Yucatan Peninsula, These birds travel in flocks from feeding grounds to their roosting sites. Parrots are monogamous for life and become good pets; but are best enjoy flying free in their medium forest habitat. Yucatan parrots love to fly together in small groups to feed on fruits, seeds, flowers high on tree branches. Talkative and noisy, their plumage is mainly emerald green with indigo blue outline wing feathers; when in flight, their red patched wings can be observed clearly. At the forehead, these birds have a patch of yellow feathers near the peak, a white spot covers the head top, red feather near eyes.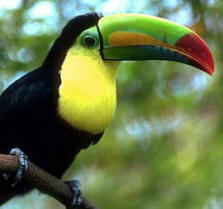 The Keel-billed Toucan is also known as the Rainbow
billed toucan and it inhabits the tropical south forest
in Colombia to Yucatan. The Ramphastos sulfuratus,
are beautiful, colorful birds so attractive and elegant,
they area a joy to observe in the wild. A Keel toucan
has black body, belly, and tail plumage, blue eyeliner,
and a yellow or white bib shaped chest. Feeds fruits,
and seeds, enjoys flying in small groups to perch atop
lush tree canopy. The large peak is light in weight for
it is built as a sponge soft bone covered in keratin a
very waxy protein. The Keel-billed toucan roosts in a
hollow old tree branch with other toucans of the flock.
Very sociable bird that is a joy to watch in the wild as
it flies with his small flock from tree top to tree top.

Up on tree top branches you will find the Orange Oriole, Icterus auratus, an endemic bird species found only in Yucatan Peninsula. The male all body is covered with bright deep yellow with under hues of orange plumage; the wings are black with clearly marked white bands, the eye and neck have some areas of black plumage. It inhabits low forest and areas with fruit and flower trees, eats nectar, insects, seeds, and a few seeds. Nests with other birds of its kind, sociable and adapted, the Orange oriole, weaves impressive nests from plant fibers and tree or grass cuts; its nest are large, made out of straw and dry sticks artistically woven to hang.


Gray Hawk (Buteo nitidus) is a neo-tropical raptor or bird of prey that breeds in the Hacienda Chichen's lush royal palms and forest edges. This beautiful raptor is know to the Maya as Yoksadz. Adult Gray hawks can reach up to 50cm in height and hunt for food primarily using its talons; this raptor eats lizards, snakes and other small animals. Gray hawks display a characteristic curved tip to their beak and have superb vision; they have pale grey body, black tail with three white bands and strong orange legs; gray hawks are short winged with a fast agile flight. Territorial in nature; their nest usual has two pale blue white eggs.



Other endemic birds found in the Yucatan Peninsula that can be observed at the Hacienda Chichen Bird Refuge and Maya Jungle Reserve are the:

Black-throated bobwhite, Colinus nigrogularis, "Bech" in Maya.
Yucatan night-jar, Caprimulgus badius, called "Box Pujuy" in Maya.
Yucatan poorwill, Nyctiphrynus yucatanius, called "Chac Pujuy" in Maya.
Mexican sheartail, Dorich eliza, an emerald green humming bird, "Dzunum" in Maya.
Yucatan flycatcher, Myiarchus yucatanesis, known in Maya as a " X'takay "
Ridway's rough-winged swallow, Stelgidopteryx serripennis, or "Cutzam" in Maya.
Yucatan wren, Campylorhynchus yucatanicus, called " Yan coti" in Maya.
Black catbird, Melapnotilia glabrirostris, or Box Chika' in Maya.
Orange oriole, Icterus auratus, " yuyum" in Maya, popular in our Bird Refuge.
Rose-throated tanager, Piranga roseogularis, rare to observe but can be heard.
Blue Grosbeak, Guiraca caerulea.
Yucatan vireo, Vireo magister,
Yellow-throated Warbler, Dendroica dominica,
Rufous-breasted Spinetail Synallaxis erythrothorax


Other birds found in Hacienda Chichen's Bird Refuge are: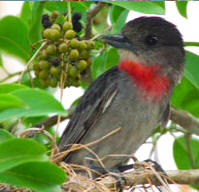 Rose-throated becard, Pachyramphus aglaiae, is a winter migratory resident easy to spot at Hacienda Chichen Bird Refuge and beautiful gardens. Rose-throated becards are small flycatcher birds with gray upperparts, large head with a black feather cap, a fairly large pale rose-red throat spot, and pale gray underparts. Rose throated becards love to catche insects in flight and eat larvae, fruits and small wild berries. Their flight is often for short distances with rapid shallow wingbeats. Rose-throated becard lays two to six white with brown blotches eggs and builds large foot-long globular nests, with bottom entrance.


Indigo Bunting, Passerina cyanea, showcases deep turquoise indigo blue plumage all over with a black mark in front of eyes, when in mating season (male photo); this beautiful indigo song-bird is found in Hacienda Chichen during its migratory winter season (Nov. to March each year); prefers undisturbed lush forest areas and rejoyadas, to observe Indigo bunting birds stroll gently through the hotel's Maya Jungle Reserve. Indigo Buntings migrate at night, using the stars for guidance; since they learn their night sky orientation as young birds observing the stars. The female plumage has pale brown upper feathers.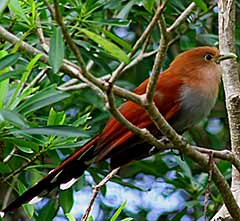 Squirrel Cuckoo, Piaya cayana (Kip Cho in Maya) is
a rather large bird averaging 46 cm long. A shy bird
is found in woodlands and semi-open jungle hedges;
Squirrel Cuckoo birds fly only short distances, leaping
from branch to branch feeding on large insects such
as spiders, caterpillars, wasps, and sometimes fruit.
Squirrel Cuckoo plumage has a cinnamon or chestnut
upperparts covering the top head, then paler on the
throat with an almost pink tone. The lower breast and
belly are grayish. Squirrel Cuckoo's long tail feathers
have black with white band-like tips. The bill is lime
and the iris is red. These beautiful birds call makes
sharp "kip! weeuu sounds and whistles long wheeps.
Females lay 2 or 3 eggs on leaf and twit high nests.

Yucatan wren, Campylorhynchus yucatanicus, called "Yan coti" in Maya. An endemic bird classified as a "near threatened" due to its limited habitat range confined to the Yucatan Peninsula northern region including north-west Campeche, in Mexico. Yucatan wren birds enjoy scattered bushes, pastures, and the bushy edges of the Hacienda Chichen's Bird Refuge grounds where they are protected. It borages in pairs and in family groups on the ground, diet is still unknown but possibly eats small grass seeds in low vegetation areas. Nests and breeds around March and May in ovoid grass nests inside tall bushes.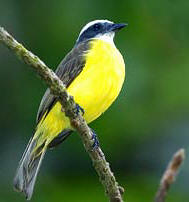 Social flycatcher, Myiozetetes similis (X'takay in Maya) is a member of the tyrant flycatcher bird family. Social flycatcher
birds plumage resemble Boat-billed flycatchers and Great kiskadee birds; but social flycatcher adult birds are smaller,
18 cm. long. The head has a dark almost black crown with
strong white eye stripes; their upperparts are olive brown, wings and tail have gray brown tones. Social flycatcher belly
and underparts have bright yellow feathers and the throat is white. At the Hacienda Chichen these cheerful birds' calls chips-k'-cheery are sang all day long to the enjoyment of guests and visiting birders. Social flycatcher birds love to
perch in the open and feed on small berries. They nest near water spots from February to June. Full time residents at the
Hacienda Chichen where they perch happy near our guests.

A few more birds found in Hacienda Chichen's Bird Refuge are listed bellow, just click their names and read brief info and see photos for ID:
Plain chachalaca, Ortalis vetula (Baach in Maya)
Laughing falcon, Herpetotheres cachinnans (Kos in Maya)
Rudy ground dove, Columbina talpacoti (Chak Mucuy in Maya)
Squirrel Cuckoo, Piaya cayana (Kip Cho in Maya)
Groove billed ani, Crotophaga sulcirostris ( Chic Bul in Maya)
Barn owl, Tyto alba ( Xoch' in Maya)
Ferruginious pygmy owl, Glaucidium brasilianum ( X;nuk in Maya)
Green breasted mango, Anthracothorax prevostii (Dzunum, all hummingbirds)
Rubby throated hummingbird, Archilochus colubris, (Dzunum Maya)
Buff billied hummingbird, Amazilla yucatanensis (Dzunum in Maya)
Lineated woodpecker, Dryocopus lineatus (Colonte in Maya)
Great kiskadee, Pitangus sulphuratus, ( X'takay in Maya all similar birds in colors)
Boat-billed flycatcher, Megarynchus pitangus (X'takay in Maya)
Social flycatcher, Myiozetetes similis (X'takay in Maya)
Tropical king bird, Tyranius melancholius (X'takay in Maya)
Mask tityra, Tityra semifasciata, (Pelan K'euel in Maya)
Rufous browed peppershrike, Cyclartis gujanensis, ( Yax chii in Maya)
Clay color robin, Turdus greyi, ( X'Kok in Maya )
Summer tanager, Piranga rubra (Chac'chii in Maya)
Great tail grackle, Quiscalus mexicanus (X'Kau in Maya)
Melodious black-bird, Dives dives ( Pich in Maya )
Gray hawk, Asturina nitida, (Yoksadz in Maya)
Hooded oriole, Icterus cucullutus ( Yuyum in Maya, same all yellow orioles )
Altamira oriole, Icterus gularis ( Yuyum in Maya, same all yellow orioles )


Birding in Yucatan at Hacienda Chichen brings joy to the soul and a bit of work to the mind when encountering similar bird species such as the Indigo Bunting and the Blue Grosbeak, and the Lazuli Bunting males. Tips to distinguish Blue Grosbeak and Indigo Bunting males: though both birds share overall blue bodies with darker wings and tail, the Blue Grosbeak is a lager bird in size, has prominent rusty wing-bars and a larger and is generally found in more open habitats than Indigo Buntings. Also the Blue Grosbeak is less common. Indigo Bunting, Blue Grosbeak and Lazuli Bunting females and juvenile birds are truly difficult to tell apart even for professional birders.

There are a hundred other non-endemic bird species observed as regular residents of the Bird Refuge at Hacienda Chichen Bird Refuge in Chichen Itza, Yucatan, Mexico, all of them have found a peaceful safe heaven to nest, breed, and enjoy their natural habitat gifts; also guests and local workers have learned to admire and protect these creatures. We wish to share Yucatan's animal kingdom with future generations; therefore, caring and protecting animals and their habitat is our mission. For Yucatan birding activities and birding guided tours in the Yucatan, we recommend you contact Chichen Services via email: info@chichenservices.com or visit their site: www.chichenservices.com to find which Yucatan Nature and / or Yucatan Birding Vacation Package is best for you!


Wildlife in Yucatan Peninsula: Other Reptiles found in Chichen Itza's Private Maya Jungle Reserve.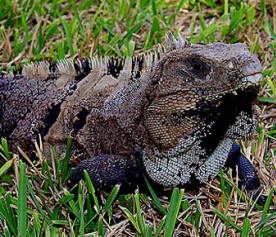 Black Spiny-tailed Iguana, Ctenosaura similis,
is called "Toloc" in Maya; a permanent resident at
Hacienda Chichen Maya Jungle Reserve and hotel
gardens. It is the fastest running lizard known on
Earth; one of the largest iguanas worldwide, this
iguana can reach one and a half meters in length.
It has distinctive skin markings and a sharp crest
of spines running on its back. Adults marking and
black scale bands vary from iguana to iguana, so
a variety of coloration and designs are observed
within the species. Excellent climber, Black Spiny
tailed iguanas prefer rocky dry habitats to rest or
sunbath, diurnal with a great appetite for flowers,
young shoots, leaves, occasionally eats insects.
Males develop blue hues during matting season.

Red-eared slider, Trachemys scripta elegans, is a small turtle with broad reddish or orange stripe behind each eye; with, pale yellow white, yellow green and dark green markings in their skin and carapace. Young hatchlings have deeper markings than adult sliders; the carapace is oval and with a flattened. There is sexual dimorphism, females are larger than males. Breeding occurs from March to July, eggs are incubated in water spots such as "sartinejas" and "Salstuns" found as part of the "laja" or limestone formations deep in the Maya Jungle Reserve at Hacienda Chichen. Water temperatures determine if the eggs hatch female or male sliders, females need warmer water temperatures than males.


Yucatan Banded Gecko, Coleonyx elegans elegans, are nocturnal small geckos, about six inches in length and lives primary in rocky habitats; strictly terrestrial creature with very elegant skin marks or bands and a red brown skin, one of Yucatan's most colorful reptiles, rare to spot the Yucatan Banded Gecko has sharp pointy toes, movable eyelids, eye pupil is narrow with a vertical slit. Because of its sharply decorative vivid colors and skin, local Maya consider this gecko deadly, but such is not the case, this beautiful rare animal is shy and prefers not to be noticed, although nocturnal, it can be spotted in the daytime at our Mayan Jungle Reserve in a protected habitat.


The Coral snake, Micrurus hippocrepis, a thin colorful nocturnal snake found also at Maya forest and Maya Jungle Nature Reserve; it can be seen during the day as well moving under dry leafs. Maya and other Coral snakes can be distinguished from a number of similarly colored harmless snakes by the fact that they are the only ones with red bands touching yellow ones (left photo). The body is ringed with bands of black, red, and yellow; the tail has yellow and black rings only (right photo). The venom of coral snakes, like that of cobras, acts on the nervous system and causes paralysis; the mortality rate among humans who are bitten (snake chews rapidly) is high. Maya coral snakes move are infrequently encountered because of their burrowing habits, and they seldom bite unless molested and handled, their teeth are very small and will not brake through thick leather hiking boots or other hard leather shoes. They feed on other snakes and lizards. Learn more about other venomous snakes here.

Blanchard's Milk Snake, Lampropeltis triangulum blanchardi, or Milk Snake, native to the Yucatan, can easily be mistaken by a Maya Coral snake, yet they are harmless but their skin mimics the colors of a Coral snake to protect themselves from predators. Scarlet King snakes are not venomous but it is best to avoid getting close to it, if you do not remember how the banded color sequence of the pattern is: red next to black is not a coral snake!

Snail eater, Dipsas brevifacies, is an endemic nocturnal snake to the Yucatan from the Dipsadidae Family, and the subfamily Xenodontinae. It is one of the legally protected snake species in Mexican Conservation Laws. It is also known in English as the Thirst snake. It inhabits dry thorn forest and deforested areas being Chichen Itza one of them. A slender terrestrial non-venomous snake, often no longer than 24". Snail eater snakes have alternating black and golden yellow ring pattern skin. An arboreal snake that feeds on land snails and slugs. Snail eaters' heads are similar in shape to the coral snakes: blunt and just a bit wider than the body.

Smidt's Striped Snake, Coniophanes schmidti, is a thin brownish black body snake with two well defined bright yellow pale colored strips that run parallel to each other through out the snake's body. Its under belly color is a pale creamy tone of white; This snake feeds on small lizards and frogs, lives in many parts of North Yucatan and at the the Maya forest preserve areas that are not disturbed.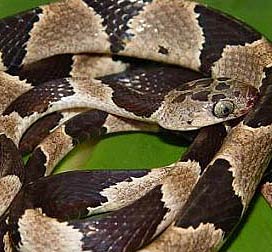 A beautiful long snake found in the Maya forest and
Jungle Reserve is Yucatan Blunt-headed tree snake, Imantodes tenuissimus, endemic species to Yucatan,
has a wide square like bulky head and a narrow neckline
with vey bulky round shape eyes (see photo). The skin
scales are shinny and form triangle like shapes of light
soft beige/grey sections, wide bellow narrowing as they
reach the top; and dark chocolate brown, almost black,
triangular sections, wide a top narrowing to the bottom.
Enjoys resting on tree branches near bromeliad clusters.
The Yucatan Blunt headed tree snake feeds on rodents,
birds, frogs, and other snake; lives in deciduous forests.
Red Coffee-Snake Ninia Sebae, is a perfectly harmless snake that Maya people sometimes confuse with the deadly Coral Snake, but this small creature is harmless. This secretive snake has a black forehead and a dull yellow/orange face with a black collar neck and deep dark red body. Red Coffee Snakes are found often in tropical forest litter and pastures, feeding mostly on earthworms, slugs and land snails. In Spanish is known as "Dormilona" (Sleeper) because it has a peculiar fainting behavior to appear dead when its vicious-looking defensive head-spreading doesn't frighten away predators. If you see one, please don't panic or kill it, it is not aggressive.

Boa Constrictor, B. c. Imperator, from the Boidea Family of snakes, is non-venomous boa constrictor subspecies found in the Yucatan, where Maya people call it Chij' can or Chij-chan; boa constrictors are also found in other regions of Mexico and Central America. This nocturnal snake feeds by suffocating small to mid-size animals. Boa constrictors' skin pattern and color differs depending on the specific location it inhabits. In Chichen Itza, at the Maya Jungle Reserve of Hacienda Chichen Resort, boa constrictor species here have deep gray, light gray, and white skin pattern coloration as well as other spotted have brown, golden tan, and light cream, almost soft pink skin pattern coloration; measuring over 3 meters in length.

Learn more about other venomous snakes fond in our Maya Jungle Reserve here.


Yucatan's Butterflies, Insects
and a Wild Variety of Small Creatures:
Butterflies and Moths Fireflies and Beetles Spiders and Scorpions
Bees, Wasps and Flies Crickets, Locusts, Mantid Dragonfly, Ants, Termites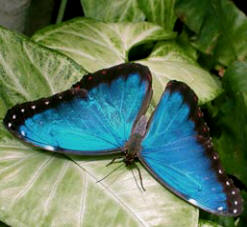 The Morpho butterfly, Morpho menelaus, belongs
to the Morphidae family. This amazingly beautiful has
truly iridescent - blue inside its wings; yet the designs
of the wings' back side resembles wood like camouflage
with shades of brown, pale ochre, and beige with a top
circular design similar to an owl's eye. It undergoes four distinct phases of metamorphoses. Eggs are pale green
eggs like dewdrops. Its caterpillars have top red-brown
bright large patches of lime-green, plus toxic stinging
hairs. Morpho caterpillars feed on leaves but they are cannibalistic as well. Morpho are diurnal and drink juice
out of dew, rotten sweet fruits, specially bananas. They
fly with a peaceful low flow and enjoy shady places and
low foliage as much as too ripe bananas and other fruit.

Orange Yellow Sulphur butterflies are common to the Yucatan Maya forest and Chichen Itza's Maya Jungle Reserve as well as at rural roads with little traffic. All butterflies undergo also four stages of metamorphoses: egg, larva, inactive pupal stage and a fascinating transformation: metamorphosis. This deep yellow butterfly is diurnal and feeds on nectar found in fruits and flowers; for that reason it has a coiled sucking mouthpart. This species belongs to the members of the Papilionoidea family. Many plants depend on butterflies like this lovely Orange Yellow beauty for pollination.


Dramatic and elegant, the Zebra Heliconia belongs to the family of Nymphalidae, Heliconius charithonia it is a Brush - footed butterfly that displays black and pale yellow, almost white, stripped wings with spot bright lime green marking in the body. The caterpillar enjoys passion vine plant to feed upon. Zebra Heliconia is a nocturnal creature. Female lays 5 to 12 eggs on its favorite host plant leaves. As a caterpillar, the Zebra heliconia feeds on hosting plant until its time to be in its pupa stage; as a Zebra Heliconia butterfly prefers moist areas in the forest and open field and feeds on flower nectar and pollens. It enjoys shepherds'' needle and lantana flower plants to feed upon.

A Neo-tropical butterfly, the Malachite, Siproeta stelenes, has la large wing span with a lovely design of black liner and a brilliant emerald green or yellow-green on the upper sides. The wings, typically with a 10 cm. wingspread, have under-sides colored with light brown and olive green following the same pattern. This beautiful butterfly enjoys low bushy fields and palm plantations. It feeds in flowers nectar and rotting fruit. Femailes lay eggs on new ruellia plant leafs. Larvae are horned, spiny black cartepillars with read marks.

The monarch butterfly, Danaus plexippus, is a milkweed butterfly, in the family Nymphalidae. It is perhaps Mexico's best known butterfly. Female monarchs have darker veins on their wings, while males have a spot in the center of each hind-wing and are a bit larger. Their eggs are creamy white and later turn pale yellow. Monarchs are known for their lengthy annual migration; thus they are temporary visitors, Hacienda Chichen Maya Jungle Reserve, Chichen Itza, Mexico.

Fireflies are not really "flies" but beetles, members of the family Lampyridae, within the Coleoptera order. Most fireflies, also known as lightening bugs, are bioluminescent asadults, fireflies emanate cool pale yellow, green, or blue light in intervals Firefly larvae are found in rotting wood or forest litter. Adult fireflies stay in the same general habitats as their larvae. At the Maya Jungle Reserve and Hacienda Chichen, most firefly are found in warm days near humid areas during summer.

Iridescent green beetles are from the family Scarabaeidae, which groups over 30,000 species of scarabs or robust or stout beetles with bright metallic green exoskeleton. The hard body covering forewings is called "elytra" which protects the delicate beetle's wings. There are beetles like the Bess beetle that do not fly and its "elytra" is fused to its body. Beetles have distinctive well defined antennas with odor sensors (left photo)

Ladybug beetle, Coleoptera, an arthropod invertebrate insect that always bring us a smile with deep joy. Ladybugs have oval to semi-circular convex bodies; their "elytra" colors range from bright yellow to scarlet with a few black spots on it. This little insect (center photo) flies away if frighten but is very comfortable being handled by a human.

Green June beetles, Cotinus nitida, love to feed off any leafy bush such as a hibiscus or any lush shrubs; adults of the Green June beetles have a dull velvety bright lime green a top with yellow markings (see right photo). One generation of adults matures each year.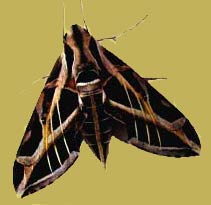 Ka'nan Dzu'nut is the Mayan name given to this beautiful moth. A true master of disguise, this elegant camouflage month avaids at Hacienda Chichen Mayan Forest Reserve. Its intriguing wings and body camouflage design and patterns resembles dried twits and stems in a truly efficient pattern of color, texture, and movement. Camouflage body designs help decrease the vulnerability of any moth as it rest in forest debri in broad daylight. Ka'nan Dzu'nut is a perfect example of geometrid moths, displaying an asymmetric organic design offers protection from its Mayan forest predators. Its legs are shaped and colored as twigs with uneven angles, a great protective adaptation. Its antennae are perfect feathery pollinators.

The Melipona bees belong to a genus of stingless bee widespread in warm areas of the globe. In Yucatan, the melipona bee honey is highly valued by the Maya for its rich sweet-herbal taste and light amber clear color. In Mexico and Yucatan, the melipona bee is a great pollinator of the vanilla orchid, vanilla planifolia, and nowadays it is always present in its green-house production to increase crops. Melipona bees are closely related to the sting bee. This little bees are active all year and at Hacienda Chichen their numbers have increased since the hotel places great protective measurements to avoid fumigation or harm. In Yucatan current meliponi-culture of the Maya is of great value.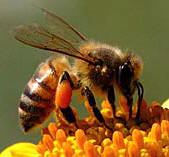 Most the Neo-Tropical Yucatan Honey Bees have a range
of of hybridization of the Africanized bees with the European
bees. A genetic analysis of Yucatan's honey bees shows that hybrid honey bee population include many bee colonies with intermediate morphologies. Genotypes of mitochondria have disassociated from regular correlated Africanized / European morphology collected data; thus, producing diverse phenotypic associations. Thus, size of resident European population may be important in explaining previously reported asymmetrical bee hybridization resulting in higher production of pure honey now
recorded by Mayas in Yucatan, Mexico.

There are incredible number and varieties of Paper Wasps, in Yucatan dozen different ones, but all have two things in common, they can cause incredible irritation and pain if they get to sting you, and they spend hours building up high their paper fiber nests in the style of honeybee combs. Paper wasps like most other insects, are fascinating to watch; there is no biological boundary between a wasp and a bee, both belong to the Hymenoptera family, so do ants. The most common wasp found in Chichen Itza is from the sub-family Polistinae (right photo). Best to avoid disturbing them at all times.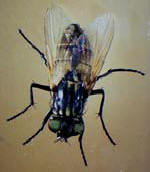 A fly, musca domestica, is the most common of all insects; flies
belong to the order Diptera, meaning "two-winged." Most other
adult insects have four wings and with four dark stripes on the
thorax. Flies have sponging, non-biting mouthparts for sucking up liquefied foods. Their life cycle has four stages: egg, larva, pupa
and adult. Eggs are laid in decaying organic material, and hatch
into pale, legless maggots. Developed maggots become larva and
search for dry places to pupate. Pupa is the immobile stage within
a hard, dark brown "shell." Adult flies emerge in seven to fourteen days. Female flies live 3 or 4 weeks and lay batches of 75 to 100
white oval eggs. Be careful and avoid hotels opened buffet lunches
such food setting is a feeding ground for flies to deposit their eggs.


Wolf spider, family Lycosidae, is a common name for over 200 different spiders that are ground dwellers with long thick legs and got bodies low to the ground at all times. Wolf spiders typically have two large forward looking eyes in the middle of their face and a row of four smaller eyes bellow; generally they locate pray by sight and use their front legs to grab prey, then bite and crush it with jaw-like mouth parts called chelicerae. At the Maya Jungle Reserve in Hacienda Chichen most wolf spider hunts at daytime. Female wolf spider lays eggs in a large sac, nearly as large as her own body. She attaches the egg sac to her body, and carries it until the eggs hatch; then, the wolf spider tears open the egg sac and the newly hatched spiders climb onto her back
where they remain for up to a week. (right photo)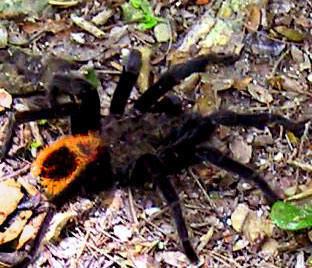 Yucatan Rust Rump Tarantula, Brachypelma
epicureanum, is a protected resident in Hacienda
Chichen gardens and Maya Jungle Reserve, since
this tarantula and other of the Brachypelma family
are endangered due to their demand in pet stores.

Maya people call tarantula males "J'chi' huo" (left)
smaller than female in body size, it has reddish tone
hair color while the female has a brighter orange tone.
A spiders most powerful sense is touch and knows its
surroundings feeling the vibrations of pray and danger
sending flicks of hair into the air that cause irritation.
This is a venomous creature, do not touch or hurt it.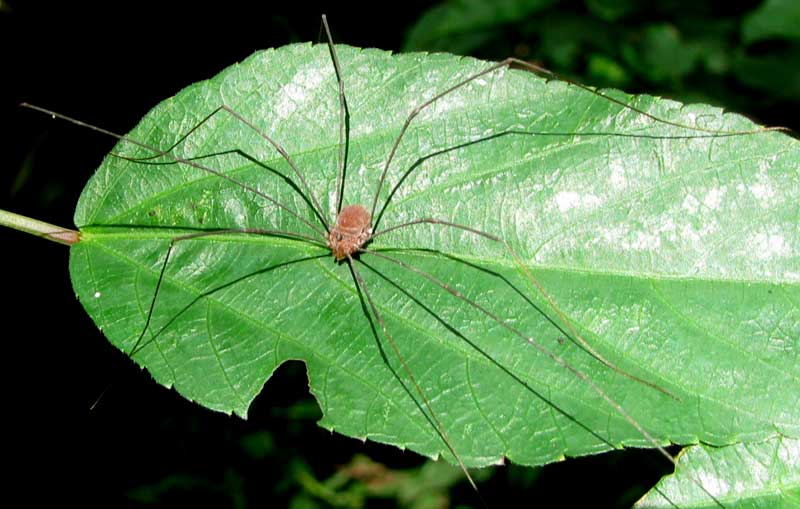 Daddy-longlegs arachnid, Harvestman,
Hadrobunus grandis. This gentle creature is related to the spiders but it is not a true spider, it does not produce venom or silk webs, and it only has a pair of ocelli (eyes) rather than multiple eyes in a spider. Also, harvestman don't have fangs like spiders but chelicerae. You may find them in Hacienda Chichen hotel gardens and wildlife reserve or even in your room. They are totally harmless, so please if you see them ner you, don't kill them.


Not to be touch: Scorpions are arachnid of the order Scorpionida. In Yucatan, the most common one is the "alacran," Centruroides gracilis. (photo) Scorpion's exoskeleton is thick and durable, providing good protection from predators. Their body has: the cephalothorax (where the head is located) and the metasoma (where the tail and bottom segments of the scorpion are located). All known Scorpion species possess poison or venom, those here give a deep painful sting like a mad wasp. Scorpions have a true "sexual or mating ritual" and females give birth to live offspring.


Monster or Great Grasshopper (English)
Saltamontes Gigante (Spanish) tropidacris cristata, Romaleidae Family, in the order Orthoptera. This slender long winged insect is a its body can reach four inches in length. Brightly colored and beautiful to see as an adult, but when grasshoppers appear in masive swarms they can destroy crops and land in an incredible manner; thus, we call them locusts swarms. Monsteer grasshoppers can jump up to 20 times their body length; the males sing and stridulate. Mating is in the fall. Yucatan has seen three devastating swarms of locust in the past 15 years. Great grasshoppers females lay eggs that turn into nymphs and then, after several molts, into adult grasshoppers. Their changing shape and colors make it difficult to ID.


Yucatan Mantid, Mantoida maya, is native to this Mayan region but can be found in places as far as Florida, USA.
A tiny thin body about one inch long, short neck, and bobble eyes, this coppery winged mantid has a beautiful metal copper body that is textured with small diamond shapes. It is found near dry twits and wood chips and enjoy warm weather. Yucatan Mantid is protected at Hacienda Chichen.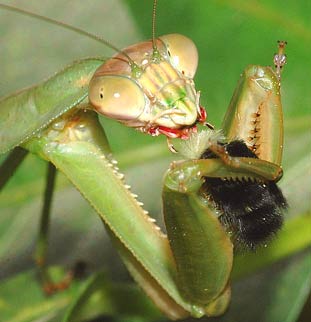 Praying Mantids are masters of camouflage and most subfamilies develop foliage or twit like body shapes and colors. In the Yucatan different mantis are found, at Chichen Itza's private Mayan Jungle Reserve and Hacienda Chichen's gardens, guests encounter a few green giants and the small but attractive Little Yucatan Mantid. All known mantis or mantids are carnivorous and will engage in cannibalism regardless of age or gender; this tendency carries over to a sexual cannibalism; high during mating, 25% of all intersexual mating ends with female eating the male. They are amazingly beautiful to observe but truly voracious killers; their bites have no envenom. Like other insects. mantises have three stages of life development: egg, nymph and adult.
Dragon Flies, Ants, and Termites

Roseate skimmer dragonfly, Orthemis ferruginea, (adult male photo), the Maya call them "Turish" and praise them as good luck forest creatures. Young males have a deep pink or red/rose colored abdomen and can be seen mainly after the rainy season starts in May. Roseate skimmer dragonflies' wings are almost clear with the edge closer to the body a bit orange/tan colored. At our Maya Jungle Reserve, the nymphs grow in "sartinejas o chuntules," carved natural holes in stones that capture the rain water creating little pond like water reserves.


Leaf-cutting ants, Atta Acromyrnex, are among the highest social organized and technological advanced animals; not only they cultivate their own food from fresh cuts of vegetation, but use sophisticated antibiotics against fungal pests to protect their crops. The advance social caste system of leaf-cutting, enables ant colonies to safeguard their colonies safety and well-being as well as their nest where their agricultural system, which is based on ant-fungus mutualism, is highly attendant by specific ant population within it. These ant colonies abound in Chichen Itza and can be observe at the Hacienda Chichen gardens.


Arboreal termites, Nasutitermes, are the most important recyclers of wood debris in the Maya Jungle Reserve ecosystem. They built their colonies in many branches of large trees such as the Pitch or elephant ear fruit tree. Shaped like a mud cluster or mount the colonies nest is firmly attached to tall tree branches. Only a few individual termites in the colony reproduce, although the colony may hold up to 50,000 residents. Like ants, these ants work in an "eusocial" highly developed caste system. Arboreal termites in Yucatan can be clearly detected in tree trunks and branches that have been affected by colonies of termites with long bulky scar like paths showing clearly over the tree bark.

We hope our readers enjoy this article written to help travelers an nature lovers enjoy the rich fauna (animal kingdom) found in in the wild Maya Jungle Reserve privately safeguarded and protected at Hacienda Chichen Resort, Chichen Itza, Yucatan, Mexico. Yucatan's birds, reptiles, mammals, insects, butterflies, bees, and other creatures are a joy to watch and observe in the wild. Yucatan's wildlife has a truly vast list of endemic fauna (indigenous animals) to protect and care for.

FAMSI has a collection of popular Maya animal stories you may find interesting and amusing. They will help you understand the rich connection between Maya people and the land they call "monte" (jungle). We hope you have enjoy this article, please feel free to contact us for further information about Yucatan's wildlife.
DID YOU KNOW: Geotourism Challenge for Sustaining the Future of Destinations, featured our NGO Maya Foundation In Laakeech (pronounced: in lak'ech) innovating Geo-Sustainable volunteer projects in union with the Hacienda Chichen sustainable tourism vision, as part of this Geo-Challenge Program sponsored by National Geographic and Ashoka's Changemakers.
Yucatan Adventure is a volunteer Eco-Travel Guide by the Maya Foundation In Laakeech A.C. a sustainable civil society association in Yucatan, Mexico, dedicated to Sustainable Geo-Tourism, helping travelers learn about Yucatan's Colonial and Maya Culture, local Mayan people, and their traditions; as well as to inform travelers about the many wonderful eco-cultural activities, green vacation packages Yucatan offers, Mayan Spa experiences, discount vacation offers and packages, Green Hacienda hotels reviews, and great free volunteering opportunities near Chichen Itza, Mexico.


Yucatan Adventure Geo-Travel Guide an online eco-cultural magazine dedicated to Sustainable Tourism, the Maya Culture, and social volunteer support to empower the Maya people and their communities near Chichen Itza, Yucatan, Mexico. This article is dedicated to all the wonderful animal kingdom creatures that are found in the Hacienda Chichen's Mayan Jungle Reserve at Chichen Itza, Yucatan, Mexico. Yucatan wildlife is rich and it requires more attentive protection from Maya people and local residents to preserve the wonderful flora and fauna that contributes to Yucatan's amazing wildlife eco-system including, reptiles, birds, mammals, butterflies, bees, insects and other small animals living in the wild.

Yucatan Wildlife, Endemic Fauna We Protect:
Mammals, Birds, Reptiles, Butterflies & Other Creatures

This article was supported by Hacienda Chichen Resort, a truly committed green hotel
and a great place to plan vacations filled with fun eco-cultural activities, fabulous Spa
Mayan rituals, great gourmet Maya and Fusion cuisine delights and much more.

Recommended Web Resources and Readings:

Chichen Services - Day Nature tours and birding in Yucatan.
Mayan Culinary Arts: free traditional Mayan Cuisine Recipes and more.
Birding at Chichen Itza - Hacienda Chichen Bird Refuge, Yucatan, Mexico.



Hacienda Chichen - Rated #1 Hacienda to visit in Yucatan by TripAdvisor!

National Geographic Travel
Selected Hacienda Chichen in the Top Wellness Destinations in North America
and among its editors 2009 Stay List: Hotels We Love



Yaxkin Spa - Indulge in a Mayan Spa holistic treat in Chichen Itza, Yucatan.

Yucatan Adventure Eco-Travel Guide is a volunteer project of our NGO Citizen Sustainable Association the Maya Foundation In Laakeech A.C. dedicated to the welfare of the Maya rural communities in Yucatan, Mexico
www.yucatanadventure.com


Published April 2009
Updated August 2009, May 2010, January 2011, Aug.2013, FEB. 2016