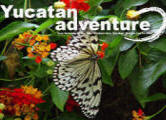 ▫ Dioon Cycads
▫ Papaya Tree
▫ Ceiba Tree
▫ Agaves / Cactus
Yucatan Adventure

▫ Home

▫ Special Offers

▫ Places to Shop

▫ Safe Travel Tips
▫ Volunteering FAQ

▫ Things To Do

▫ Contact Us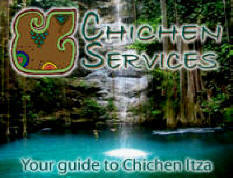 ▫ Dioon Cycads
▫ Papaya Tree
▫ Ceiba Tree
▫ Agaves / Cactus


Articles:

▫ Cenote

▫ Ecotourism
▫ Jim Conrad's Nature Notes

▫ Destination Weddings

▫ Maya People

▫ Maya Spa

▫ Mayan Cooking
▫ Join our MFIL team

▫ MFIL Volunteering

▫ Xcalacoop Nutrition
▫ Mayan Foundation
In Láakeech A.C.

▫ Mayan Art Masters

▫ Mayan Calendar

▫ Mayan Rituals

▫ Maya Civilization
▫ Colonial Traditions

▫ Maya Gods & Deities

Sponsored Site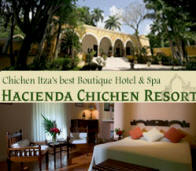 Best Hacienda in Yucatan,
a top wellness destination.


Archaeologists

▫ Edward Thompson

▫ Jean Charlot

▫ Merle Greene

Robertson

▫ Tatiana Proskouriakoff

THE MAYA FOUNDATION
IN LAAKEECH



Helping Maya People
of Yucatan aa a
MFIL Volunteer.
For more information
please email us.
Join Yucatan Adventure's volunteers today!
Just contact us
via email today!
You can help us continue
our social work programs
by requesting us a Spot Ad
to showcase your website
Sponsored Site: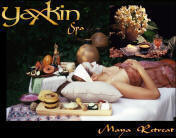 Mayan Holistic Spa
Chichen Itza, Yucatan


Yucatan Adventure

▫ Home

▫ Special Offers

▫ Places to Shop



▫ Things To Do

▫ Contact Us

▫ Join our Eco-Guide


Sponsored Sites: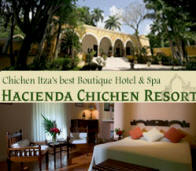 Reserve your stay at great
Hotels & Green Hacienda
in Yucatan, Mexico.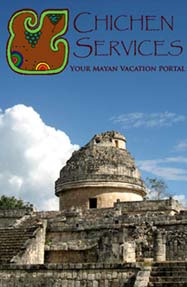 Eco-Cultural Vacation
Packages to fully enjoy
Chichen Itza, Yucatan.

Participate in our
Yucatan Adventure's
Check our video interview
of Hacienda Chichen owners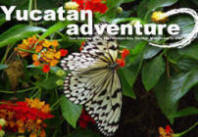 Yucatan's Best Green
Travel Guide!

Our Favorites:
Mexico's Top Eco-Spa Resorts

Best Green Hotels in Yucatan

Best Eco-Wellness Vacations
Mayan Eco-Travel Packages

Yucatan's Mayan Spa Offers

Top Haciendas in Yucatan

Mexico Top Green Spa Resorts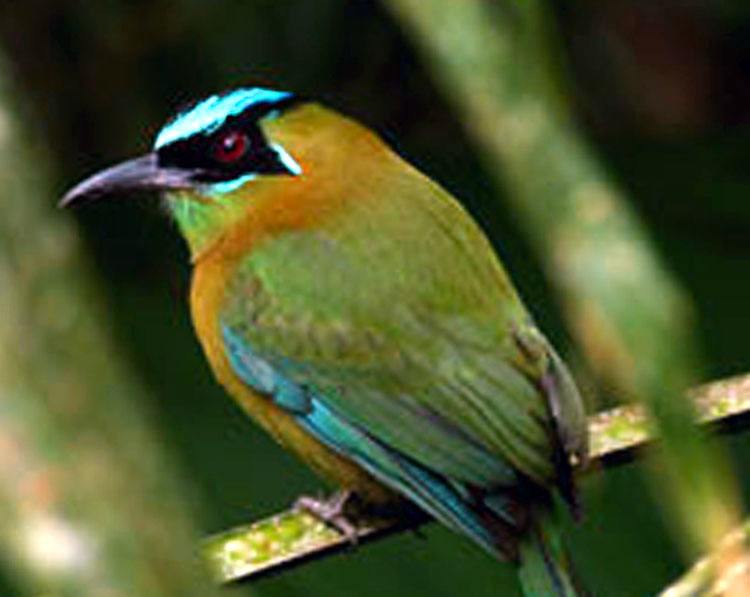 Yucatan Birding Tours

Chichen Itza Eco-Activities

Yucatan Wedding Destinations

Gourmet Mayan Fusion Cuisine
Yucatan's Best Green

Vacation Packages

Yucatan Cenote Visits
Sponsored Site: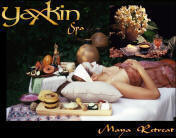 Mayan Holistic Spa
Chichen Itza, Yucatan


Yucatan Adventure
▫ Home

▫ Special Offers

▫ Places to Shop

▫ Safe Travel Tips

▫ Volunteering FAQ

▫ Things To Do

▫ Contact Us

▫ Cenote

▫ Ecotourism

▫ Destination Weddings

▫ Maya People

▫ Maya Spa

▫ Mayan Cooking

▫ Volunteering FAQ

▫ MFIL Nutrition Centers

▫ Mayan Art Masters

▫ Mayan Calendar

▫ Mayan Rituals

▫ Maya Civilization

▫ Colonial Traditions

▫ Maya Gods & Deities



Sponsored Site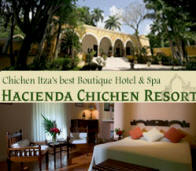 Best Hacienda in Yucatan,
a top wellness destination.


Archaeologists

▫ Edward Thompson

▫ Jean Charlot

▫ Merle Greene R.

▫ Tatiana Proskouriakoff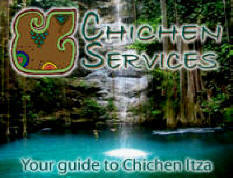 Eco-Cultural Vacation
Packages to fully enjoy
Chichen Itza, Yucatan.

Additional Articles:

▫ Cenote

▫ Ecotourism
▫ Yucatan Wildlife: Fauna

▫ Destination Weddings
▫ Join our Eco-Guide

▫ Maya People

▫ Maya Spa

▫ Mayan Cooking

▫ Mayan Nutrition Center

▫ Mayan Art Masters

▫ Mayan Calendar

▫ Mayan Rituals

▫ Maya Civilization

▫ Colonial Traditions

▫ Maya Gods & Deities
▫ Volunteering FAQ

▫ Mayan Skin Care

▫ Special Offers

▫ Places to Shop

▫ Things To Do

▫ Contact Us

▫ Links
▫ Home




Yucatan Adventure
supports the
social vision of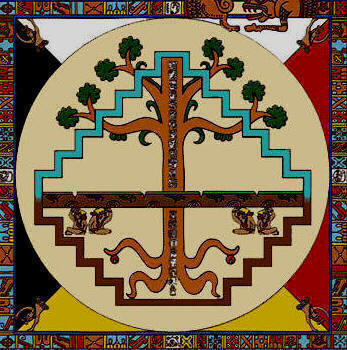 MAYA FOUNDATION
IN LÁAKEECH

For more information on
how to support us,
please contact us via email
or pledge your help.
.Sponsored Sites: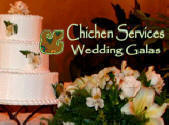 Creative Wedding Galas
in Yucatan, Mexico.

▫ Maya Spa
▫ Join our Eco-Guide

▫ Maya People

▫ Mayan Cooking
▫ Mayan Art Masters

▫ Mayan Calendar

▫ Mayan Rituals

▫ Maya Civilization

▫ Maya Gods & Deities

▫ Contact Us
Archaeologists:

▫ Edward Thompson

▫ Jean Charlot

▫ Merle Greene R.

▫ Tatiana Proskouriakoff
Participate in our
Yucatan Adventure's
Check our video interview
of Hacienda Chichen owners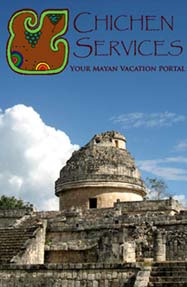 Eco-Cultural Vacation
Packages to fully enjoy
Chichen Itza, Yucatan.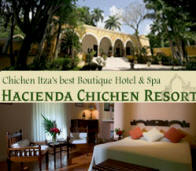 Reserve your stay at great
Hotels & Green Hacienda
in Yucatan, Mexico.
▫ Join our Eco-Guide

▫ Maya People

▫ Mayan Cooking
▫ Mayan Art Masters

▫ Mayan Calendar

▫ Mayan Rituals

▫ Maya Civilization

▫ Maya Gods & Deities

▫ Contact Us

Sponsored Site:

Yucatan Adventure

▫ Home

▫ Vacation Offers

▫ Places to Shop

▫ Things To Do
Sustainable Tourism
in Yucatan
▫ Join our Eco-Guide

▫ Maya People

▫ Mayan Cooking
▫ Mayan Art Masters

▫ Mayan Calendar

▫ Mayan Rituals

▫ Maya Civilization

▫ Maya Gods & Deities
▫ Home
▫ Maya Spa

▫ Vacation Offers

▫ Places to Shop
▫ Mayan Art Masters

▫ Safe Travel Tips
▫ Birding in Yucatan

▫ Contact Us
Participate in our
Yucatan Adventure's
Check our video interview
of Hacienda Chichen owners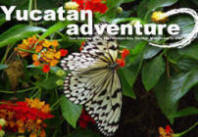 Sponsored Site
Our Favorites:
Mexico's Top Eco-Spa Resorts

Best Green Hotels in Yucatan

Best Eco-Wellness Vacations
Mayan Eco-Travel Packages

Yucatan's Mayan Spa Offers

Top Haciendas in Yucatan

Mexico Top Green Spa Resorts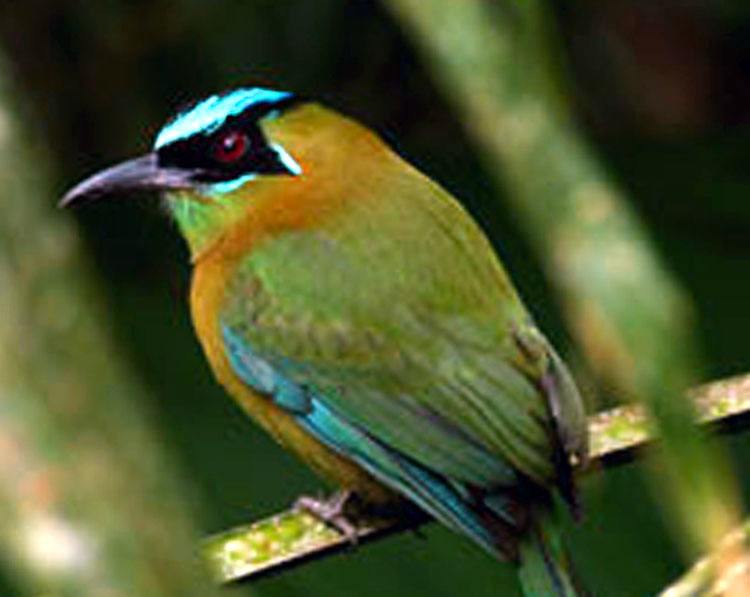 Yucatan Birding Tours

Chichen Itza Eco-Activities

Yucatan Wedding Destinations

Gourmet Mayan Fusion Cuisine
Yucatan's Best Green

Vacation Packages

Yucatan Cenote Visits

Yucatan Adventure Geo-Travel Guide
Yucatan Flora: Our Love of Mother Nature. ..
Yucatan's Best Green Spa-Resort: Hacienda Chichen, a true Mayan Soulful Retreat
dedicated to Sustainable Tourism practices and to protect Yucatan's Flora and Fauna.
.
Come stay at Hacienda Chichen to enjoy its Private Bird Refuge
and private Maya Jungle Nature Reserve

Yucatan Flora: Tropical Fruit Vines
Explore and Enjoy Hacienda Chichen Flora, Wildlife and Eco-Wonders
Chichen Itza, Yucatan, Mexico.
Passion Fruit (English), Poch'il (Maya) Maracuya (Spanish), Passiflora edulis, Passifloraceae Family. Passion fruit is a self pollinating vine that grows climbing with tendrils. Passion fruit vines' flowers are very exotic and aromatic, filled with nectar, excellent butterfly and bee attractants. Fruits ripe in May and June; its pulp is used extensively in fruit juice drinks or in baked desserts. Its aromatic. At Hacienda Chichen the Passion Fruit vine grows yellow fruits.

Pitaya (English), Pitahaya (Spanish), Wob (Maya), Hylocereus undatus, Cactaceae Family. Native to Mexico. Pitaya vines grow in the tropics worldwide. The cactus flowers at night in June and has aromatic colorful exotic fruits and meaty skin; pitaya's delicate translucent milky flesh has small edible seeds. Fruit grows June to October. It is grown organically at the Hacienda Chichen by Mayan retired staff committed to attend this green hotel's Organic Tropical Crops.

Yucatan's Exotic Flowering Trees
Lush Tropical Gardens and Beautiful Flora
Hacienda Chichen, Chichen Itza, Yucatan

Shaving Brush Trees (English), Chak Kuyché (Maya), Amapola (Spanish), Bombax ellipticum Bombacaceae Kapok Family. Native to Mexico and rare in other regions. Amapola trees leafs have a join stem and alternate color from deep red wine when new to a deep green when mature; Amapola leafs are shed prior flowering with amazingly beautiful and exotic flower that develop each spring from long cylindrical buds. Birds and bees love the sweet nectar of the Amapola flower tree




Plumeria - Frangipani Trees (English) Sac Nicte (Maya) Flor de Mayo (Spanish), Plumeria rubra, from the Apocinaceae family, it is native to Mexico and South-America. Today this perfumed flowering tree is found in many tropical countries. Plumeria trees bloom during the spring in Yucatan. Flowers have various tones from white, yellow, rose, and magenta. Plumeria trees grace the garden path leading to Old Saint Isidro Labrador Church at Hacienda Chichen.




African Tulip or Flame of the Forest Trees (English) Tulipan Chino (Spanish), Xukul Nicte (Maya) Spathodea campanulata, Spathodea is a monotypic genus species of the Bignoniaceae Family. Native to tropical Africa, the first Tulip tree planted at Hacienda Chichen's Tropical Gardens was brought by Mrs. Carmen G.Rul Barbachano in the 1960s as a rare exotic flowering tree. Today, the African Tulip or Flame or the Forest is an ornamental tree common in world tropical regions, as an amazingly beautiful tree with crimson campanulate flowers and foliage. Its exotic deeply bright orange-red flowers have striking golden yellow edges. The flower cup holds rain water and dew attracting hummingbirds, birds, and bats. Grows in full sun, limestone rich soil, and its seeds are propagated by wind, birds, and bats.

Golden Shower Trees (English) Lluvia de Oro (Spanish), Cassia fistula, Fabaceae family; native to southern Asia. A deciduous tree with pinnae leaflets (foliage), brought in the late 19th Century to Yucatan as an ornamental flowering tree; it is most striking during May when it is in full bloom. Flowers bloom in delicate golden yellow drop clusters. Golden Shower seed pods are long dark brown sausage-like with woody exterior and stick molasses covering wafer shaped seeds, abundant while blooming. Like the Royal Flamboyan, Golden Shower tree is a favorite in Mayan villages and Yucatan's urban avenues or parks, for its amazingly exotic looking and has truly whimsical beautiful flowering bloom clusters gently dropping ever so graceful down its branches. Golden Shower should not be confused with another member of the Fabaceae family the Golden Rain Tree or Lapacho amarillo (Spanish), Tabebuia chrysotricha, native to China, whose flower clusters grow upwards.


Royal Poinciana Trees (English) Flamboyan Real (Spanish) Poinciana regia, Caesalpiniaceae Family. Endemic to Madagascar. It grows wild in Yucatan, Mexico after its introduction in the late 19th Century. In Yucatan, these beautiful flowering trees became favorite ornamental trees to grow near Mayan huts, villages, urban avenues and parks. Its orchid shaped deep orange-red flowers are truly exquisite, one petal is different from the rest with light tone and deep shades of orange magenta spot; flowers grow in clusters, blooms in May and summer the Flamboyan trees are fully covered with flowers without their pinnae leaflets (foliage). Flamboyan seeds grow in large "machete like" hard pods.

Orchid Tree (English) Arbol de las Orquídeas is Bauhinia variegata, a native of India and China and a member of the enormous Fabaceae (Bean) Family. The showy, fragrant flowers, 3-4 inches across (7-10 cm) bear 5 or 6 upward-arching stamens. At first the blossoms are white with a dark pink central spot, but with age flowers turn into deep shades of magenta, lavender or purplish blue. At Hacienda Chichen the Orchid-Tree blooms at the end of the rainy season (late fall) and eventually is laden with flattish seed pods, foot-long legumes. Note the unusual leaf shape, which reminds some people of a cow foot indented on both ends, and others of butterflies with rounded wings. Flowers are edible in salads.

Back to Top
Mayan Medicinal Plants and Sacred Trees
Ceremonial and Medicinal flora to the Maya People
Yucatan's Lush Flora: Mayan Ethno-Botany in Hacienda Chichen, Chichen Itza, Mexico
The Mayan ethno-medicine healing traditions (medicinal plants used by the Mayan Healers in the Peninsula of Yucatan and other Maya regions: Chiapas, Belize, Guatemala) are taught verbally by Mayan J-Men and actively practiced by Mayan healers from one generation to the next since Colonial times. Mayan healers use Mayan holistic rituals and healing ceremonies with prayer, divination, ethno-medicine traditions, and guidance from their spiritual guardians that communicate through dreams and their holy Sas'tun (quartz) holistic messages to cure, purify, or cleanse a person. Since the Spaniards burned almost all Mayan books and codices, J-Men and Mayan healers have little written records of their medicinal methods; today, few books by western writers have recorded some of the important Mayan ethno-medicine healing traditions, medicine plants, remedies, cures, and holistic practices. These are some of the sacred holistic Mayan flora in Yucatan, medicinal herbs, plants, roots, etc. use by J-Men or Mayan healers:




Kapok, Ceiba Tree: Yaaxche (Maya) Ceiba pentandra, is the most Sacred Tree to the Maya, (flowers photo) belongs to the Bombacaceae family. Ceiba trees or Kapok trees produce a cotton like fiber from its fruits, called by the Maya people "pochote," a highly valuable fiber for clothing since pre-Hispanic times. Commonly referred in Yucatan as la Ceiba, the huge trees give their first crop of pochote after seven years. Even today, Maya people honor the Ya'axche or Ceiba Tree as an energy connection with the Cosmos, Earth, and the Underworld; ever present in ceremonies and as a medicine plant, this beautiful tree is were the Maya Gods abide, and so do may forest supernatural creatures and energies. Young Ceiba trees have exotic looking thorny green trunks, more...



Copal trees, or Pom (Maya), Protium copal, Burseraceae family of torchwood trees. Maya people highly value the Copal tree resin as a sacred incense in all their mystical ceremonies and sacred rituals. Before harvesting the Copal resin, the Maya celebrate Mayan rituals for the Aluxes (small supernatural creatures who live in and guard the Mayan forest). Mayan J-Men bless with great reverence their valuable copal resin, a highly combustible sap that hardens as it dries in golden milky amber-quartz like chunks.


Baalche' (Maya), Lonchocarpus longistylus, Pitter, Fabaceae family. An evergreen semi-deciduous tropical hardwood tree, Baalche' is native the Yucatan and Guatemala. Its trunk is straight with long thin branches spreading with dense foliage. In Yucatan, the Maya ferment Baalche' bark, and add honey to create a sacred beverage since Pre-Hispanic times. Baalche' leafs are composite, impair-pinnate, with 15 oblong leaflets. Blooms in Sept as a papilionaceous, in clusters of small orchid purple-violet flowers.

Fiddlewood Trees (English), Barrabas (Spanish), Ya'ax Niik or Yaxnik (Maya), Vitex gaumeri, Verbenaceae Family. Native to Yucatan, Mexico. "Ya'ax niik Che" (fiddlewood trees) grow wild in Mayan dry forests. Blooms clusters of small blue flowers in April and May; its fruit has green skin when ripe with one large seed. Palmately elliptic leaflets; thick grayish trunk over cut for its valuable lumber, now endangered. Since ancient times Maya J-Men Healers use its leafs in traditional healings.
.

Café forastero Tree (English/Spanish), Siip' Che' or Sip-che' (Maya), Bunchosia swartziana Griseb (white-bark) and Bunchosia glandulosa (dark-bark), Malpighiaceae Family. Native to Yucatan, Mexico, the Sip-che' or Café forastero is an evergreen tree (shrub) that grows to be 2 meters tall; pale yellow flowers bloom in small clusters, petit red round fruits, leafs are similar to a fig family tree, elliptic leaf shaped. Young Siip' che' branches are used by J-Men or Mayan Healers in most holistic cleansing rituals or "Limpias" to purify the aura of a person, spell evil winds or envies; J-Men and Mayan healers dip small bundles of leafs in holy water to sprinkle over a person to spell evil energies, then hits the wet branches over a person's ankles nine times to untied its energy to the underground forces, the two Sip-Che shrubs branches are essentially used in Mayan sacred ceremonies and Mayan holistic healings.

Mahogany Tree (English), Cedro (Spanish), Kuyche' (Maya), Cedrela odorata, Meliaceae Family. Native to Yucatan Peninsula and Central America. Precious hardwood from the tropical regions, Mahogany or Cedro trees grow 20 meters high, bark is rough with deep vertical indents; blooms in spring - summer clusters of small cream flowers and propagates with seeds capsules in woody seed pods that when opened look like lovely brown wood flowers (photo).


Dogwood Tree (English) Jabin or Habin (Maya) Piscidia piscipula, Fabaceae family. Native to Yucatan Peninsula, Florida and Caribbean. Jabin (Ja'abin) trees reach up to 20 meters tall; leaflets are elliptic in shape and alternated pinnately compounds; small pale lilac-pink flowers; pendant paper thin seed pods are pale cream colored and four winged with rippled edges. Jabin tree bark is highly used by Mayan J-Men healers as a medicinal Mayan plant specially to help female's menstrual cycles. Wood is heavy resistant to decay; its root bark extracts are medicinal as analgesic and antispasmodic properties. Its blooms are an important source of pollen and nectar for bees in Yucatan, Mexico.

A sacred Grass: Corn or Maize (English), Maiz (Spanish), Nal (Maya), Zea mays L. ssp. mays, Poaceae Family. Maize originated as a wild cereal grain domesticated by the Maya in Mesoamerica and spread among America natives. To the Maya, Maize has spiritual connections with the creation of humankind by Mayan Gods, including Yumil Kaxob the Maize Maya God. Saka is a Mayan maize sacred ritual. There are many varieties of maize hybrids worldwide. Highly nutritious still use as a basic food produce in Mayan recipes.

Back to Top

Yucatan's Flora:

Wild Medicinal Plants and Mayan Delights
Mayan Ethno Botany and Yucatan's Flora at Hacienda Chichen, Chichen Itza.


Wild Cucumber Trees or Candle Tree (English)Pepino de Arbol Silvestre (Spanish), Kat or Cat (Maya), Parmentiera edulis, Bignoniáceas family. Native to Mesoamerica (South Mexico and Guatemala). Evergreen fruit tree, grows with full sun, trifoliate leafs drop in clusters together; large cream color flowers bloom in April at the tip of Candle tree branches, the fruits are know as pepino kat in Yucatan always eaten cooked. The fruit is used in Mayan remedies to cure urinary track ailments. Bats propagates the fruits' seeds.



Trumpet Tree (English) Guarombo (Spanish)Cecropia obtusifolia Bertol, Cecropiaceae Family. Native to Mexico. Guarombo trees grows wild in Yucatan. The tree trunk is thin hollow and has large leaflets; bats and birds propagated seeds. Highly regarded by J-Men Maya Healers by its healing property. Mexico's IMSS (Federal Medical System) recognizes the Guarombo extract as a highly effective hypoglycemic treatment on Type 2 Diabetic patients; other nations are Cuba and Brazil.

Piñuela Yucateca (Spanish) Jo'oyok or X' hoyoc (Maya), Morinda yucatanensis Greenm, Rubiaceae Family, slender shrub with narrow elliptic leafs inflorescent clusters of pale off-white small five petal flowers in sessile globosely clusters at leaf axils; small fruits shaped like mini-cactus bumps, yellow when riped. "Piñuela Yucateca" shrubs grow commonly entangled with other plants. Mayan healers use this medicinal plant for digestive system healings and for Mayan "evil wind ailments."

Chaya - Spinach Tree (English), Chay (Maya)Chaya (Spanish), Cnidoscolus chayamansa. Native to Yucatan, chaya are highly nutritious shrubs with valuable concentrations of minerals, vitamins, and anti-oxidants. Organically grown Chaya shrubs have large leafs. It is an evergreen that loves sunny areas. Chaya blooms frequently with both male and female flowers bloom together. Young leaves are used by Maya people much like spinach in traditional Mayan Cuisine.

Annatto ( English), Achiotl / Ku'u up (Maya), Achiote (Spanish), Bixa orellana, Bixa Family, Native to Mexico, now grown in many countries for its great taste and natural coloring qualities. Achiote is an important ingredient in "Pibil Pastes" and Mayan cooking. Annatto shrubs or bushes bear pink flowers and bright red-brown spiny fruits which contain the valuable burned red seeds. Mayan people value Annatto for its healing properties, great taste, fabulous natural dye, and wonderful aroma. Seeds are dried and used as powder.

Habanero Chilis (English), Chiles Habanero (Spanish) Capsicum chinense Jacquin A 100% Yucatan, native to the Yucatan where it is grown commercially; the term "chinense" is misleading not a true geographic reference. Habanero chili have green, yellow and orange skins when ripe; considered to be the world's hottest chili, ranking 250,000 -350,000 Scoville Heat Units. Habanero chili are perennial plants that enjoy 5-6 pH acid, humid soil and full sun. Highly value for chili sauces and traditional Mayan home recipes for its strong aroma, taste, and powerful nutrient qualities; birds love the taste and aroma of this chili fruit.

Root Beer Plants or Mexican pepperleaf (English), Hoja Santa (Spanish), X-mak-ulam (Maya), Piper auritum. Native to Meso-America, Hoja Santa is a shrub that grows wild in Yucatan, it is common in many Mayan village huts as a healing aid and nutritious leaf to cook with. Each leaf is shaped like an oval heart and some plants have huge 20 cm long leafs that smell and taste a bit like anise and nutmeg combined with a hint of peppermint. Highly use at Yaxkin Eco-Spa.

Epazote (Spanish) Chenopodium ambrosioides, Indigenous herb to Mexico with serrated leaves resembling overgrown spearmint. Strong flavor and aroma. Epazote is among essential herbs in Mayan Cuisine and has healing properties when taken as a light herbal tea.
Back to Top

Yucatan's l
Tropical Fruit Trees and Exotic Fruit Bushes
Lush Tropical Gardens and Beautiful Flora, Hacienda Chichen, Yucatan
Chicozapote or Sapote Trees, Cuyche (Maya)Manilkara zapota, Sapotaceae Family, Sapote tree blooms from February to March, bearing light brown velvety fruits with soft creamy texture pulp, highly aromatic and with a delightful delicate flavor. Mayas value this tree for its highly priced exotic hardwood, delicious fruits, and exuberant foliage; the tree grows wild or in man-made crops. Sapote fruit is very aromatic and has a mild creamy texture light tan pulp, tastes great!

Mamey (Spanish / English) Mukuy ha'as (Maya), Pouteria sapota, Sapotaceae Family, native to Mexico now grown all throughout Latin America. This large leaf tree has solid trunk and branches forming lush canopy, blooms during March and April, fruits are ripe from May to September. Fruit very aromatic, velvety texture, bright burned-magenta-orange color, very aromatic and delicious sweet rich flavor; one elongated almond-like large shiny seed per fruit.

Star Apple Tree (English), Caimito (Spanish), Chrysophyllum cainito, exotic tropical fruit native to the Americas, from the Sapotaceae Family. The caimito tree has leaves with a glossy green upper-side and a velvety gold underside, the fruit when ripe has a deep dark purple silky skin, round soft body, upon cutting the fruit renders a gentle milky juice from its very aromatic and delicate sweet pulp.




Chocolate Fruits (English) Sapote Negro (Spanish) Ta'uch (Maya) Diospyros digyna, Ebenaceae Family. Native to Yucatan and Central America. Black sapote or chocolate fruit trees grow wild reaching.20 meters tall; lush evergreen foliage of glossy elliptic-oblong leafs. Chocolate fruit blooms off-white flowers; ripe fruits are shiny green persimmons with smooth skin and a chocolate tasty edible dark pulp. Birds and bats wild propagation.


Mango Tree (English / Spanish) Ok (Maya) - Mango belong to the genus Mangifera, consisting of numerous species of tropical fruiting trees in the family Anacardiaceae. Mango flowers bloom in terminal panicles. Mango fruit may take longer than three months to ripen. Hacienda Chichen's Lush Tropical Gardens have four varieties of mango trees, Haden and T.Atkins are resident wildlife and guests' favorite mango, specially kinkajous and many birds which enjoy the aromatic sweet flavor of ripe fruits during the summer.

Avocado (English), Um (Maya), Aguacate Silvestre (Spanish), Persea americana, Lauraceae Family. Native to Mexico, grows in tropical climates. Mexican Avocados have been cultivated since Pre-Hispanic times by Maya people and other civilizations Blooms in March to April fruits from June to September. Leaves medicinal, fruit highly nutritious and deliciously velvety with delicate aroma and great flavor; one large seed per fruit, seed contains high concentration of valuable natural oils.


.

Geiger Tree (English), Ciritote (Spanish), K'oopte' (Maya) Cordia dodecandra, Boraginaceae Family. Highly priced hard wood, delightful fig style wild fruit with a shelled nut flavor similar to an almond. Native to Mexico, the tree bloom's from March to May and bears fruit during the summer, its small aromatic fruit is cooked to create sweet compose and marmalades. Ciricote wood is a highly valuable fine hardwood; its leaves is used for fine sanding including feet dry skin.

Wild Papaya (English), Bonete (Spanish), Coahuayote (Naualt) K'uun che' (Maya) Jacaratia mexicana, Caricaceae Family. Native to Mexico. Wild growing tree, tall and slim with soft bark trunk and elliptic leaflets, male and female flowers on separate trees (dioecious). Ripe Bonetes or wild papaya fruits have small seeds and distinctive large pendulous shape (photo) that hang from leafless branches during May and June. Edible wild fruit with high nutrition value, pulp and aroma similar to papaya.


Papaya, (English/Spanish) Put (Maya), Carica Papaya, Caricaceae Family. Papaya is native to South of Mexico and Central America. There are many varieties of Papaya fruit with different color and size, all with rich aroma, nutrients, flavor, and enzymes helpful to skin care and calm indigestion. Papayas grow directly attached to the tree trunk near leafs stems (photo). Red Lady is a dwarf self pollinating variety grown at Hacienda Chichen organic garden, fruits weigh 6 to 8 pounds, with excellent sweet flavor, aroma, color and texture.

Guanabana (Spanish), Annona muricata, Annonaceae Family, native to Latin America. Soursop has a sweet and tart custard-like pulp. The fruit are typically heart shaped, and weigh up to ten pounds. They make superb milkshakes, but can be eaten fresh as well. The trees are fast growing, and they usually begin fruiting in just two years.
Annona (Spanish), Cherimoya (English), Op (Maya) Annona reticulata, Annonaceae Family, native to Mexico. Tropical fruit tree blooms in the summer, fruits are ripe by October and November highly aromatic white pulp with a wet transparent meat that covers many almond size seeds; texture is velvety with a rich sweet taste.
Saramuyo (Spanish), Sugar Apple (English), Annona squamosa, Annonaceae Family, native to Mexico. Tropical fruit tree blooms from February to April, by June fruits are ripe and ready to eat; aromatic white pulp with a shite transparent meat texture that covers many hard black seeds, each pocket of the fruit's pulp has rich aromatic sweet taste, healthy snack!



Red Mombin fruit tree (English), Jocote che (Maya), Ciruela (Spanish), Spondias purpurea, Anacardiaceae Family. This is a lovely tree to watch as fruits ripe, Maya people use the bark for medicinal remedies. Trees go dormant in winter and drop all of their leaves before flowering; fruits follow in 45-60 days. The fruits and flower grow right on the Ciruelo branches. These hog plum trees' bear fruit from May to September. Ciruelas are eaten green, ripe, or cook in a Mayan Pipian.



Pomegranate (English), Granada (Spanish), Punica granatum, Punicacea Family. This fruit is highly valued for its nutritional rich vitamins and high concentration of naturally occurring antioxidants of any fruit. Typically, pomegranate's in Yucatan are smaller than those found in California, with bright ruby-like transparent sacs that contain a seed, juice, and a flavorful pulp. Pomegranate are great add on healthy treats in gourmet salads, meals, or juiced for a drink. Maya children enjoy these nutritious fruits.


Guava (English), Guayaba (Spanish), Xālxocotl (Nāhuatl) Pichi' (Maya) Psidium guajava Myrtaceae Family. Native to Mexico. Guava tree grows best in semi-dhaded tropical climates and humid soil. Guava tree trunk has a distinctive smooth copper color bark and can grow up to 15 meters high in the wild; its leaves have a mild smell when rub, white delicate flowers bloom in March and by May guava fruits are fully grown; when ripe they have a distinctive sweet fragrance and may reach 5 cm. in diameter. Guava fruits have a spherical small seeds cluster in the center and can be eaten raw or cook. Guava leaves, bark, and fruit have medicinal healing properties use by Mayan Healers. Ripe guavas are a delight for birds, iguanas, bats and bees its pollinators.


.
Wild Graboo (English), Xac pac (Maya), Nance (Spanish), Malpighia crassifolia, Malphigiaceae Family, wild tropical forest hardwood tree with orange yellow small bloom clusters during May, bearing small cherry like yellow round fruits that have silk shiny light skin, a creamy rich flavor with tart undertones, highly aromatic and bitter sweet, ideal for liquor creams. Maya people enjoys ripe fruits with salt and chili powered as snacks.

Bananas (English), Plátanos (Spanish) Ja'as (Maya), Musa paradisiaca, Musaceae Family. Native to Southeast Asia, banana hybrids are now widely cultivated in subtropical world regions. Banana trees are evergreen herbaceous plants that only bear fruits once from a pseudo-stem with a large flower at its tip; from the flower grow multiple clusters of fruits creating a large column fruit pendant; banana leafs are used to wrap tamales and other Mayan cooking delights.
Plantain (English), Plátano Macho (Spanish) Xib Ja'as (Maya), Musa balbisiana, Musaceae Family. Native to India, nowadays cultivated in many subtropical regions like Yucatan. Plantain tree bears flower and fruits in the same manner as a banana tree; plantain plants propagate with suckers frim the mother plant which dies after bearing fruit. Fruits are eaten always fried green or ripe.

Tamarind (English) Tamarindo (Spanish), Pah-Ch'uhuk (Maya) Tamarindus indica, Fabaceae Family. Native to Africa, brought during Colonial times to Yucatan, tamarind evergreen trees bear great amounts of fruits pods from April to July. Maya people enjoy the tart sweet aromatic rich flavor of this fruit, Tamarind is highly popular among Maya people. Fruit pods hang in clusters up to six to eight inches long. tamarind is eaten ripe, fresh, in candies, juices, and in sauces.


Orange (English), Naranja Dulce (Spanish), Pak' aal (Maya) Citrus sinensis, Rutaceae Family. Oranges are hybrid trees; originating maybe in China where cross pollination on pomelo and tangerine seem to have yield the first orange hybrid. Orange blooms have sweet citrus aroma; bees pollinate most blooms. There are a large variety of orange hybrid fruits, in Yucatan it is the Citrus sinensis the most commonly grown. Fruits are oval shaped with yellow-orange porous skin tones. Orange leafs teas are used to smooth digestion.

Sour Seville Orange (English), Su'uts' pak'aal (Maya) Naranja-Agria (Spanish) Citrus aurantium ssp. Rutaceac family. Naranja Agria (sour orange) is an indispensable ingredient to Maya and Yucatan cuisine. Sour orange oil is commercially produce in other countries for cosmetic and cleaning products. This citrus has ruff skin and bitter sour juice. Its trunk, branches, leafs are similar to other orange varieties. Sour Seville Orange trees enjoy full sun and water.

Lemon (English), Lima (Spanish) - Yucatan "limas" are hybrid citrus that look like a round Persian lime but have distinctive aroma and flavor no other lime matches. Limas have bumpy yellow/green thick skin rather than a smooth thin skin texture. It is not known where or how this lime originated, but must likely it is a hybrid between a Mexican lime and a sweet citron.

Mexican Lime (English) Limon Indio (Spanish) Citrus aurantifolia, Rutaceae family. Native to Mexico. This limon / lime has a tart sweet flavor with a high acidity, strong aroma, and thinner rind than more common limes. Mexican lime shrubby tree has ovate leafs and thorny thin branches. Flowers and fruit appear throughout the year but are most abundant from May to September.


Back to Top
Evergreens Trees and Other Seeding Exotic Trees
Lush Tropical Gardens and Flora, Hacienda Chichen, Chichen Itza, Yucatan, Mexico

Maya Nut or Breadnut (English) Ramon Tree (Spanish) Tax'Osh (Maya) Brosimum alicastrum Moraceae / Fig Family Native to tropical America, this evergreen has thick lush foliage and canopy. Ramon trees produce small round seeds with one starchy highly nutritious Maya nut. Ramon seeds or Maya Nuts are much higher in many vital nutrients including antioxidants than foods grown on farmed soils. Ramon fruit, also know as Maya Nut, is an important food for Mayan people. Ramon or Maya Nut tree is a valuable hardwood for Mayan rural people as its wood is used as timber. Ramon latex is often mixed with chicle tree sap; and its green-blue leafs feed horses and domestic cattle, and its seeds may alleviate many of the mal-nutrition issues found in Mayan rural villages today.

Elephant Ear Tree (English), Piich (Maya)Guanacaste Spanish Enterolobium cyclocarpum Fabaceae Family. Native to Mesoamerica. Strong long branches, large majestic thick trunk, when mature the Piich can reach 30-35 meters high, huge canopy, foliage with double pinnate leaflets. Older Piich trees house many varieties of wild orchids and bromeliads. Piich trees flower in April and are filled with exotic deep purple-brown woody seed pods by May. Elephant Ear Tree's seeds are starchy with a light peanut flavor, very nutritious and filling. Maya people cooked Piich seeds as snacks (much like pop-corn) and rural Mayan people process seeds to make flour for tortillas when corn crops are marginal.

Calabash Tree (English) Jicara (Spanish) Luch Maya, Crescentia cujete, Bignoniaceae Family. Native to tropical Americas. Calabash or Jicara tree has small bell-shaped leave. Its yellowish flowers, often veined with purple, open at night and are bat pollinated. The calabash fruit grows 12cm.across when ripped; heavy fruits, juicy pulp and seeds. Maya people cut calabash fruits and cured them to be used as bowls and cups. Trees endure high draught periods and enjoys full sun.



Red Gumbo limbo (English), Chakah or Sip' che' (Maya), Bursera simaruba, Burseraceae family. Red Gumbo Limbo is native to the Americas; a deciduous tree most notable for it's peeling deep reddish bark, and soft wood, nowadays use by Maya carvers. Chaca's small white bloom clusters grow in spring and winter. This Gumbo limbo can be propagated by just planting young branches to the ground, Maya people use it as posts for fencing their parcels that with time become mature trees. The Red Gumbo limbo or Chaca tree has a high salty soil tolerance and many medicinal qualities used by Maya healers in tea fusions, oils and anti-inflammatory ointments.


Sea grape (English), Uva de Mar (Spanish), Sak tabka'an (Maya), Coccoloba uvifera, Polygonaceae Family. Native to America coasts. Coastal Sea-grape shrubs have stout branches, seldom a distinct trunk. Inland it can grow up to 4 meters high lovely tree; enjoys full sun with sandy or limestone soil, resists draught well. Sea-grape's fragrant white flowers spikes give bees and ants a feast. Fruits clusters are filled fleshy wild grapes, great food for birds, bats, and mammals.

Cuban Laurel or Indian Ficus (English), Laurel (Spanish), Ficus retusa Moraceae Family. Asian origins, but adopted as a native Cuban evergreen laurel tree. Cuban Laurel ficus has a huge lush dome canopy, deep green-blue foliage in its magnificent branches and leathery pinnate leafs, its berry-like golden yellow fruits grow in Spring. Its large branches can reach up to 20 feet long, trunk is very attractive and shapes organically to adapt, runs large air roots and enjoys holding limestone formations at its base. Birds, small mammals, snakes, ants, and other insects find food and refuge. This evergreen Laurel is pest resistance and generally grows in sunny areas year-round. Propagates with cuttings, wasps and bee pollinated. In Asia this is a good bonsai tree, but in Yucatan, Mayan people value its refreshing huge shade.

Strangler Fig (English), Higuero (Spanish), Amatl (Maya-Naualt) Ficus cotinifolia, Moraceae fig Family. Native to Mesoamerica. An evergreen strangler fig tree that has 2" round tip leafs and produces small berries at the base of leaf stems; pollinated by ants and bees, propagated by bats, These Ficus are strangler figs, their roots are a mayor factor for the demolition of many Mayan temples (ruins) and Colonial Haciendas in Yucatan, Mexico. Ancient Mayans used the wild strangler figs bark to handmade "Copo or Amatl" a amate paper for their books and codices.

Wild Tamarind or Lead Tree (English), Guaje (Spanish) Uaxim (Maya) Leucaena leucocephala. Fabaceae Family. Native to Mexico. Mayans use its branches for charcoal and firewood and for fencing. Seeds and bark also use for healing remedies. Grows wild in the Maya forest, grayish trunk; foliage nutritional for feeding ruminants, bipinnate leaflets, yellow-cream small pompom like fuzzy blooms; gives abundant brown rusted color pendant seed pods in May and June.

Peccary Wood or Peacock Flower (English), Chaparral (Spanish), Kitinché, Kitanché (Maya), Caesalpinia gaumeri Greenm, Fabaceae Family from Mexico, the Peccary Wood tree is one of the most dominating trees in the northern region of Yucatan's forest. Kitinche trees are part of the Mayan non-crop plant resources and important source of pollen and nectar for bees in the Yucatan, Mexico, the lovely Caesalpinia gaumeri Greenm is a prefer firewood for most rural Mayan people.
Back to Top
Palm Trees
Lush Tropical Gardens and Beautiful Flora
Hacienda Chichen, Chichen Itza, Yucatan
Dioon Cycad, D. Spinulosum, Cycadaceae. Zamiaceae family, native to Mexico. All Cycads are gymnosperms ancient simple mega-sporophylls, palm-like plants, that lived in the Permian era, over 200 million years ago. Dioon Cycads are also known as Blue Dioon spinulosa these cycads are remarkable exotic palm-like plants facing extinction, thus protected at Hacienda Chichen Botanical Gardens. Cycads are a distinct monophyletic group, defined by the presence of cycasin, the frond leaves toothed margins, huge sporophylls cylindrical cones covered in golden short hairs, and the absence of auxiliary buds and stout trunks. There are three cycad families: Stangeriaceae, Zamiaceae, Cycadaceae. Further reading and photos of Dioon Cycad Palm here.
Royal Palm, Roystonea regia Arecaceae family. Roystonea regia Royal Palms have a grey to white smooth stem that grows over 30 meters high. Royal Palms have an elegant majestic presence, often bulging either at the base or the central portion, depending on the species. Royal Palms crown-shaft has a distinctive green vassal sheath that extends up to 5 meter of the palms large fronds (pinnate leaves). These palms have the ability to easily release their heavy fronds (leaves) in strong wind. Royal Palm trees have branches panicles with white unisexual flowers filled with nectar that bees enjoy. Their fruits are small spheroids (1 cm diam.) with thick deep purple skin when ripe, highly enjoyed by birds and bats. Some Royal Palms have nodules root shoots at the base of the stem species so closely resemble one another can only be differentiated by inflorescence scientifically. Yucatan woodpeckers and other birds enjoy its fruits.


Coconut Palm (English), Palma de Coco (Spanish), Kastelan tuk (Maya), Cocos nucifera, Arecaceae family. Coconut palms have single ringed stem. They are poly-gamomonoecious with both male and female flowers found in same inflorescence; bees pollinate flowers.Fronds are large and flow with wind. Coconut palms require sandy soil, full sun, and high humidity for growth. Fruits have protective fiber husk, hard endocarp covering its white flesh, soft to hard as it ripens. Coconut's nutritional value is great; its sweet water, white flesh and natural oil are delicious food choices.
Areca Palm, Chrysalidocarpus lutescen, Arecaceae family. This lush exuberant palm has green feathering fronds that fan out from several clusters of trunks. It grows best in humid tropical forests, slender single steam with ring marks from the areca palm frond growth, clusters with new shoot growth to create massive groups of arecas; found at the entrance of Hacienda Chichen's main drive and along the lush tropical garden paths.

Guano Palm, Sabel mauritiiformis, Arecaceae family. A prized palm is found in the Maya jungles and is the most valuable palm frond for the Maya people since it is used to build their traditional home's roofing. The Guano palm has large thick water-resistant fronds that will last up to 15 years when properly cured for roofing. Harvest only during full moon by the Maya to avoid steam to be susceptible to insects damage. The Guano palm trunk as it matures because very hard and sturdy.

Guadalupe Palm, Brahea Edulis, Arecaceae family. An endemic palm to Mexico, this lush small fan palm has shiny green fan-shaped leaves, usually with indentations along the midrib. Guadalupe palms grow to 9 meters high showing a highly fissured trunk 1-1/2 feet in diameter. Endangered in its own native habitat in Mexico, the Guadalupe Island, this beautiful palm is grown successfully nowadays in many palm farms, specially in the United State as an ornamental palm.

Veitchia Palm, Adonidia merrillii, Arecaceae family. Resembles a dwarf version of the royal palm with a thinner gray white smooth stem marked by frond growths. Veitchia Palm grows up to 5 meters tall. Its inflorescence attract many bees mostly in October when it flowers, by December its oblong bright red nuts (photo) hang from the stem. Pinnate frond leafs build a short compact green crown-shaft. Native to the Philippines, this beautiful ornamental palm was brought Hacienda Chichen's Botanical Gardens by Mrs. Carmen G.Rul de Barbachano in the early 1950s; for the hotel's palm collection.

The Cabbage Palmetto Palm, (English) Palmera Ornamental (Spanish), Sabal palmetto, Arecaceae Family. This beautiful Sabal palmetto has "fan" fond that form a rather ornamental overlapping pattern on its trunk as it is trimmed; such overlapping pattern allow the trunk to become a perfect site for wild orchids, ferns and bromeliads to grow and bloom. Sabal palmetto trees can grow more than 20 meters tall; its yellow blooms have a rich nectar that attracts many bees and birds.

Dwarf Saw Palmetto (English), Chit (Maya), Serenoa repens, Sabal serrulata, Arecaceae Palmae Family. Native to Florida and Yucatan Peninsula. Dwarf Saw Palmetto is a small hardy fan palm, its stem usually remains below ground or runs just along the surface. An especially attractive form with silvery-blue leaves. Saw palm seeds are highly valued by Mayan communities for building hut roofs and palapas; today the saw palmetto seeds extract are used in traditional medicine for prostate cures.
Back to Top

Agaves, and Cactus
Lush Tropical Gardens and Beautiful Flora
Hacienda Chichen, Chichen Itza, Yucatan
Agave 'Joe Hoak' (English), Chelem (Maya) Sisalito (Spanish) Agave meridensis variegata, Agavaceae (Agaves) Family; Native to Yucatan, Mexico. A truly striking variegated rosette shaped succulent, grows 2 feet tall by 3 feet wide; now cultivated worldwide as an ornamental plant. Leafs beautifully variegated with blue-green centers and cream sharp edges, ending in a hard red spine. The mature succulent agave is quite impressive. Plant enjoys frequent water, full sun, tolerates semi-shaded area; roots propagates new offspring.

Agave Desmettiana (English), Maguey Semati (Spanish) Ki (Maya), Agave desmettiana, Agavaceae Family. An elegant agave has deep blue green leafs with smooth edges and a red spine tip. Agave desmettiana grows a single spike with cymes of big yellow flowers, that can reach up to 2.5 meters in height and last up to three months. The plant dies after flowering, and propagates producing suckers (basal shoots). Agave desmettiana grows best in Yucatan planted in indirect sun garden areas.

Sisal Plant (English) Henequen (Spanish), Agave fourcroydes Lem. Agavaceae Family. Henequen agave originated in the Yucatan Peninsula differs from Sisal, Agave sisalana, slightly; both are highly fibrous agave hybrids that propagates with basal growing suckers. Henequen agaves have sword-shaped leafs rosette that grow 1.5 to 2 meters tall. Its fiber had a high commercial value before man-made fibers replaced natural fibers in the manufacturing of ropes.


Mother-in-law Tongue (English), Lengua de Vaca (Spanish), Sansevieria trifasciata, Ruscaceae family. Prefers full sun, but can tolerate low light conditions. Native to Africa it is common in Yucatan, Mexico, where it grows up to a meter and a half (5ft.) Hacienda Chichen Lush Tropical Gardens has evergreen, variegated, and dwarf Mother-in-law Tongue varieties. These are herbaceous perennial succulent that need little water and are very drought tolerant; they propagate through clumps spreads and leaf cuttings; each bloom spreads a delightful night fragrance. Mayas use its fiber to handcraft art paper.

Aloe Vera (English), Sabila (Spanish), Jun Peet's K'iin Kij (Maya), Aloe vera, family: Asphodelaceae. Native to Africa it was brought to Hacienda Chichen in the early 1960s. Mayan have benefited from the plants healing properties. Aloe Vera plants grow in a rosette pattern, about to 60–100 cm; succulent leaves have inner clear juice pulp or gel that is highly use in herbal healing remedies for its skin care qualities at Yaxkin Spa, see our Nature Eco-Spa Wellness Vacation offers.
Back to Top
Malangas and Other Tropical Flower Plants
Lush Tropical Gardens and Flora, Hacienda Chichen, Yucatan, Mexico
Upright Elephant Ears (English) Colocasia, Malanga (Spanish), Alocasia macrorrhiza. Grows up to 2 meters tall in semi-shaded areas; Malanga has huge green leaves, blooms are elegantly shaped with one single large cream colored spadix, flowers are big off-white scented single petal stems on the base of leafs.
Violet Stem Taro (English), Malanga Morada (Spanish) Colocasia fontanesii Grows up to 2.5 meters tall in semi shaded areas; Violet Stem Taro or Malanga morada, violet taro, has huge deep violet stems and green-violet leaves and leaf backs. Blooms with huge cream velvety spadixes (one petal flowers).

Variegated Lily Plant Tradescantia bermudensis 'Variegata', Commelinaceae Family. An ornamental perennial succulent herb, native to Tropical Central America. Found bordering the garden path, the variegated lily plant does best in full sun to partial sun. Seedless ornamental herb, propagated by division of its rhizomes (offsets) or from herbaceous stem cuttings too that root easily. Herbaceous compact rosette plant spreads forming clumps, leafs are green atop and have purple under color. Mayan healers find it has great healing and anti-inflammatory qualities.

Hibiscus (English), Tulipanes (Spanish), Caanché (Maya) Hibiscus furcellatus; Malvaceae Family. It is an indigenous species of Florida and Central America; the Hibiscus furcellatus flowers bloom with deep red five petal flowers or bright magenta petals. Many commercial hibiscus hybrids are now found in every tropical regions of the world as ornamental refreshing colorful flowers use as edges and for showy topiary, making it very difficult to know the plants' species. Pistil has both sexes and gets pollinated by humming birds, bees, and other insects feeding in its nectar.

Chenille plant or Red-hot Cat-Tail (English), Cola de Gato (Spanish) Chac Nicte (Maya) Acalypha hispida, Euphorbiaceae Family. Native to the East Indies. Chenille are exotic ornamental spurge flower shurbs that grow long "pendulous tassels like" flower clusters that are fuzzy catkins. Its leafs look similar to a hibiscus shrub, but its flowers are dioecious (only female or male plant). Chenille's pistillate flowers are purple, deep magenta or crimson. Enjoys full sun and humid soil; propagates well in Summer with semi-ripe wood tip cuttings (heel).
Back to Top

Exotic Wild Trees and Bushes
Lush Maya Jungle Reserve's Beautiful Flora
Hacienda Chichen, Chichen Itza, Yucatan
See if your know a bit about our Tropical Flora and Delights! Can you identify these fruits and flora? Try first, then place your arrow to read the correct answer.
Back to Top
Lush Tropical Gardens and Beautiful Flora
Hacienda Chichen, Chichen Itza, Yucatan
Bougainville (English), Buganvilias (Spanish), Bougainvillea glabra, Nyctaginaceae family of woody vines with thin stem full of sharp thorns and dark evergreen leaves growing up to 2 meters tall. Bougainville vines are native to Latin America now grown in most of the world's tropical regions. Its flowers bloom in clusters and there is a huge variety of colors; easily reproduce with cuttings. Bougainville likes moist soil and tolerates dry climates. Highly appreciated as a medicinal cough tea and flower fusion in Maya healing traditions.

Empress Candle Flower (English), Flor de Camaron (Spanish), Senna Alata, Fabaceae Family. This exotic yellow flower attracts bees, birds, insects, specially butterflies; native to Mexico. Lush exotic green foliage with impressive yellow candle-like blooms that shoot small white flowers. Highly ornamental shrub, Empress Candle bushes may stand 3-4 m tall. Prefers open sunny areas. Medicinal plant with good antibacterial potency, antifungal activity found in its flowers.

Yellow Walking Irises (English), Lirio Amarillo (Spanish), Neomarica longifolia, native to America tropics. Herbaceous perennial plant, erect grass like leafs grow to 1-1.5 m. Yellow Walking Irises flower in clusters of several blooms normally during the rainy season in the wild and almost all year round at Hacienda Chichen due to irrigation. The plant does best in a semi-shaded garden area, blooms bright deep yellow iris like flowers mainly in Spring with seven oblong petals in the exterior grown and five small petals in the interior that are gracefully spotted with burned orange tones. Neomarica longifolia roots enjoys very humid almost wet soil and propagate in clumps of young plantlets formations in the flower cluster stem, as the flower cluster falls over, the plantlets reach the soil to root themselves forming a new plant..
Back to Top

More Flora and Beauty will be uploaded soon!

Hippeastrum 'Minerva' – Amaryllis –
Giant Spider Lily (English) Crinum amabile, long elevated blue-green leafs grow in a rosette cluster, blooms with a long steam of scented flowers cluster of white and magenta spider lilies.
Orchids
Grilly White Orchid, Rhyncholaelia dibyana
Orchid. Brassavola cucullata
Coral Bean, Erythrina americana
Holub Bravaisia tubiflora
Jojom Baak (Maya) Chrystine Orchid Myrmecophila tibicinis
Chi'it ku'uk (Maya) Cowhorn Orchid Cyrtopodium punctatum
Bromeliads
Flowers of the Bromeliads, Chichen Itza, Yucatan, Mexico
Exotic Tropical Flowers
Magenta Ginger, Alpinia purpurata
Gran Ginger, Alpinia Jungle King
Heliconia Cascada, Heliconia rostrata
Bourgeana 'Pedro Ortiz, Heliconia collinsiana
Heliconia Canario, Heliconia lutea
Maya Gold, Heliconia champneiana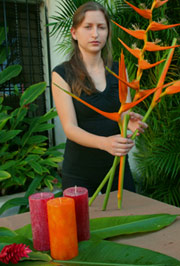 Please contact us for further information about
Yucatan's flora and fauna, join Jim Conrad weekly newsletter about Yucatan's wonderful natural world; he has contributed to the Maya Foundation In Laakeech NGO conservation efforts in conjunction with the Hacienda Chichen sustainable tourism vision.
---


Special Open to the Public Invitation from our Sponsor
Yucatan's Wildlife: Our World, Our Mission
protecting Yucatan's fauna (indigenous animals)

We hope you enjoy reading and viewing our new article about Yucatan's endemic fauna and Yucatan's adopted tropical exotic plants.
MAYA FOUNDATION IN LAKECH A.C. AND HACIENDA CHICHEN"S SOCIAL ACTIVITIES AND PROGRAMS TO SUPPORT LOCAL MAYA COMMUNITIES
AND NATURE CONSERVATION RESERVE:
We are proud to have participated in the Geotourism Challenge 2009 for Sustaining the Future of Destinations, as an example of an innovating Geo-Sustainable tourism venture; such Geo-Challenge project was sponsored by National Geographic and Ashoka's Changemakers.

Back to Top

We are glad you find our Online Volunteer Eco-Travel Guide articles interesting and full of learning fun. Yucatan Adventure welcomes article, news, travel contributions, and ideas on how to support the Maya Foundation In Laakeech efforts to help the Mayan Communities nearby Chichen Itza, Yucatan, Mexico.

---

Special Offers from our Sponsors:

Chichen Itza Vacation Packages and Special Offers help travelers save money when planning their visit to Chichen Itza, Yucatan, Mexico. Remember to view our "Chichen Itza: Things to Do" and our Monthly Fiestas and Events Calendar.
Yucatan Vacation Packages and Best Green-Vacation Packages in Mexico!
---
Yucatan Vacation Packages and Best Green-Vacation Packages in Mexico!
Great Eco-Travel Vacation Offer from Our Sponsor:
September 2012 Travel Eco- Vacation Offer:
Visit Chichen Itza at Great Eco-Vacation Savings
Rent Your Own Private Cottage at Hacienda Chichen for a very Special Low Price per Week arriving September or October 2012

Don't miss out on a Great Rental Offer from Yucatan Haciendas' top Eco-Cultural Destination and Green Spa Resort! Hacienda Chichen Resort is offering travelers and families the opportunity to rent a private two double bed guest-rooms / two bathroom cottage with its own private patio terrace for the unique especial discount price of USD $ 899 plus taxes per week (weekly rate rental offers six nights / seven days). This Eco-Cottage Week Rate Rental offers you 50% savings or regular seasonal rates! Offer valid for prepaid bookings only. Non-refundable, non-cancelable.
Don't miss this opportunity! Contact: Info@haciendachichen.com Reserve Now

---
Article courtesy of Hacienda Chichen Resort and Yaxkin Spa
Published August 2009, Updated October, November 2009,
July 2010, September, November 2010, June 2012, March 2015, Sept. 2016, October 2017