Yucatan Adventure Mayan Recipes:
Maya Cooking and Fusion Mayan Cuisine
Check our Free Organic Recipes and Mayan Cooking Recipes

Yucatan Culinary Blog Eco-Travel Blog Maya Cuisine Blog

We hope you enjoy our Maya Cooking and Yucatan Mayan Recipes. The Maya Chefs at Hacienda Chichen & Spa, Chichen Itza, Yucatan, Mexico, have generously shared some of their gourmet Maya Fusion recipes with us as a token of support to our volunteer efforts.

Hacienda Chichen Chef team's Maya Fusion Cuisine mastery have earned the respect and admiration of many experts. We thank the Hacienda Chichen for sharing some of the most celebrated Maya recipes and cooking secrets! Here are ways to blend the nutrition rich value of organic food produce choices with the warm, calming taste of Mayan culinary traditions.

If you would like to participate in a Maya Cooking Classes and Vacation Packages,
please contact Chichen Service for further details and information.

Try Our Yucatan, Mayan and Organic Cooking Recipes:
Maya Chocolate Sorbet ▫ Mayan Hot Chocolate ▫ Papaya Mango Smoothie
Pomegranate Energy Snack ▫ Spiced Pineapple Cubes ▫ Fresh Avocado Salad

Maya Citrus Salad ▫ Sikil Pac Dip ▫ Guacamole ▫ Cream of Chaya (soup)
Lima Soup ▫ Ix'ni Pec (salsa) ▫ Tikin xic (grilled fish) ▫ Shrimp Maya Ceviche
---

HEALTHY AND DELICIOUS
MAYAN AND FUSION COOKING RECIPES:
Our 100% Gourmet Maya Chocolate Sorbet

Hacienda Chichen's former Executive Chef, Josue Cime is an indigenous Maya chocolatier that loves rich deep bittersweet chocolate, and who retired from his post at the hotel to start his own bakery. He shares the Hacienda Chichen's organic chocolate sorbet recipe which truly requires top-quality Kakaw (cocoa powder) to reach its fullest deep aroma and rich flavor. The quality of the cocoa powder makes all of the difference when it comes to nutrition value since it is filled with antioxidants and mood smoothing polyphenols. A great recipe to enjoy after a day of stress, an exquisite easy to make gourmet treat!
Ingredients: for a liter of sorbet (about 1 quart)
200 grams of raw unbleached sugar
555 ml. of fresh water
75 grams of organic unsweetened chocolate or Maya Kakaw
(a top-quality cocoa powder will do)
Pinch of salt (for a real Maya taste add a pinch of dried red chili)

170 grams of minced organic bittersweet dark chocolate
1/2 teaspoon pure organic vanilla extract
How to Prepare:

Place raw sugar, Kakaw, and salt in a large, deep saucepan. Slowly the water while whisking this dry mixture together to make an uniform, thick mixture. Cook over a gentle heat and frequently stir the mixture to retain its uniform texture. Bring to a boil but don't let it foam; simmer for 45 minutes and remove from heat. Before cooling, add the fine chop chocolate and whisk until melted; then, stir in the pure vanilla extract and up to 3/4 cup of fresh water to create a soft-body mixture.
Smooth mixture in a blender for half a minute for a gourmet lightness. If you use an Ice-Maker, follow its manual; otherwise try our Maya Chocolatier Chef Josue Cime's traditional sorbet making hand-system. Here is how he does it:

Freeze & Mix Hand Method to make any Sorbet:

Pour mixture in any wide freezer-proof container and cover it tightly with a lid; to avoid ice crystals and freezer burn. Place in the coldest side of your freezer for about one hour (or a bit more until the mixture is solid outside but not ice-hard). Brake the semi-frozen mixture and place it in a blender until it creates a smooth ice-frozen texture, then return to the freezer following the same care done the first time, to avoid ice crystal formation. Repeat three or four times, same steps from freezer to blender, until forming a uniform thick sorbet texture; repeat procedure every half an hour or before mixture hardens.

When the sorbet achieves its final smooth texture, place it in an air-tight container in the regular cool part of your freezer. Sorbet will remain smooth if properly handled between servings. Just make sure the mixture does not melt down or over freeze.
Indigenous Maya people still drink the following ancient hot chocolate recipe. In ancient times, Maya never mixed the cacao bean paste with milk, instead they used hot water; it was the Spaniards in Colonial times that began to add milk, cream, and sugar to the cacao paste to create a soft creamy taste similar to current hot cocoa. Aurelio Haz Kub, Consulting Chef at Hacienda Chichen was happy to share his family ancient Mayan Hot Chocolate with you and us.

Chocolate lovers will find a truly rich deep bittersweet chocolate flavor with a pinch of soft chili pepper touch enhancing the deep aroma of this pure and authentic traditional hot chocolate. Remember, the quality of the Kakaw or cacao paste, you use, makes all of the difference when it comes to nutrition value, aroma and flavor. Pure organic cacao butter is filled with antioxidants and mood smoothing polyphenols that aid a healthy body. If you find Maya hot chocolate a bit too strong and unfamiliar, just exchange the traditional use of water for milk, but then you will have altered that which makes a hot chocolate an authentic hot Maya drink. Great to revitalize the senses and energize your mind!

Ingredients:

3 cups boiling water
1 to 2 cinnamon sticks
8 ounces bittersweet Maya Kakaw or Xocoalt (chocolate paste) or
3 tablets Mexican unsweetened chocolate, cut into small pieces
2 tablespoons of wild pure honey, or raw sugar to taste

1 pinch of dried red chili; this is what makes the difference so try it!
1 dried organic grown vanilla bean, split lengthwise
l tablespoon roasted peanuts, ground extra fine (optional Aztec hot chocolate taste)

How to Prepare:

In a large saucepan over medium-high heat, add the cinnamon sticks to boiling water. Cook until liquid is reduced to 2 1/2 cups. Remove cinnamon sticks; add the vanilla bean and lower the heat a bit, wait until bubbles appear around the edge to reduce heat to low and drop the chocolate pieces and wild pure honey, mix well and whisk occasionally until chocolate is melted. Turn off heat, remove vanilla bean. Whisk vigorously to create a light foam effect, sprinkle the dried chili pepper and serve; and for an Aztec hot chocolate taste, sprinkle the roasted peanut powder.


"If chocolate is too rich and you prefer to thin it, do so with a little milk to smooth its taste, but remember doing so will change the chocolate from Maya to a European style hot chocolate!" advices local Maya chocolatier Saturnino Noh Uc, who will be conducting this February 2009, a Saint Valentine's Maya Chocolatier Festival at Hacienda Chichen (read news clip bellow this note).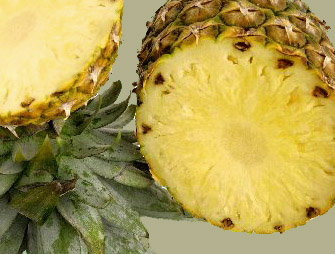 For a refreshing healthy treat, with a zesty flavor, Maya families enjoy this recipe filled with vitamins and natural carbohydrates to bring energy to a tired body. Buy, if you can, an organic fresh pineapple that is ripped but with a firm flesh! Best when chilled for a few hours prior to enjoying its immune system busting value:
Ingredients:
One large ripe organic pineapple peeled and cubed (check flesh is firm but sweet)
1/3 cup of fresh peppermint leaves chopped (or mint leaves)
Pinch of cinnamon powder
Pinch of crushed sea salt
Pinch of Chile Piquin (use cayenne powder as a substitute)
1/2 tea spoon of pure honey
Crush 4 whole cloves to mix with sugar and cinnamon
How to Prepare:

Place all ingredients in a chilled clay bowl (crystal bowl will do) and gently mix them to cover the pineapple chunk; cover treat cubes and refrigerate them. Eat each as mini-cube treat snacks; if you please, add few drops of Don Julio Tequila to the mix for adult treats only.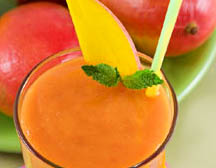 Mayan Papaya and Mango Smoothie
For a refreshing boost of energy, specially during hot days with high physical activity, nothing beats the great taste of this fruit smoothie, this recipe is courtesy of Mayan Chef Irma Chan, Hacienda Chichen Resort, Yucatan's best green spa hotel, well known for its organic gourmet menu selections. Remember to buy organic fresh fruits to assure high nutrition value of this Maya craving delight!

Ingredients:
Small peeled red papaya chunks (check flesh is firm but ripe and sweet)
3 ripe fresh mango pulp (use 1/2 cup frozen mango pulp as a substitute)
2 tea spoons of bee pollen (buy wild bee pollen to ensure high nutrition value)
1 table spoon organic pure honey (best if it comes from Yucatan)
1/4 cup of sweet orange juice (check tartness, avoid too much acid)
2 cups of crushed ice.

Maya taste secret: add a dash of sea salt and a pinch of Chile Piquin or cayenne.
Gourmet Decor: Serve smoothie on tall fancy glass, add two fresh mint leaves a top.
How to Prepare: Place all ingredients in a high speed blender, best if ice-blender is used, blend till smooth texture is achieved. Servings go really well the the spiced Maya Cubes Treat on a hot afternoon.
Pomegranate Energy Snack
For a true boost of nutrition and healthy energy, the delightful taste of fresh pomegranates recharges the body with high amounts of potent antioxidants, Omega-3 and Omega-6. vitamin C, potassium and natural fibers; all of this low-cal goodness also aids prevent cancer and heart disease. Buy organic fresh pomegranates to assure top nutrition value and eat this great gift of nature regularly. Mayan Chef Antonio loves to serve this delicious pomegranate snack during summer and fall. Make a habit of enjoying this fruit, you body will reap the benefits with any of the following energy snack delights!

Basic Ingredients:
1 large or 2 medium ripe pomegranate seeds
1 fresh lime or lemon juice (about 2 tablespoons)
1/4 teaspoon of dried cayenne pepper of Mayan red chili powder (more if you like it hot)
Dash of sea salt or potassium rich table salt.
Fruit mixing ideas: Add and lightly mix in the flavors of any of the following fruits:

Maya taste: add a fresh organic grown Jicama cut in cubes

Fall Colonial taste: add two fresh unpeeled apples, your favorite, cubed to bit sizes. Use organic grown apples when possible; we like the Gordon apple variety for this treat.

Gourmet Lunch Salad: Add walnuts or roasted cashews to the Fall Colonial mix, place them over a baby spinach leaves to create a delicious salad plate; serve with balsamic vinaigrette dressing or blue cheese dressing; best if dressing is homemade.
How to Prepare:

Choose which fruit mix idea is best for you. Place all ingredients in a glass bowl; make sure fruits are well coated with the citrus juice and blend gently the flavors to coat all ingredients well. Chill pomegranate and fruit mix well prior to enjoying its energy boosting flavor. For the Gourmet Salad choice, we recommend baby spinach leaves but you can use any green salad choice.
Nothing beats food craving like a fresh organic avocado treat does! Ancient Maya knew this fruit had calming, satisfying properties; nowadays, scientists tell us that avocadoes are loaded with nutritional value. With monounsaturated fat, potassium, and vitamins, this rich velvety fruit's texture calms any stressed moment. Here is Hacienda Chichen's Mayan Chef Florentino's own stress-busting salad:
Ingredients:
One large ripe organic avocado peeled and cubed (your choice)
One ripe organic lime juice (can be substituted with lemon juice)
One petit organic red onion peeled and chunked (or half a regular size)
Pinch of crushed sea salt
Pinch of dried red chili or cayenne
A splash of pure Acorn Squash Oil (use virgin pure olive oil as substitute)
How to Prepare: Place all ingredients in a chilled clay bowl (crystal bowl will do) and gently mix them to coat avocado cubes and onion chunks. Place the avocado seed in center to avoid fruit burn; cover salad and refrigerate it. Enjoy with grilled fish, poultry, or as mini-cube treat snacks with crackers.

Guacamole


Guacamole is one of the most Internationally famours Mexican recipes ideal as a healthy snack, a side order for a entree, and a dip for an informal party. Avocados are a wonderful fruit containing a mass of vital nutrients needed for a healthy body. Avocados are native to Mexico, called ahuacatl in Nahualt; there are many avocado types but all of them are low in sugar, cholesterol free, full of antioxidants and pure natural oils, plus filled with vitamins (containing per 100g-11% of the RDI of vitamin A, 11% of Thiamin, 19% of Riboflavin, 21% of niacin, 42% of vitamin C and 13% of magnesium, to name a few).
Ingredients:
Two large ripe organic avocado peeled and cubed (Hash avocados are best)
Two ripe organic lime juice (can be substituted with lemon juice)
One organic red onion peeled and finely chopped
Chopped fresh cilantro (organic is best, do wash it carefully not to burn leaves)
Two red ripe tomatoes finely chopped (organic or top quality)
Pinch of crushed sea salt and freshly grinded black pepper
Pinch of dried red chili or cayenne or a jalapeno chili chopped for zesty hot flavor.
A splash of pure Olive or pure Sunflower Oil (use virgin pure olive oil )
How to Prepare: With a fork mush the avocado pieces then add lime/lemon juices, pure oil, chopped onion, cilantro, salt, chopped tomato and grinded fresh pepper. Add cayenne or fresh jalapeno chili to your taste for zest. Serve immediately with tortilla chips or as a side order with your tacos, fajitas, burgers, or other grill meats.

Guacamole Recipe created for Hacienda Chichen, tastes best when mixed right before serving; use organic ingredients to ensure top nutritional quality, flavor, and aroma. Note: If you make it ahead of time, save the avocados' seeds and place them atop the mix to avoid it from burning and turning dark, best if you don't put it in the fridge- that way it won't turn dark.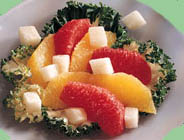 Summer's best fresh fruit treat! Organic ripe and fresh citrus give a zesty energy that is both filled with vitamins and refreshing, a great way to beat the heat. Hacienda Chichen's traditional "X'ek" a Maya Citrus Salad with a touch of spicy taste, you can create your own mix and enjoy a refreshing blend of other citrus found in your region:

Ingredients:
Peeled wedges of various citrus:
One large ripe organic red grapefruit
Two ripe oranges
Three ripe mandarins or tangerines
One peeled raw jicama cut in wedges or cubes (you may substitute it for a semi-ripe mango)
One ripe organic sweet lime juice (can be sustituted with key lime juice)
Pinch of crushed sea salt
Pinch of red cayenne chili
A few chop leaves of cilantro if you like to add aroma and taste!
NOTE: Jicama, Pachyrhizus erosus, is a popular edible root in Mexico; its Spanish name comes from ancient Nahualt: xicamatl. It has a rich crispy-water texture, high in raw fiber.
How to Prepare: Place all ingredients in a chilled clay bowl (crystal bowl will do) and gently mix them to coat citrus wedges and jicama cubes; let rest in your refrigerator for at least an hour to blend flavors. You can eat this salad as treats to refresh your body and renew your energy levels as a snack or enjoy it with grilled shrimp, crab, or cold rosemary chicken (turkey) cubes as a full lunch meal.
Enjoy the zesty flavor and aroma of this easy to make "fresh ceviche." Its rich nutrition value increases if you use vine-ripe tomatoes, organic grown onion and cilantro; plus, juicy mature limes. This recipe add lots of vitamin C, antioxidants, and potassium to your diet. Take the time to buy the best ingredients and be rewarded with an amazing tasty salad, just chill and enjoy. Add fresh celery to enhance the recipe's color, texture and taste.
Ingredients:
1 lb. of lightly cooked jumbo shrimps (clean and peel with care)
Two ripe organic limes (use juice only)
One small organic red onion peeled cut in small chunks
Three vine-ripe red tomatoes (sliced in wedges)
1/3 cup of chopped organic cilantro leaves (wash leaves with care!)
Pinch of freshly crushed black pepper
Pinch of crushed sea salt
Pinch of red cayenne chili
A light splash of pure Acorn Squash Oil (use virgin pure olive oil as substitute)
*Optional: Fresh Habanero Chile minced if you enjoy hot Maya taste and zest.
Fresh uncooked celery slices for added texture and taste.

How to Prepare lightly cooked jumbo shrimp: Bring to a rapid boil 2 pints of water, add a pinch of sea salt and the uncooked clean shrimp; when their shell turns into a light pink color take them out to cool then peel with care to take tail shell out but not the tail fins (this will make your plate look really gourmet). Set aside to chill.

How to Prepare the Ceviche: Wash vegetable with care, cut place all ingredients in a chilled clay bowl (crystal bowl will do) and gently mix them to coat each ingredient. Cover the ceviche and refrigerate to enhance its flavor. Enjoy with crackers or fill in avocado halves for a truly attractive salad serving.
Ix'ni Pec — a Mayan zesty salsa filled with nutrients, minerals, and antioxidants — is enjoyed for its fresh crispy texture, aroma, and flavor. Its nutritional value depends entirely on the freshness and quality of your produce choices, so buy the best organic and vine-ripened ingredients. This salsa enhances most meats, fish, and poultry grilled dishesit can be enjoyed as a topping over fried tortilla chips or guacamole dip; try our own organic fresh mix:
Ingredients:
1 tablespoon of homemade vinegar (market brands work well, use white vinegar only)
One ripe organic lime (juice)
One small organic red onion peeled and chopped
Three large organic red tomatoes (vine-ripened tomatoes are best)
1/4 cup of chopped organic cilantro leaves (wash leaves with care!)
One small ripe Habanero chile (cut amount for mild salsa)
Pinch of crushed sea salt
How to Prepare: Place in a clay bowl (glass will do) all ingredients, mix gently, let stand for 10 minutes to blend flavors; serve at room temperature as a snack topping or to dress up your grilled meats, fish, or poultry. Should you not find Habanero chile in your area, use fresh serrano or jalapeño chile as a substitute. This salsa stays truly fresh for up to 3 hours; we do not recommend that you refrigerated any leftover salsa because fresh tomatoes tend to ferment easily.
Chaya, (Cnidoscolus chayamansa) is a traditional ingredient in Maya Cuisine. Its tender green leaves are similar to spinach but contains great amount of minerals, antioxidants and nutritional value. Chaya recipes are truly recommended for those that have diabetes, obesity and kidney stone ailments and can be found in Texas and Florida where its popularity has gained it a place in the food produce choices of markets. We hope you enjoy this rich velvety recipe, serves four people, best made with organic fresh chaya leaves:
Ingredients:
20 tender Chaya leaves washed.
2 cups of organic whole milk
4 fresh leaves of basil
1 crushed garlic clove
1 small onion diced
1 cup of vegetable bouillon
pepper and salt to your taste.
Final Touch: 2 spoons of unsweetened cream
NOTE: You may use fresh organic spinach leaves and follow this delicious recipe.

How to Prepare: Place chaya leaves, chopped onions and crushed garlic in a pot with the vegetable bouillon and cook for ten minutes or until leaves are blanched (use mid-heat); add milk and let it cool. In a blender mix to a smooth velvety texture the remaining ingredients, return mix to pot and cook another five to ten minutes or until mixture gets really hot but does not boil. Serve hot. Add the final touch by placing the unsweetened cream in a small bag; cutting the bag's bottom tip, you can create a lovely design atop your served soup bowls. For a zesty taste, sprinkle a bit of crush dried red chili as well.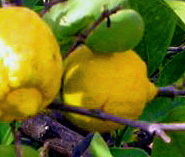 Yucatan's "Sopa de Lima"
Yucatan's "limas", are hybrid citrus that look like a round Persian lime but have a distinctive aroma and flavor no other lime matches. Limas have bumpy yellow/green thick skin rather than a smooth thin skin texture. It is not known where or how this lime originated, but must likely it is a hybrid between a Mexican lime and a sweet citron. Nutrition wise, "limas" are an excellent source of Vitamin C, with a high count of calcium, iron, copper and Vitamin A. These limes' have antibiotic effects used by Mayan traditional healers, as well as antioxidant properties including flavonoids, called flayanol glycosides helpful to stop cell division in many cancer cell lines.

Yucatan's lime juice has a unique aroma; its strong tangy and sour-sweet lingering flavor, key to this delicious soup. Chef Josue Cime's Lima Soup Recipe (bellow) is served at Hacienda Chichen Resort.
Ingredients:
1 fresh red pepper (sliced)
2 ripe red tomatoes (sliced)
1 small sweet onion (sliced)
2 dried laurel leaf (crushed)
1 crushed garlic clove
3 tablespoons of frying oil
20 oz. of fresh chicken bouillon (salted to your taste)
2 Yucatan Limas (juice, pulp and a little bit of the limas' skin grindings)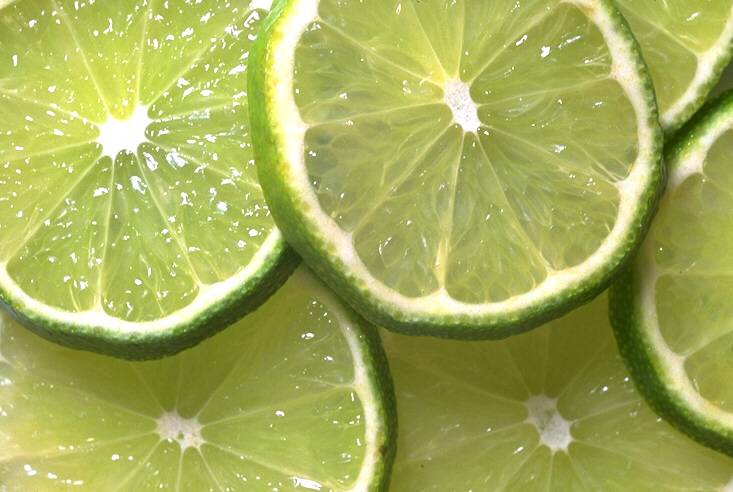 Toppings & Garnish:
1/2 lb. of corn tortilla thin strips (fried to a golden crispy texture)
1/2 cooked chicken breast (shredded)
8 thin lima slices (with skin)
NOTE: You may substitute Yucatan's limas for any sweet lime citrus available in your area.

How to Prepare: Heat oil in a medium size pot, lightly brown garlic clove and onion slices adding the rest of the above top list ingredients and sauté; add the limas juice, pulp, skin grindings and chicken bouillon and let it boil softly. At the time to serve the soup, divide in four bowls the topping list ingredients and baste them with the soup mixture. Serve hot (four bowls).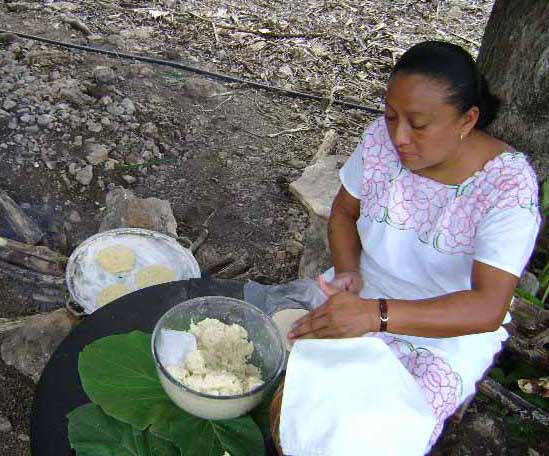 Yaxkin Spa's Maya holistic therapist, Maria Hux, learned this ancient Mayan recipe from her ancestors; based on roasted baby acorn squash seeds, Sikil Pac was a Royal Treat among the Mayan. Nutritionist volunteers at the Xcalacoop Health Clinic find this appetizer to be a great way to boost the immune system with vitamins B & E along with anti-oxidants that help elders lower their blood pressure. Sikil Pac helps fight the cell damage caused by extreme stress and emotional pressure. This Mayan recipe truly works great as a gourmet appetizer and can be stored in the refrigerator for up to three days without loosing its freshness.
Ingredients:
250 grams or 1/4 lb. of peeled Organic, Roasted Acorn Squash Seeds
(you may substitute for any other squash seeds, if fresh, wash and roast 5 minutes, peel).
Three ripe organic limes (juice)
One petit red onion peeled and chopped
Two large vine-ripened red tomatoes
1/4 cup of chopped organic cilantro leaves (wash leaves with care!)
Half small ripe Habanero chile (optional, cut amount for mild salsa)
Pinch of crushed sea salt
How to Prepare: Crush the roasted seeds into a fine paste. Mince tomato, chile (your choice), and red onion. Finely chop the cilantro leaves. Thoroughly mix all of the ingredients above with the lime juice in a clay bowl (glass will do) until it forms a smooth creamy paste. Add sea salt to taste. Let stand for 15 minutes to blend flavors; serve at room temperature as a healthy zesty topping to handmade corn tortillas, fried tortilla chips, or fresh celery sticks. If you not find Habanero chile in your area, use fresh serrano or jalapeño chile as a substitute.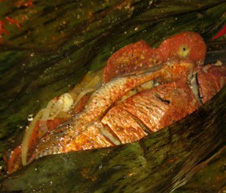 Yucatan is known for its many meals marinated with "achiote paste," a rich mixture of dried annatto seeds, herbs and peppers. It can be bought at any Latin market or online. The paste's rich burn red color comes from the annatto seed powder, which give this dish distinctive taste and aroma. This recipe is a "grill party favorite" among Maya people; Chef Josue Cime serves it regularly at Hacienda Chichen & Spa.
Ingredients:
12 oz. achiote paste (you can buy it online or in a Mexican Market)
4 fresh fish fillets (your choice fish such as grouper or red snapper with skin)
2 ripe fresh red tomatoes (sliced)
1 organic large white onion (sliced)
1 organic fresh green bell pepper (sliced)
4 fresh or dried epazote leaves (you can buy them online or in a Mexican Market)
1 smoke banana leave (cut in four wrapping size squares)
1 teaspoon virgin oil
1 small orange juice (buy orange that is tart and not too sweet)
2 limas or limes (juice and a bit of the skin grindings)
NOTE: You may substitute Yucatan's limas for any sweet lime citrus available in your area; Maya cooks use a sour orange instead of sweet orange, but mixing lime and orange will achieve a similar sour-lightly-sweet taste. Also, Chef Josue Cime recommends you grow your own epazote, Chenopodium ambrosioides, in your herbal garden since it is a popular herb in Maya Cuisine and has many healing properties when taken as a light herbal tea.
How to Prepare: Blend the achiote paste with the orange and limes juice, add a bit of water to make a smooth thick paste to marinate the fillets with in both sides. Place each marinated fish fillet in its own banana leaf square; top each fillet with a slice of tomato, green bell pepper, onion and an epazote leaf; then wrap and tied with a thin banana fiber (from center of leaf). Heat your grill well then place each wrapped fillet carefully to avoid direct fire; best if cooked with a lid in light medium heat for about 5 minutes. Serve wrapped with grilled veggies or green organic salad (tastes great with crystal rice as well).
VIEW OUR YUCATAN'S FLORA PHOTO INFO CATALOG:
Exotic Delightful Fruits, Flowers, Plants, Palms, Sacred Trees, etc.
These are some of the Sacred Maya Rituals and ceremonies
celebrated by Maya Wiseman called J-Men:
<![if !vml]><![endif]> SAKA' is cosmic ritual and sacred ceremony offered to the thirteen Mayan levels and spheres of life, where all Heaven Gods and Underworld Gods exist. The Gods are called upon to be honored and respectfully request their blessings. A Sacred Maya Beverage is prepared by the priest prior to the ceremony; this is done by selecting the best corn kernels and the purest of wild honey. The sacred drink, once it is blessed and offered to the Gods and the Bacabs, is then shared among those that participated in this ritual. Good fortune and healthy crops are associated with this ceremony of gratitude and honor to Noj Yuum k'uj (greater God), Yuum K'aax and all yuumtsilo'ob (godly earth elements), The Aluxes, Yuum Chaak (rain, godly water element) and Junab K'uj, (deities in charge of nature and the elemental energies of life) are all reunited in spirit with Nature while the forces of this mystical experience is performed.


<![if !vml]><![endif]>BÁALCHE is an important ceremony, where the sacred beverage of the Báalche' is offered by the J'Men to request K'ujo'ob' (Maya Gods) the peace and harmony of people in their villages and the satisfactory development of their society at work. Bark from the Báalche' tree is crushed and fermented with pure wild honey, anis, and other sacred herbs, this beverage has a smooth sweet wine like flavor and is given in small cured gourds to the participants once the ceremony is about to end.



U HANAL PIXAN is an intimate Mayan family ceremony to remember their deceased and their ancestors. Maya villages prepare with up most care and reverence the "altar" in which the food and beverage for their dead loved ones is to be placed during the first three days of November each year. This ceremony is a tradition that blends ancestral Maya practices with the Catholic belief system imposed on the Maya during the Colonization of their land. Their religion fused with the Catholic dogma and created the current practices found in most mixed family backgrounds in Yucatan. Today, you will find Catholic saint and virgin images placed on the altar as part of the offerings to the soul of those that have left the physical body. The offerings are mainly things and meals the person enjoyed while alive: candy, bread, tamales, along with photographs, cruces and other colorful artifacts are carefully placed among candle lights and flowers. Praying and fasting is traditional, as is to spend the night in the cemetery next to the tomb of those loved. Muc bi'pollo, a great tamale meal, is served in most families during those days.

If you are interested in participating in a Mayan Cooking Vacation Package or a Mayan Cooking Class while staying at Hacienda Chichen, please contact Travel Yucatan Today or Chichen Services for detailed information, prices and reservation dates.
view also our new Maya Fusion Gourmet Recipes page
Contact us now to request articles you would like to read in our website.
---

Our Cooking Cultural Events and Culinary News:


Yucatan Adventure's Special Culinary Events and Festivals

ENJOY GOURMET MAYAN FUSION CULINARY EVENTS AT
HACIENDA CHICHEN ECO-WELLNESS SPA RESORT
CHICHEN ITZA, YUCATAN, MEXICO


Saint. Valentine's February Fiesta:
SAINT VALENTINE'S MAYA CHOCOLATIER FESTIVAL
For the Love of Chocolate Culinary Festival

Free Maya Culinary Classes Celebrating Love and Friendship at Hacienda Chichen


This 14th of February, Maya Chocolatier Aurelio Haz Kub, Consulting Chef at Hacienda Chichen, will be offering free Mayan Culinary Classes to couples as part of the Maya Foundation In Laakeech Fiesta and Festival Events. Register here, limited admission; classes will start at 4pm and will follow a St. Valentines Cocktail Party, donations of USD $10 per couple are requested. Review our 2009 Mayan and Colonial Festivities and Events Calendar.

---

FREE MAYAN COOKING CLASSES

Hacienda Chichen Resort was happy to inform Yucatan Today readers, that our Mayan Executive Chef Josue Cime enjoy teaching a free Mayan Cooking Class at our own Organic Fruit and Herbal Gardens; these classes were part of the Hacienda Chichen's Cooking Festival in honor of Mexico's beloved Virgen de Guadalupe. Guests register via the Maya Foundation In Laakeech email: info@yucatanadventure.com.mx. These free Mayan Cooking Classes showcased a variety of Healthy Mayan Fusion Cuisine Recipes and Gourmet Organic Mayan Treats; we hope our readers take the time to enjoy a visit to Chichen Itza's archaeological zone and participate in such unique experience.


Hacienda Chichen Resort and Yaxkin Spa offer our readers a Special Virgen de Guadalupe 2011 Festival of 20% discount when booking a two day stay at the hotel, just mention this note and ask for further reservation details to by calling the hotel's US, Canada and Europe Toll Free: 1-877-631-4005 or call to their local line: (999) 920 8408. You may request your booking via email to info@haciendachichen.com

---

Chichen Services
Want to safe 10% from your room reservation to Merida, Chichen Itza, or Yucatan during 2012 Calendar, check:

Chichen Services Mayan Vacation Portal offering you
many wonderful mini-vacation packages and eco-cultural experiences filled with fun outdoor activities such as birding, cenote exploring, indulging in a Mayan spa-care treat, and much more!

Special Promotion for June and September 2011:
ONE NIGHT STAY PROMOTION AT HACIENDA CHICHEN
Prepay your booking online at USD $100 plus taxes per night on
a Honeymoon or Double Bed Guestroom, your choice! BOOK NOW
Want to upgrade to a Master Suite? USD $139 plus taxes per night booking
---

HACIENDA CHICHEN RESORT
2013 January Colonial Traditions and Food Festival

---

Hacienda Chichen "Rosca de Reyes" and Piñata Party. A fun open free Rosca and Mayan hot chocolate afternoon delight Jan. 6th, 2013 and you are all invited. We will be doing this great Colonial Mexican Tradition as part of our dedication to share our culture, fiestas and traditions with our guests and visitors. For further details and to register; For Reservations to stay at this unique Green Boutique Spa-Hotel, contact their Reservation Center by calling them from Canada, Europe and USA Toll Free: 1-(877)-631-4005
From Mexico: 52 (999) 920 84 08
Email : info@haciendachichen.com
Website: www.haciendachichen.com

---

Chichen Services
Want to safe 10% from your room reservation to Chichen Itza during this winter?
Check Chichen Services Mayan Vacation Portal at www.chichenservices.com
where you will find many wonderful eco-cultural mini-vacation packages filled
with experiences and fun outdoor activities such as birding, cenote exploring,
Mayan Spa care, and much more!

We invite you to check our 2011 Yucatan Adventure Winter Specials and enjoy
the rich vast Culinary Colonial and Mayan Traditions of Mexico and the Yucatan;
so, plan to stay at Hacienda Chichen Resort next time you visit the Riviera Maya.
2013 February is our Mayan Kakaw Fiesta and
Traditional Chocolate Festival

Celebrate the 14th of February, 2010 - Saint Valentine's Day
Chocolate Festival starts at 4:30 PM, come and celebrate with us
HACIENDA CHICHEN RESORT in Chichen Itza, Yucatan, Mexico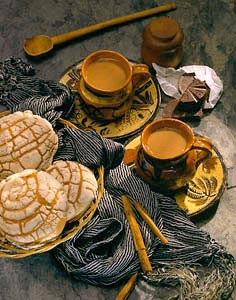 Hacienda Chichen On 14th of February 2010, Maya Chocolatier Irma Chan Tzul, Assistant Chef at Hacienda Chichen, will be offering free Mayan Culinary Classes to couples as part of the Maya Foundation In Laakeech 2010 Fiesta and Festival Events. Register here,
Free admission limited to hotel guests, other visitors are requested a donation of USD $10 per person; Maya Chocolate Festival will offer many Chocolate delight presentations and will start at 4:30 pm; followed by our Mexican Saint Valentine's Day Cocktail Party, Review our Mayan and Colonial Festivities and Events Calendar.

From Mexico: 52 (999) 920 84 08
Email : info@haciendachichen.com
Website: www.haciendachichen.com


---

Hacienda Chichen celebrated its annual Saint Patron's Day Colonial Festival, a traditional San Isidro Labrador Maya community fiesta and Piñata Party. A fun open free traditional tacos, cochinita pibil, guacamole and hand made tortillas luncheon was the 15th each year. Guests and visitors enjoyed celebrating this Hacienda Chichen's Community Tradition with us! For Reservations to stay at Hacienda Chichen, please contact them directly the Reservation Center
USA, Canada, or Europe Toll Free: 1-(877)-631-4005
From Mexico: 52 (999) 920 84 08
Email: info@haciendachichen.com
Website: www.haciendachichen.com
Contact us now to request articles you would like to read in our website.
this article is courtesy of Travel Yucatan Today
Mayan Cooking Recipes
Created: January 2008
Updated: February, April, June, July, September, October, and December 2008
Revised January, April, October 2009 - May, September, November 2010 - Jan 2011, June 2012