A few years ago, when Hacienda Chichen and Yaxkin Spa owners started formally helping with social supports the Maya communities nearby Chichen Itza, Yucatan, especially caring for Mayan children's basic needs, they had no idea where this commitment would take them. Nowadays, they know that their desire to bring opportunities to support rural education, community health care, and preserve Mayan traditions are but a fraction of what they wish to do in the future for the benefit of rural Mayan people. Thus, the Maya Foundation In Láakeech was created giving a formal legal presence to their social volunteer work ventures and ecological programs.

"We truly enjoy helping people" says Jose, a well spoken Mayan Healer that speaks Maya, Spanish and English and part of the Maya Foundation In Láakeech Board of Trustees. "It is so wonderful to see the good we have brought to Mayan children's lives, we are truly making a difference by giving hope," adds Chef Josue Cime, he has truly embraced his commitment to social care.

Long before the "sustainable tourism" term began to catch momentum or even Geo-tourism as National Geographic's editor tag the trend, the Hacienda Chichen has been practicing such ideal way of blending ecological care with social support and respect for the Maya cultural legacy in their region. One of the first social programs sponsored by the hotel owner was gear to certified interested staff members as Bird-watching Local Guides, Mrs. Barbara McKinnon conducted a series of workshops to that end; since then, Bibiano and Jose Santos are successfully guiding various Nature Tours and Bird-watching groups at the Hacienda Chichen Bird Refuge and Maya Jungle Reserve. Many individual programs, all gear to help the Maya people find jobs and new economic opportunities, have been sponsored in an informal manner to help avoid local activities involving deforestation and ecological damage such as is the case of "craft souvenirs for tourists" sold at side street vending stands

"When we started this venture, we were a handful of social volunteers that understood the need to create job opportunities and alternative economic support to the small villages nearby Chichen Itza," says Mrs. Belisa Barbachano when asked about her social volunteer work, "there is still a great social need to support the Maya children health and education; another important need is to protect the environment (flora and fauna) from the massive wood demanded created by craft souvenir carvers which seems to be the faster grown activity for locals that sale them to tourists in this area; but such activity is damaging and the region is getting devastated and deforested in a rapid manner." Mr. Bruce Gordon knows this issue well, he has been reforesting Chichen Itza's private land areas for over four years now, "Without alternative job skills, local residents are over cutting hardwoods in this region at a rate that is increasing, a prompt change of income avenues is needed; otherwise, this area will be in serious ecological danger."

That is way the volunteer team of the Maya Foundation In Láakech are always supporting community business oriented endeavors such as the Yodzonot Cenote Eco-Park. "Ten months ago, we found a Mayan female group working hard to create a eco-friendly park at Yodzonot Cenote; these females had a strong commitment and great faith that somehow their work was to pay off," Ms. Isabel Gutierrez remembers and smiles, "we promise these females to help and support their interests by marketing their project to the travel industry."

The volunteers' broadcasting of the Yodzonot females caught interest, with the help of Yucatan Adventure web article, Yucatan Today's editor support and Yucatan Living webmaster, the story got spread to others, including International media, travel websites and tour agents. Nowadays, Yodzonot cenote is well known and visited, "we feel happy to have contributed to their success with our token of loving help" says Mrs. Beatriz Correa who helped start Yucatan Adventure's online magazine and who conducts a Maya Holistic Training Program for young adult females in Yaxkin Spa at Chichen Itza.

"Now we have the Maya Foundation In Lákech A.C. also spell Láakeech, which is a non-profit organization dedicated to help many good Maya people achieve their goals and dreams. Travelers, and visitors alike, enjoy participating in our social work programs; they feel happy to help with their donations and small gifts of love as we call their packed old clothes brought to help the poor Maya families in this region," explains Magaly Pech Montes, Toh Boutique Supervisor and a young Mayan mother that studies computer skills and English courses to increase her education level and job opportunities; she expressed her desire to become Toh Boutique Administrator and to continue working in the organization that has helped her find opportunities to grow and reach her dreams.

Please take a minute to read about our Mayan Children Nutrition Center and do visit Geotourism Challenge for Sustaining the Future of Destinations, where you will find the Maya Foundation In Laakeech A.C. nominated entry in conjunction with the Hacienda Chichen sustainable tourism vision, this unique project competition is sponsored by National Geographic and Ashoka's Changemakers.

A NOTE ABOUT: "Our Volunteer Program" We are more than grateful to the people that have taken the time and care to volunteer their job-related skills to improve the life of many young adult Maya people. The ESL volunteer program has been truly successfully running this year, if you wish to participate please read our volunteering FAQ. These are a few of our MFIL volunteer's comments and experiences:

Stephanie Davies, (New York). A dear friend of the Maya Foundation Laakeech and a truly dedicated English Teacher (ESL). Has volunteer several times for the MFIL ESL program. During her many visits she has won the hearts of many Mayan people. Her support is invaluable to the success of the MFIL social work and and local public schools. Stephanie Davies is a bright freelance writer based in New York, USA. Her articles are featured in Organic Spa Magazine and travel sites.

"Generosity. If I had to choose one word to describe the spirit of Hacienda Chichen it would be this. "

"Last year I returned to the Hacienda Chichen as a volunteer to teach English, and it was then that I began to gain some understanding of the magic I had felt. The Maya Foundation does not shout its achievements, though they are many. But the more time I spent there, and listened to people, and looked, the more I came to see that its commitment to supporting the local Mayan communities and their environment is absolutely integral to its operations—and that this spirit of support and respect is part of what makes the atmosphere so magical." by Stephanie Davis.

Name: Lahnee Thomas
Name: Pablo Pavlovech
Volunteer Program: ESL Volunteer Teachers

Born in Australia, Lahnee came with her fiancé Pablo to volunteer as ESL teachers to support the Maya Foundation In Laakeech A.C. social programs, while they were working on various writing and photo shooting ideas for various traveling articles. They enjoy it so much that both return to help us again for a few weeks and now are active members of our permanent volunteer team! Thanks to both, our ESL teaching volunteer programs will have a greater impact in children's life.

Her enthusiasm and good nature has won her many children's hearts and ours. Read her own volunteer experience while teaching at Xcalacoop Elementary Public School during this 2009 Spring here. She and Pablo will be returning this summer and fall to continue their volunteer and support. Their ideas and experience has helped us developed a better volunteer brief information kit gear to answer frequent ask questions to people that may wish to volunteer sharing their skills and time in any of our volunteer workshops and programs. Pablo and Lahnee care and loving support has brought many smiles in the faces of Mayan children as they both teach ESL to them, their volunteer time has contributed to the young Maya students education and future welfare.
Following are a few of Pablo's wonderful photographs
of their ESL volunteer teaching experience: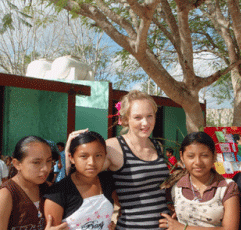 A personal note from MFIL First Volunteer:
Name: Daniela Masaro
Volunteer Program: English as a Second Language (ESL)

I was both honored and pleased to be the first Volunteer ESL Teacher with the Maya Foundation In Laakeech this past June at Hacienda Chichen. Upon arrival I was awed by the stunning beauty of the grounds and was happy to learn firsthand how well managed the land was by people who truly care for the environment: Yucatan's flora and fauna.

My students, although shy at first, were very eager to learn. Not only were they a pleasure to teach but they helped me practice my Spanish and taught me a few Mayan words and phrases in return. The entire staff at Hacienda Chichen was extremely welcoming and kind and I was made to feel like part of a special extended family. Belisa was so delightful and funny and I can't help but smile and giggle to myself every time I think of her hilarious stories and contagious laughter. I was left with beautiful memories and stories of my own to share back home.

I am so grateful to Dona Beatriz and Dona Venancia for sharing their knowledge of Mayan medicine with me. Learning about the local medicinal plants and the traditional Mayan therapies from more than just books was such a gift and I feel so blessed to have had this opportunity. I was inspired and encouraged to continue my studies and to deepen and expand my own holistic training and practice.

I can't wait to return to my new family and friends and to learn about the exciting new developments the foundation is creating, specially to know more about the Maya Children Nutrition Center's activities. I hope many more people will take advantage of this wonderful opportunity and become a volunteer with the Maya Foundation In Laakeech which helps make a difference in the lives of so many, including my own.

Much love and many blessings to all ! Back to Top

In Lakeech
Daniela Masaro
Be a Maya Foundation In Laakeech Volunteer" contact us today!
you can read more about the Maya People in Wikipedia online encyclopedia.
=MAYA PEOPLE: THEIR PERSONAL SUCCESS STORIES:
Contact us now to request articles you would like to read in our website.


Name: Magaly Pech Montes
Profession: Toh Boutique Supervisor
& Maya Holistic Healer at Yaxkin Spa
Volunteer Input: MFIL Fundraising V. Team
Her Mayan Village: Libre Union, Yucatan,

Wearing with pride her attractive "Terno," a regional gala hand-embroider dress, Magaly tells us about her active volunteer commitment with the Maya Foundation In Láakeech: "It pleases me to help the children of our communities and to help bring them opportunities many of us lacked as we grew," she says with a great smile. Magaly is a highly active fundraising participant and donor, volunteering a lot of her time to run Toh Boutique and to create colorful "rebozos" sold there, profits help our Mayan Children Nutrition.

A self-motivated indigenous Mayan young mother, Magaly works hard and takes care of her household financial responsibilities with great success. She understands the power of faith and the importance of what a loving support can bring to a young soul; thus, she is whole hearty dedicated to her son's welfare and education as much as to improve her own education and professional skills. "My life has brought me challenges and opportunities to grow and improve myself, some of them have been hard to bare," she then adds: "I have learned to be strong and to believe in myself; I am blessed with the support and encouragement of those that love me and wish to see me succeed and happy." She tells us that when she started working at Toh Boutique four years ago, she lacked the professional skills and education the job required. With a sweet smile she told us: "Thanks to Mrs. Belisa Barbachano's encouragement and support, I have faced many personal and professional challenges with great courage and faith."

Committed and responsible, she takes great pride in her career achievements and joy in her work as a Mayan Spa Therapist. She continues her computer and English classes on Sundays, and assist as a volunteer with Toh Boutique's sales and book-keeping. Today, she is a living example of positive action and professional excellence.
Name: Belen Angulo de Iuit
Profession: General Cashier Hacienda Chichen
Volunteer Input: Nutrition Program Administrator
Mayan Town where she was born:
Seye, Yucatan, Mexico

An independent, responsible, professional Mayan, Belen has join our team since December 2007; she began as the executive assistant to the Hacienda Chichen's General Manager and few months after, she was promoted and became the PECP General Cashier. Her smarts, honesty, dedication, commitment to excel, and great organization skills, have won her the admiration and respect of everyone in our team.

Thanks to the support of the Hacienda Chichen's owners and a Job Premium Grant given by the Maya Foundation Board of Trustees, this young married female started her bachelor studies in accounting in 2009 and graduated in June 2012 with Top Honors, # 1 in her class generation! Congratulations.

Working for PECP and coordinating payments for the Maya Foundation In Laakeech nutrition and education programs, such as the Xcalacoop and Xcopteil Clinics, are among the tasks Belen does with great joy, "I started working as part of this unusual team, where self job-commitments and challenges are expected from all executives," she softly smiles and continues, "it took me a few weeks to adapt to the idea that daily supervision of my work was not intended; here, the focus is on performance and financial control results." She adds, "we all work in an independent manner, contacting our boss or team group as needed; most of the time by phone or Internet" then she explains, "rather than controlling each workers' scheduled and work time, Mrs. Belisa Barbachano focus her approval of each worker directly on personal performance, this has allowed me to distribute my time to fit all my personal and professional goals in a manner that no other company would have allowed me. For that and many other supporting actions on her part, I am very grateful." Belen has a bright future in PECP where she has found a truly supportive labor ambiance to succeed and grown professionally, her example is a beacon of joy to all of us.

Name: Manuela de Jesus Moo Cocoom
Profession: Mayan Spa Healer, Yaxkin Spa
Volunteer Social Input: Mayan medicine.
Mayan Village where she lives: Xcalacoop, Yucatan, Mexico

Manuela is an indigenous Mayan Healer and mother of four children, as a single parent she has faced many difficulties with grace and spiritual strenght. She began working at Yaxkin Spa where she has found not only a friendly supportive ambiance but the opportunities to grow professionally and personally. A truly dedicated student of Mayan Healing Arts, Manuela has had the loving support and guidance of Senior J-Men Don Bartolome Poot and Ix'men Beatriz; both teachers of Mayan holistic healing and shamanic Mayan traditions.

"Being a single parent of four is very tough but with the help of God, family, and people like Mrs. Beatriz and my co-workers, I have found many moments to be grateful and have embraced my single motherhood with joy, hope and faith;" says Manuela who now is one of the most experience and highly educated Mayan Holistic therapist and young Ix-Men (Mayan shaman female) at Yaxkin Spa. She has dedicated her work to the Mayan Herbal Healing Arts and Rituals; today, she continues to study Mayan Medicinal Plants and Healing traditions, cataloging many of the wonderful healing plants found at Hacienda Chichen's Mayan Jungle Reserve.

"The past two years I have studied hard and practice daily all the wonderful ancient healing methods and holistic Mayan traditions," she says with a wide smile, "herbal medicine is a gift of Mother Nature and the Spiritual Realm," she adds. She has planted a Mayan botanical garden at her new home in Xcalacoop; "My work is filled with positive healing energy, I am honored to be a Mayan healer and a loving mother," she tells us as we visit her at home. "I do volunteer at MFIL Toh Boutique, its profits help many Mayan rural children nutrition and education as well as support rural families.


Name: Marcela Noh Hau
Profession: Yaxkin Spa Maya Healer
Volunteers: Mayan art workshops
Mayan Village where she lives: Yodzonot, Yucatan, Mexico

An independent Mayan Healer and mother, a great role-model to other motivated females in her town; caring, committed, and serene, Marcela has a gentle character and a great "holistic healing" gift she continues taking responsible choices to improve her lifestyle and that of her small daughter. Working at Yaxkin Spa has helped her meet many of her personal dreams and to continue studying about her Maya cultural roots. As a child, Marcela was taught Mayan as her first language, then she learned Spanish; later on, a elder Mayan healer started her in the herbal healing arts and Mayan prayers. As a young adult, Marcela began her formal training as a Mayan Holistic Healer under the guidance of Mrs. B. Nowadays, she excels as a Mayan healer and holistic beauty care therapist. At Yaxkin Spa, she enjoys the rewards of her professional commitment which have improved her personal life and economic greatly.

"At Yaxkin Spa, I have found many opportunities to grow professionally and to achieve economical independence; for a rural woman like me, these were dreams I was not sure I could reach," she smiles and adds, "It has been a great opportunity for me to work under Mrs. Beatriz," she is Yaxkin Spa Ix-Men and Mayan Senior Holistic Healer; then Marcela adds with a warm smile, "She is truly gifted and insightful; I am grateful for all the many skills and techniques she has taught me that have enhanced my education and work." Indeed, Mrs. Beatriz shares her holistic healing skills with joy and a caring heart.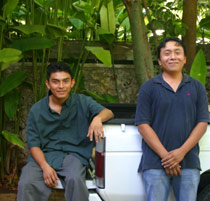 Name: Luis Esteban Iuit Dzib (left)
Profession: PECP Purchasing Coordinator
Volunteer Input: MFIL Food Coordinator.
Mayan Town where he was born: Seye, Yucatan

Luis E. Iuit and his assistant worked since their late teen years with the owners of PECP with a high dedicated service attitude and always eager to help. Their commitment to work in a polite responsible manner helped them earn the respect of their co-workers and the Maya Foundation Board of Trustees who have entrusted them with the purchasing and delivery of our nutrition produces send every fifteen days to the Nutrition Clinics.

Luis Esteban Iuit is a smart, self-trained, hard working Mayan young adult, that has accomplished many of his personal goals and dreams. At the age of 23, he became the PECP Purchasing Agent. Luis has learned to master many job related skills including using professional computer programs, book-keeping and earning his heavy-weight truck driving-license. "Working with Mr. Bruce Gordon has given me the opportunity to learn many property management skills, including some construction related handy-man work," Luis tells us with a friendly smile. "Luis is always in a good mood, friendly and very eager to cooperate with all of us," says Juan, who is his assistant and brother-in-law; both young Mayan adults have worked together since their teen years. Learning to cope with the demands of having a family, growing professionally, continuing their responsibilities in PECP Purchasing Department, plus helping us by volunteering for the MFIL Nutrition Program, a task they take with great joy and intense dedication.

Back to Top

Name: Jose Santos Tamay (right)
Profession: Maya J'Men
Volunteer Input: MFIL BT Supporter
Mayan Traditions: Maya Healer

Maya Shaman J'Men Jose Tamay closed the Maya Male Energy Cycle on November 11, 2011 (11.11.11) by celebrating the sacred Maya Saka ceremony and to prepare our collective spiritual awakening to the New Light Cycle that will start December 22, 2011 and open the rebirth of the Mayan Female Energy Cycle that will lead us in 2012.

In August 2008, Jose represented the Maya Foundation In Laakeech in the 8th International Mayan Encounter dedicated preserve the Maya Culture & Traditions, specially the language and rituals, this three day convention was held in Jolom Konob' (known as Santa Eulalia in Guatemala). Jose worked since his late teen years at Hacienda Chichen with a high dedicated service attitude and personal commitment to learn the traditional Mayan holistic Cosmovision of his ancestors. View interview "From the Pier"
Name: Josue Cime Tuz
Profession: Maya Chef worked for Hacienda Chichen Resort
Volunteer Social Input: Nutrition Program

Josue retired in Dic. 2014 to run his own bakery after 10 years of service to the Hacienda Chichen cuisine. "We all enjoy helping and making a small difference in our communities, it is rewarding to give our time, share our vision and dedicate our efforts to help improve our public schools, health centers and other local community needs," explains Josue, an indigenous Maya that has stepped up the professional latter with great success. He and the owners of Hacienda Chichen joined their efforts to create training and learning opportunities for young adults; the hotel's kitchen is like a great workshop with a small young team that he personally teaches and trains. "Helping this young local Maya people develop many skills in the art of cooking Maya cuisine and Fusion gourmet entrees is a great challenge and honor," he said. He enjoys the challenge and has his heart set in helping these young adults increase their job opportunities within the growing hospitality industry.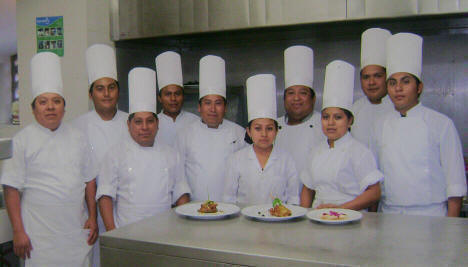 With Chichen Itza new title as one of the Seven Wonders of the World, business is not as usual. Demand for fine gourmet food service is growing in the region and the Hacienda Chichen catering reputation has grown to be the best Maya and Fusion Gourmet Cuisine served in all Chichen Itza.

Find Mayan Cuisine recipes at our Mayan Cooking


For further information contact
The Maya Foundation In Laakeech A.C.
by phone: US toll free # 813 435 6904
or by email to:
info@yucatanadventure.com.mx


DID YOU KNOW: The Geo-tourism Challenge for Sustaining the Future of Destinations, featured our NGO the Maya Foundation In Laakeech and the Hacienda Chichen sustainable innovating tourism vision? This Geo-Challenge was sponsored by National Geographic and Ashoka's Changemakers.
Contact us now to request articles you would like to read in our website.

SUSTAINABLE TOURISM TRENDS IN YUCATAN Back to Top
Yucatan Adventure article by Sarah M. Levin

We suggest to read: Wikipedia Article: Maya_people
February 2008 Updated August, 2009 January, September 2010, January , November 2011, May 2013, July 2016