Yucatan Adventure:

▫ Home
▫ Special Offers
▫ Places to Shop
▫ Safe Travel Tips
▫ Things To Do
▫ Contact Us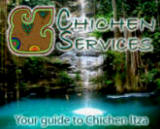 Looking for a Pet Friendly hotel in Yucatan? click for recommendation
You can help us continue
our social work programs
by requesting a Spot Ad
for your website


Eco-Travel Articles:

▫ Cenote
▫ Ecotourism
▫ Yucatan Birding
▫ Yucatan Fauna

▫ Yucatan Flora
▫ Dioon Cycads
▫ Papaya Tree
▫ Ceiba Tree
▫ Green Vacation Deals
▫ Places to Shop
▫ Safe Travel Tips
▫ Things To Do
▫ Maya Spa / Maya Jade Spa
▫ Wedding Photographer
▫ Destination Weddings
▫ Contact Us

Maya Culture Articles:

▫ Maya People
▫ Mayan Spirulina
▫ Mayan Cooking
▫ Mayan Art Masters
▫ Mayan Calendar
▫ Mayan Rituals
▫ Maya Cosmovision
▫ Maya Civilization
▫ Colonial Traditions
▫ Maya Gods & Deities

Sponsored Site: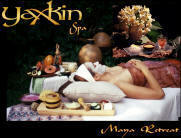 National Geographic Travel
features us among the Top 10 Wellness Destinations
in North America.

Volunteer Work Articles:
▫ Join our MFIL team
▫ MFIL Volunteering
▫ Xcalacoop Nutrition
▫ MFIL Social Work Ventures ▫ Mayan Foundation
In Láakeech A.C.


Archaeologists:

▫ Edward Thompson
▫ Jean Charlot
▫ Merle Greene
Robertson
▫ Tatiana
Proskouriakoff

Sponsored Site:


Reserve your stay at the finest Hotels & Green Hacienda
in Yucatan, Mexico.

Yucatan Adventure proudly sponsors:


THE MAYA FOUNDATION
IN LAAKEECH

Yucatan's Best Green
Travel Guide!
Find Here Our Recommended:
Mexico's Top Eco-Spa Resorts
Best Green Hotels in Yucatan
Best Eco-Wellness Vacations

Romantic Mayan Weddings
Best Wedding Destinations
Top Wedding Photographers
Mayan Eco-Travel Packages
Yucatan's Mayan Spa Offers
Top Haciendas in Yucatan
Mexico Top Green Spa Resorts
Yucatan Birding Tours
Chichen Itza Eco-Activities
Yucatan Wedding Destinations
Gourmet Mayan Fusion Cuisine
Yucatan's Best Green
Vacation Packages
Yucatan Cenote Visits
Yucatan Wildlife:
flora and fauna


Yucatan's Eco-Wonders: Great Cenotes
Magical Geo-Formations filled with Life and Beauty!
Cenotes are surface connections to subterranean water bodies. The term "cenote" is derived from the Yucatec Mayan word "dz'onot" which refers to any location where ground water is accessible; most "cenotes" or sink-holes are under ground in caves, many like the Sacred Cenote of Chichen Itza are open-air sink holes with great deep limestone wall reaching many feet in depth. Most cave cenotes have clear fresh water with great visibility while open-air cenotes generally have large blue green algae build up, such algae is rich in nutrients and an excellent source of minerals, vitamins and proteins that nourish the body as food and as skin cells protection. Cenotes are vital for Yucatan's wildlife survival.

As a token of care for Mother Nature, visitors planning to swim or dive in any cenote in the Yucatan, should understand that such waterways are the only source of fresh drinking water in this region, thus they should not use any repellent, cream, sun-block, or other toxic lotions to avoid polluting the delicate balance of the cenotes and underground rivers.

Do not through plastics and other solid waste in or around any cenote or sinkhole, make sure you help other visitor understand the importance of care and green living habits

Yucatan Green Vacation Packages and Best Spa Vacation Offers in Mexico!
Delight in the Magical Beauty of Yokdzonot Cenote
Ever dream of paradise? You can find it here, at Yokdzonot Cenote Eco-Park you will find a fresh water sinkhole and an enchanting place, where nature has created the most magical site to swim amidst the Maya Jungle near Chichen Itza, Yucatan, Mexico.

A fifteen minute drive from the lovely green hotel Hacienda Chichen Resort and Chichen Itza, on the free road to Merida, you will find the town of Yokdzonot. Follow the signs directing traffic to this Cenote and Ecological Park, a place which eighteen local Mayan females proudly operate with more faith and hard work than money.

Elvia and Mirna Mendez welcome tourists and locals alike at the entrance of the park; the admission fee is less than USD $ 8.00 per person; services includes optional rental of a life-jacket and visor. The fee helps the women protect, maintain and enhance the park's garden and cenote; a few "palapas" house their little restaurant, kitchen, and public bathrooms. The park has a eco-friendly waste management system. Yokdzonot Ecological Cenote Park is a true jewel of community effort, a success story and the pride of these Maya females, that stone by stone carry and built this ecological wonder. This female group is grateful to have the Hacienda Chichen staff support and the Maya Foundation In Laakeech's help.

The project was born from these females desire to give their families a better future. Tired of waiting for their men to organize themselves and plan a community tourist endeavor, these Maya woman took upon themselves the incredible task of building, planning, and designing and managing the community property that has become a successful eco-park. "It was very hard," Marisela recalls, "no-one believed we could do it, the site was filled with garbage, we took over a year to clean the land. Then we brought each stone by hand to create the walking paths, we cut the wood to built the walking fence. We did these things with almost no money, no pay and with a lot of criticism from our neighbors." Dona M. Chac proudly said: "There still a lot of work left, the gardens need more wild orchids and native plants, but so far it is beautiful." These Maya femailes are greatful for the help the Hacienda Chichen has given them to bring tourists, Nowadays, Yodzonot Cenote and EcoPark is visited by hundreds of tourist each month.

Hacienda Chichen owners, staff and volunteers of the Maya Foundation In Laakeech A.C. actively promote visits to Yodzonot Cenote Eco-Park, aiding with free marketing in support to this sustainable community project. Hacienda Chichen is a green-hotel in Chichen Itza, Yucatan, Mexico, committed to support rural green living ventures.

So far, these Mayan females are a proud example of what good will and hard work can bring to a village. Your visit to the site will encourage them, help their families' economy, and bring a well deserved sense of success. If you go, a donation to support their efforts will be highly appreciated; if you wish to help them now, please contact info@yucatanadventure.com.mx and we can let you know what is currently needed.

Other social sustainable ventures that we support are: The Maya Children's Nutrition Centers in various small Mayan rural towns in Yucatan, Mexico, and the public schools of Xcalacoop, near Chichen Itza, Yucatan, Mexico. In 2010, the Maya Foundation In Laakeech with the kind support of the Hacienda Chichen and its staff is reconstructing a public child care center in Xcalacoop, you can help us help bring a safe, clean, and sanitary facility to the Mayan toddlers that teacher Blanca Cocom works with, read more about this story here.

For family vacation packages to Chichen Itza,
that include day tours to this and other cenotes visit
our sponsor's website: www.chichenservices.com

DID YOU KNOW: Yucatan's cenotes were the main source of fresh water to the Mayans and had a great significance in their religious believes. Cenotes are sinkholes formed as natural acidic ground water seeping through the limestone bedrock's cracks; thus, the softer rock beneath erodes creating a dome. Over hundred of years, cenotes normal water flow gets obstructed due to organic and mineral built-up; then the area becomes a dry shallow basin, which supports trees and other vegetations' growth, these dried-stage of a cenote is known, in Yucatan, as a "Rejoyada" and houses a rich diversity of flora and fauna. Yucatan's wildlife: mammals, birds and other reptiles, butterflies and other creatures find in cenotes and rejoyadas the perfect habitat.
View our Yodzonot Cenote's video and our new very informative article: Yucatan Wildlife

---
Yucatan Vacation Packages and Best Green-Vacation Packages in Mexico!
TRAVEL OFFERS FROM OUR SPONSORS:
September and October 2016 Travel Eco- Vacation Offer:
Visit Chichen Itza at Great Eco-Vacation Savings
Rent Your Own Private Two Double Bed Rooms Cottage at Hacienda Chichen
for a very Low Price USD $ 990 plus taxes per Week arriving Sept. or Oct. 2016

Don't miss out a Great Week Rental Offer (seven days / six nights) from Yucatan Haciendas' top Eco-Cultural Destination and Green Spa Resort! Hacienda Chichen Resort is offering travelers the unique opportunity to rent a private two double bed guest-rooms / two bathroom cottage with its own private patio terrace at especial discount price of USD $ 990 plus taxes per six nights / seven days.

This Eco-Cottage Week Rate Rental offers guests a private terrace overlooking the lush tropical gardens of the Hacienda Chichen furnished with antique Colonial rocking chairs, handmade hammock; rooms provide a mini-bar and coffee maker, plus ceiling fan, air conditioning units, and deluxe green amenities. This offer is valid for rental dates arrive Sept. or Oct. 2016 Don't miss this offer! Safe over USD $600 per week

Restrictions apply. Private Two Bedroom Cottage Rental at Hacienda Chichen Resort, Chichen Itza, Yucatan, Mexico, has a per week rate and requires a prepaid non-refundable reservation and is limited to cottage availability.
Other Yucatan Spa Resort and Green Vacation Offers to Enjoy Chichen Itza, Yucatan, Mexico


Indulge in Yaxkin Spa's Ultimate Mayan Jade Algae Skin Care,
Yucatan's rich green blue algae from ancient cenote waters.
Special Open to the Public Invitation from our Sponsor
Yucatan's Wildlife: Our World, Our Mission
protecting Yucatan's fauna (indigenous animals)

View our beautiful Yucatan Flora Photo Info article now
Yucatan cenotes Article exclusively written for Yucatan Adventure © May 2007
Last Updated: March 2015, July 2016