▫ Mayan Ceramics: Royal Polychrome Vessels - Jaina Reproductions
▫ Mayan Exclusive Jewelry: "Exquisite Designer Collections"
▫ Mayan Embroidery: "For the Love of Nature"
▫ Mayan Weaving: Rosa Hernández Días
We invite you to contact us requesting articles you would like to read in our website.

Mayan Ceramics: "Royal Polychrome Vessels
and Jaina Figurines Reproductions"
Both of our Toh Boutique locations (at Hacienda Chichen in Chichen Itza and at the Cinco Calles in Valladolid, Yucatan, Mexico) are proud to represent these Maya fine art masters: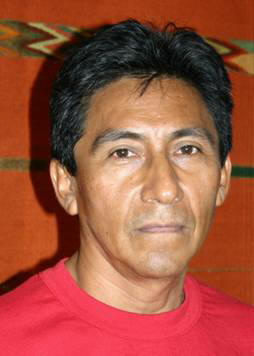 Ceramist Roger Juarez - In reproducing Mayan famous "Jaina" sculptures, he uses the "pastillaje" technique to model his clay mixture of three sacred clay caves to create his accurate in detail, exceptional finishing master pieces. He also has master the art of Royal Polychrome Ceremonial Mayan reproductions that are perfect replicas of ancient Mayan pottery. His work has earned him many National Awards and International recognition. You can find his fine ancient Maya replicas, Jainas and vessels at both Toh Boutique locations.
There are two other impressive Maya reproduction Master potters in Yucatan: Patrici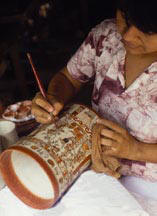 a and Rodrigo Martin Morales (siblings). In the tradition of their Mayan ancestors, both ceramists carry on the splendid ancient polychrome technique by utilizing the same clay mixture and natural pigments used hundreds of year ago. Patricia's art-pieces have earned her worldwide recognition. Her trace and masterful mix of color, accuracy in weight and shape, create the most complex and exquisite reproduction work collection found to date. Both artists' lovely Maya replicas, jainas, vessels are sold at our Toh Boutique in Valladolid and at the Hacienda Chichen in Chichen Itza, Yucatan, Mexico.
The artwork of these three Mayan Pottery Masters is found in many museum and private collections. Each artist regularly creates a selective reproduction collection of Jainas, ceremonial replicas exclusively for Yalat and the lovely Toh Boutique, Hacienda Chichen, in Chichen Itza. Both artists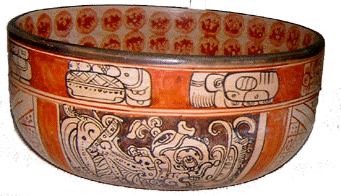 personally select each art piece to be reproduced, their pieces have an Ancient Mayan Reproduction Certificate of Authenticity issued for these two fine boutiques. Special orders and commission art pieces can be requested to our lovely Toh Boutique at Hacienda Chichen, Chichen Itza or at Cinco Calles in Valladolid or by emailing us a request to:
info@yucatanadventure.com.mx
---

Our Toh Boutique



Purchase exquisite Mayan arts, textiles, replicas, and fine jewelry and help
Maya artisans, designers and our sustainable social volunteer work
Mayan Jewelry: "An Exquisite Designer's Collection"
Marc Petit Jewel Collection: This is the most attractive designer collection of Mayan glyph and icons jewels ever! His exquisitely detailed individual Mayan icons are pieced together with care to assure comfort and beauty. Some of his artistic pieces include jade central pieces in many of the collection's Maya necklaces, bracelets, and earrings. Marc Petit created a special collection for the Toh Boutique at Hacienda Chichen, Chichen Itza, to support the Maya Foundation In Laakeech Mayan community social work.

Juan Ojeda's Exclusive Jewel Collection: Exquisite one of a kind designed fine silver jewerly and Mayan jade jewellery; beautifully crafted and especially created for Toh Boutique. Each design has an intriguing blend of Mayan symbolisms with embedded jades, ambers, amethysts, turquoises, and other semi-precious stones. Juan Ojeda is a Mayan jeweller that supports the Mayan Wiseman and follows their spiritual teachings and traditions; his art intimately connects with the Maya Cosmo-vision and holistic views.
G. and D. Mora's Jewel Collection: have been exclusively created for Toh Boutique; their designs evoke the Mayan ancient civilization's use of gems and crystals healing energy as part of their spiritual rituals and holistic sacred rituals. Both jewellers have designed elegant silver and gemstone necklaces, earrings, pendants, and rings carefully hand-crafted for their one of a kind collection. Their styles are sure to enhance any lady's attire.

Flora Maria Jewel Collection: Toh Boutique, the Maya Foundation In Laakeech's sustainable Mayan crafts and fine Jewelry Designers store, now offers Flora Maria's exquisite silver, amber, coral, jade, and other semi-precious stones jewerly collection dedicated to Mother Nature with unique emphasis on flora and fauna themes. Each piece is carefully designed to celebrate Life and the beauty that embraces Earth. Flora Maria is one of the most acclaimed jewelry designers of Mexico, having won many fine national and International awards the past two years for her pieces excellent craftsmanship, originality, grace, and beauty.

---

Mayan Embroidery: "For the Love of Nature"

Since Colonial times, Mayan embroiders use colourful yarn to create exquisite works of art that represent Mother Nature and their daily lifestyle. Maria Eugenia, who does most of Toh Boutique's one of a kind embroider pillow-cases and bedspreads, learned from her elders the ancient art of how to select, make, and apply natural dyes to her yarns. Her work has a very charming bright aesthetic flow.

"I love birds and flowers, light and life" she says with a timid smile. "Each piece represents my feelings, moods, dreams, and nature," she adds. Indeed, the Sun, symbol of life and light is almost always present in her designs created for Toh Boutique at Hacienda Chichen boutique hotel. This boutique sells many Maya fine arts, designer Maya jewels, and other unique handcrafts bought directly to the Maya artisans in an effort to preserve their ancestral values and traditional arts. Profits from this lovely gift-shop support the Maya Foundation's Children Projects and the Maya Jungle Conservation Program.
During the 2014 months of May to August, Toh Boutique
offers Yucatan Adventure visitors a special 10% discount.
---

Mayan Weaving: Rosa Hernández Días

The weavers of the Mayan highlands transform natural cotton and wool into wearable works of art. San Andrés Larráinzar is one of the regions most important Mayan weaving centres and it is here that Rosa began to work the back strap loom.

She learned from her elders the ancient design elements of the Maya as well as the weaving techniques and how to prepare each of her yarns, natural dies and designs. Her sense of aesthetic harmony and balance has earned her the title of Mayan Master Weaver and many national and international awards and recognitions.

Together with María Meza, she formed the San Jolobil cooperative, grouping more than 700 weavers in the region. The cooperative operates a school of traditional Mayan weaving so this exquisite art can be continue by future generations.

---



Check our Yucatan Vacation Packages and Best Green-Vacation Packages in Mexico!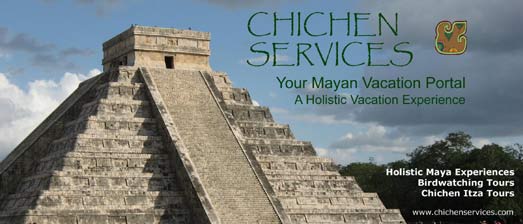 Created on June 2007
Updated May and October 2008,
Updated January, April, December 2009
Updated April, July 2010

Updated June 2011, June 2012, April 2016