Things to Do Places to Visit
while in Chichen Itza, Yucatan, Mexico

Most travel agencies and tour operators sell tourists a "Day-Trip or Group Tour to Chichen Itza" which is a sad way to visit such majestic archaeological zone. Such experience is not your best choice! We Recommend you to avoid such Chichen Itza Tours for you will spend more time traveling in the tour bus than in the site! Besides, such short visits (normally less than three hours visit during mid-day) leave you no room to fully enjoy the Mayan pyramids, stone carvings, murals, and the magic of this impressive site; plus, you will miss so many great Eco-Cultural experiences that bring inner understanding of the Maya world, traditions, culture, and Cosmo-vision. So really we don't recommend such tours.

Rather, Yucatan Adventure Travel Writers highly recommend you to book at least a night stay in Chichen Itza, and what better place to stay than Hacienda Chichen Resort, top green boutique hotel and Maya Spa Wellness Center. Actually a two night stay is the least you should reserve as there are many eco-wonderful sites awaiting you to explore, and great pampering experiences to indulge and help you connect with the Mayan profound wisdom and holistic green living awareness found in this soulful hotel. Check their site www.haciendachichen or the Monthly Eco-Cultural Free Events sponsored by Hacienda Chichen. So make sure you don't miss the following experiences and eco- activities:

Recommended Activities after visiting Chichen Itza's Mayan Temples:



Experience genuine
Mayan Holistic Rituals, Herbal Therapies
and Mayan Healing Traditions at


Contact info@yaxkinspa.com

request our 10% Spa Discount


AWARDS: Top Eco-Spa and Holistic Wellness Destinations of North-America by National Geographic Travel for its excellent service and commitment to embrace the Maya cultural traditions, as part of the experiences offered to travelers and guests.

Ten Best Eco-Spas of the World list by Conde Naste / Consierge.com

ARTICLES:

Mayan Skin Care Maya Spa Mayan Rituals Mayan Healing




LOCATION: West road side at Chichen Itza's Hotel Zone, take Free Hwy 180, Km. 119, Rural Road from Piste to Xcalacoop, Exit at South Entrance Sign to visit the Mayan Archaeological Zone of Chichen Itza, Yucatan, Mexico.

SERVICE PRICE RANGE:
Mayan Spa Holistic Personal Care from USD $ 45 and up


---

Yucatan Bird-Watching
and Mayan Nature Tours


Contact us info@yucatanadventure.com.mx

LOCATION: Hacienda Chichen Bird Refuge and Sanctuary at Chichen Itza's Hotel Zone, Free Hwy 180, Km. 120, Rural Road from Piste to Xcalacoop,

DONATION: US $ 15 per person gratuity to support Reserve Keepers and the Maya Foundation In Laakeech Sustainable, NGO, Social Volunteer Programs.

Take a Nature Walk with Jim Conrad, renown naturalist or schedule a Birding Tour with one of our Maya local bird-watching guides found at Hacienda Chichen Resort. Visit Jim at dusk at his Maya Hut within the hotel's Nature Reserve, Jim Conrad's Naturalist Workshop Series, if you are interested please contact us to register. Mr. Jim Conrad writes a wonderful weekly naturalist newsletter that features extensive flora and fauna and highlights his Green Living Philosophy.


---

Yucatan Eco-Wonders
Natural Fresh Waters


Contact us info@yucatanadventure.com.mx

LOCATION: Yodzonot Mayan Village, take Free Hwy 180 a Rural Road, west from Piste to Yodzonot rural village and follow signs.

PRICE: Donation of US $ 8 per person is paid at entrance of this Eco-Park run by Mayan Female Locals who rent safety vests, snorkels, visors, hammocks, etc. Eco-public baths and restaurant available.

---

Chef Josue Cime's
Mayan Culinary Classes
a truly unique cultural activity


Contact us info@yucatanadventure.com.mx

LOCATION: Mayan Organic Fruit Garden at Hacienda Chichen, take Free Hwy 180 a Rural Road from Piste to Xcalacoop, exit at the Chichen Hotel Zone sign, drive to the Hacienda Chichen main entrance; free parking, ask for Chef Josue Cime at front desk.

ARTICLES: Our Mayan Cuisine free recipes. Mayan People

PRICE: Donation of USD $ 99 per person + tax. 90 minutes private Mayan cooking class, all ingredients are included plus you choose your own fresh organic veggies and herbs. Mayan, Colonial, Regional, Fusion Gourmet Cuisine Recipes. Meal included.


---

Merle Greene Robinson
Mayan Rubbings Museum
a fantastic cultural activity


Contact us info@yucatanadventure.com.mx

LOCATION: To get to Merle Greene Museum and Art Gallery, take Free Hwy 180 a Rural Road from Piste to Xcalacoop, exit at Km 120 at the Chichen Itza' Hotel Zone sign, drive to Hacienda Chichen; free parking. Ask for Mayan Museum at front desk

ARTICLES: Merle Greene Brief Biography Merle Greene Museum and Art Gallery

PRICE: Donation of USD $ 3 per person or more is appreciated. Visit takes about 30 to 60 minutes to enjoy this private Mayan Rubbing Artwork Collection. Free Parking.

---



Toh Boutique at Hacienda Chichen Resort


Our fabulous Maya fine art-craft store filled with unique "one of a kind" silver and semi-precious stone jewelry designed by Maya shamans and fine art jewelers. This boutique offers visitors a variety of exquisite Maya art, textiles, Maya replica pottery, and other colorful art-crafts from Mexico.

Purchases help fund our work with 20 % of profits supporting our sustainable NGO social work ventures in Maya communities. The boutique is located at the front entrance of Hacienda Chichen Resort.

---

Click here to view our recommended additional "Things to Do" in Chichen Itza. Plus each month, Hacienda Chichen offers its guests Traditional Eco-Cultural Free Events like the following:





Cultural Events you should not miss
while visiting Chichen Itza, Yucatan, Mexico:

January Colonial Annual Celebration:

ROSCA DE REYES Traditional Fiesta at Hacienda Chichen, don't miss this Colonial traditional food and piñata party time if you are in Chichen Itza on the afternoon of January 6th. Participate in this open free Rosca bread and Mayan hot chocolate at the Hacienda Chichen, who has launched a fun Colonial Mexican Traditional agenda as part of this unique green boutique hotel's dedication to share Mexico's Culture, fiestas and traditions with guests and visitors. Contact us for further details and registration; we highly recommend you to stay at this unique Green Boutique Spa-Hotel, contact their Reservation Center, call:

HACIENDA CHICHEN RESORT RESERVATIONS

From Canada, Europe and USA Toll Free: 1-(877)-631-4005
From Mexico: 52 (999) 920 84 08
Email : info@haciendachichen.com
Website: www.haciendachichen.com


---



February Colonial Annual Celebration:

CHOCOLATE FIESTA a St. Valentine's Day annual Celebration Feb. 14th at Hacienda Chichen, Enjoy this Colonial traditional Chocolate fiesta celebrated on St. Valentines' Day in Chichen Itza, Yucatan, Mexico. Participate in this open free Mayan chocolate fair and St. Valentine's Day Event at the Hacienda Chichen, with a Colonial Mexican Traditional party as part of this unique green boutique hotel's dedication to share Mexico's Culture, fiestas and traditions with guests and visitors. Contact us for further details and registration; we highly recommend you to stay at this unique Green Boutique Spa-Hotel, contact their Reservation Center:




From Canada, Europe and USA Toll Free: 1-(877)-631-4005
From Mexico: 52 (999) 920 84 08
Email : info@haciendachichen.com
Website: www.haciendachichen.com

---




March Maya Equinox and Sacred Ceremony March 21st.



Equinox Purification Ritual at Hacienda Chichen,
Chichen Itza, Yucatan, Mexico

Annually on March 20th and 21st: Mayan New Fire Ceremony, Chichen Itza, Mexico.

click here to learn about how to Experience a Mayan Holistic Purification Ceremony

Maya Calendar and Cosmic Event: Participate in a Mayan Equinox ceremony, a mystical and holistic experience, celebrated at Yaxkin Spa's Zumpul-che, Chichen Itza, Yucatan, Mexico. Your opportunity to experience a Mayan Sacred Ceremony within a Blessed Natural Cave and holistic sweat-bath gear to prepare you to harmonize your inner-energy with the Cosmic influences of the Spring Equinox. A Mayan celebration of union with Mother Earth and the Cosmos offered by the Mayan Elder Priests and Wiseman (Mayan Shamans) at the Sacred Ceremonial Site they keep within the Mayan Jungle Reserve at Hacienda Chichen Resort. Winter Solstice Mayan Equinox Zumpul-che Ceremony requires a USD $65 donation per person; Mayan Senior Healers and Mayan J-Men Shamans will offer three limited sessions to individual and group bookings, participation is limited so make your reservations now to: info@yucatanadventure.com.mx

March 21st, 2017 - TÁA'JCHE - Mayan Sacred Equinox Ceremony, Private Sacred Ceremony for Hacienda Chichen guests only. To be celebrated during the afternoon prior to sunset at the Sacred Maya Site, Hacienda Chichen Resort's Maya Jungle Reserve.

Participation with USD $30 donation per person.

Mayan Zumpul-che Purification Cave Sweat-bath Ceremony, Time after free ceremony and you need to pay your reservation. Groups of 15 participants per session will be conducted in 3 sessions after the Maya Spring Equinox free ceremony ends. if you are interested in participating take advantage of this holistic Mayan Ceremony experience; remember to bring light cotton wear, shorts, t-shirt or bathing wear. Participate in the annual Mayan Equinox Ceremony and Mayan Zumpul-che Ceremony at a special discount price offer of USD $65 plus tax and fees (15% tax and 15% gratuity), a 28% discount from the regular USD $90 plus tax price.

Prepay your Zumpul-che Ceremony Session ( Noon to 1:30 PM )

Contact Hacienda Chichen Resort's reservation center for prepaid registration: info@haciendachichen.com

---

May and June: Mother Nature's Festival at Hacienda Chichen

Yucatan's Wildlife: Our World, Our Mission
protecting Yucatan's fauna (endemic animals)

Yucatan's Wildlife: Fauna Quick Links:

Yucatan Endemic Snakes: "Yucatan Venomous Snakes"
Come enjoy Mother Nature and Yucatan's wildlife during May and June when the Maya People celebrate life and nature. Special Maya Nature Tours, Maya Wildlife Lectures, Maya spiritual connection with Mother Nature and the Cosmos. Many Nature activities await you: birding / bird-watching, herping, flora tours, wildlife tours, photography workshops, Maya healing practices and Maya medicinal plant tours.
We hope you enjoy reading and viewing our new article about Yucatan endemic fauna (indigenous wild animals: birds, butterflies, mammals, and other creatures). This coming June 2013 we will celebrate Mother Nature and Life with a Mayan Water Blessing Ceremony offer by the Maya J-Men Wiseman, for further details contact us.
---


November Day of the Dead Tradition: U Janal Pixan
A Truly Ancient Mayan Celebration:
U Janal Pikan a Mayan Day of the Dead; a Holistic Maya Tradition, Chichen Itza, Mexico.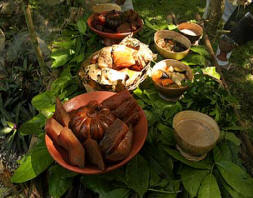 U JANAL PIXAN (U Hannal Pixan) is an intimate Maya family ceremony to remember their deceased and their ancestors. Each 2nd of November Hacienda Chichen and the Mayan J-Men celebrated their annual Day of the Dead before their Full Moon Maya Blessing, both Mayan Ceremonies in Chichen Itza, Yucatan, Mexico.

Day of the Dead is a very important ancient tradition. Maya villages prepare with tropical fruits and flowers and with up most care and reverence the "altar" in which the food and beverage for their dead loved ones is to be placed during the first three days of November each year. In some villages nowadays, this ceremony is celebrated as a tradition that blends ancestral Maya practices with the Catholic belief system, imposed on the Maya during the Colonization of their land. Nowadays, most Mayan families' religion is a fusion of Mayan spirituality with the Catholic dogma, such fusion has created the current practices and celebrations found in most mixed family backgrounds in Yucatan. Today, you will find Catholic saint and virgin images placed on the altar as part of the offerings to the soul of those that have left the physical body. The offerings are exotic flowers, personal things, copal and meals the person enjoy while alive: fruits, kakaw, tamales, along with photographs, cruces and other colorful artifacts are carefully placed among candle lights and exotic flowers. Praying and fasting is traditional, as is to decorate with flowers and fruits the tomb site, also spend the night in the cemetery next to the tomb of those loved lighting candles, singing the songs they loved, and offering their favorite meals and memorabilia. Muc bi'pollo, a grant tamale meal, is served traditionally during this days.
Reserve your November stay at Hacienda Chichen via email: info@haciendachichen.com
---
December: Come Celebrate Our Colonial Traditions
Virgin of Guadalupe Day, Mexican Posadas, Christmas and New Year's Eve


in Chichen Itza, Yucatan, Mexico
Enjoy a very special December holiday with all or some of the many Colonial Mexican Fiestas and Traditions. Starting with the Virgin of Guadalupe on Dec. 12th., then our many Mexican Posadas and pre-Christmas parties, Noche Buena, Christmas Gala Dinner, New Year's Dinner Party and much more at Hacienda Chichen Resort. Come enjoy a fabulous celebration filled with Mexican cultural traditions.
For details and reservations please contact: info@haciendachichen.com
From Canada, Europe and USA Toll Free: 1-(877)-631-4005
From Mexico: 52 (999) 920 84 08
Email : info@haciendachichen.com
Website: www.haciendachichen.com
---

Other Important Things to Do in Chichen Itza:
Places we recommend you visit in
Chichen Itza, Yucatan, Mexico.
MAYA ARCHAEOLOGICAL SITES -
learn more about the Maya Civilization here.


Chichen Itza Archaeological Zone: The best time to visit the Mayan temples and ruins is early morning prior to mid-day tour group busses overcrowd the site. Late afternoon visits are also a delight, Maya Temples that need time to truly enjoy are the famous "Castillo" recently named as one of the seven wonders of the world, the Great Mayan Ball-Court, and the Thousand Columns Temple all true magnificent examples of power and grace. Don't miss the "Caracol" or observatory temple at the south section of the visited zone. We recommend you overnight at least two nights at Hacienda Chichen, where you can enjoy birding, Mayan Rituals and cultural traditions sure to make your stay a memorable one; this small hotel is a Mayan Jungle Eco-Spa Resort and the Best Green Boutique Hotel in Yucatan, Mexico.
Balankanche: Maya Ceremonial Caves about 5 minutes east from Chichen Itza (on the free road to Valladolid). These fabulous caves and underground waterways were part of the Initiation and Ceremonial Rites of ancient Maya, offerings and clay pots are still in place as you stroll through the narrow path leading to the main cave dome.

Ek Balam: Plan to visit this small archaeological zone only if you spend more than two days in Chichen area. It is about 35 minutes drive north of Valladolid. Restored in the 1990s, this archaeological site offers a fascinating encounter with the Maya stucco sculptures and motifs that normally ornate Maya temples and facades.

WHERE TO SHOP IN CHICHEN ITZA:

While in Chichen Itza, the best place to shop is at Toh Boutique at Hacienda Chichen, this small gift and art boutiques shop features the most exquisite examples of fine Mayan arts: Mayan pottery, Maya ceramic replicas, Mayan jewelry and Maya Textiles that the Mayan craft traditions have to offer. Profits benefit the Maya Foundation In Laakeech social work efforts and support the Nutrition Program for native elders and children in the communities nearby Chichen Itza.


WHAT NOT TO MISS IN CHICHEN ITZA:


Maya Jungle Eco-Tours: Enjoy Yucatan's wildlife: beautiful birds singing as you stroll safely the Maya Jungle guided by a local Maya Bird-watching Tour Guide explaining you the many eco-wonders of Chichen Itza, the flora and fauna of Yucatan, its beauty and gifts.


Yaxkin Spa: Take time to enjoy and indulge in a Mayan Spa holistic personal care offered at Yaxkin a Mayan Eco-Spa that is certified by The Universidad Internacional de Ciencias y Tecnologia Maya. Yaxkin Spa has been selected as one of the Ten Best Eco-Spas of the World. Spa lovers and visitors can experience at Yaxkin Spa the mystical healing power and natural balancing of soul, mind and body. Read our article about Mayan healing. For further information about Yaxkin Spa Eco-Maya Retreat: www.yaxkinspa.com
WHERE TO STAY IN CHICHEN ITZA:


Reserve at least a two-night stay in Chichen Itza, where you will find many hotels. We recommend you stay book National Geographic editors favorite: Hacienda Chichen Resort with its vast tropical lush gardens, incredible cultural legacy and outstanding gourmet Mayan Cuisine. An ideal Eco-Spa Getaway and Wedding Destination in Yucatan, Mexico. For great Yucatan vacation packages and hotel offers visit Chichen Services, your Eco-friendly Mayan Vacation Portal.

Where to eat in Chichen Itza -
Our Top Choice: Hacienda Chichen Resort and Spa
For gourmet cuisine lovers, the exquisite gourmet menu selection served at the Chilam Balam Restaurant at Hacienda Chichen Resort in Chichen Itza, Yucatan, Mexico, will create a culinary experience difficult to forget. Chilam Balam Restaurant is our recommended top choice. This five star gourmet restaurant in Chichen Itza is located within Hacienda Chichen in Chichen Itza, Yucatan, Mexico. Here you relax and enjoy top high quality gourmet meals, fresh food, excellent friendly service, and a majestic Colonial ambiance over-viewing lush tropical gardens. The hotel buys selected quality local produces as part of their sustainable tourism practices, and Chef Josue Cime is an award winning master of Fusion Cuisine based on Mayan culinary traditions. Try Chef Josue's organic fresh Cream of Chaya soup or delight in a fresh Boquinete a la Lima fish fillet. Hacienda Chichen Resort Breakfast Prices $$ Lunch Menu Prices $$ Dinner Menu Prices $$$
Excellent Service, Cuisine and Wine Selection. Ideal restaurant in Chichen to plan your next party!

Where to eat in Cozumel Island: When visiting Cozumel eat at Buccanos, within the Club Cozumel Caribe, an informal bar and grill restaurant. A truly perfect gourmet fusion menu awaits you! try their Seafood Platter (photo) filled with fresh lobster tails, shrimps, crab, calamari, and zesty Mexican sauces that enhance their flavor. While in the club, take time to scuba-dive and enjoy the beautiful private sandy beach. Cozumel Island's Cozumel Caribe Buccanos Restaurant is not open for Dinner.
Breakfast Price $$ Lunch Menu Prices $$$

WHERE TO AVOID EATING IN CHICHEN ITZA:


Yucatan village and Chichen Itza low budget restaurants:
Be extra careful when eating at local village restaurants; if you are not used to low food standards of hygiene, some of these eating places (specially street food vendors) are not your smart choice. Beware of well known hotels in Chichen Itza, Piste, and Valladolid offering "low budget buffet lunches" as they may not follow quality meal processing standards. Many hotels and village restaurants cut on food quality in order to offer low budget meals in Chichen Itza with buffet choices that are not freshly made and have been fried with old re-used frying oils, lard, etc... food ingredients of low quality and difficult to digest. Check menu prices, the lower the price the menu offers the more you should worry about its quality, processing, and lack of good butcher hygiene standards.

Avoid eating Buffet meals while in Chichen Itza and the Yucatan:

Buffet meals are not your best choice, such food arrangements are health hazards to say the least, perfect places to catch a serious stomach flu, salmonella outbreaks, or other intestinal problems. Thus, we do not recommend you to eat in any of the various Chichen Itza buffet group lunches and buffet meal hotels and restaurants in Yucatan and the Riviera Maya unless you are in a large all inclusive resort that cooks meals daily, and even then, be extra careful not to eat finger food that may have been touch by others.

When visiting Yucatan remember that the climate does not help keep buffet meals fresh and safe; the heat and sun help food ferment easily; plus in Yucatan, buffet meals are filled with low quality fried food. We highly recommend travelers to be careful when eating in Chichen Itza, such Buffet lunches are exposed to many people handling the food with their fingers. Insects such as common flies may have time to lay their eggs causing travelers health hazard in a few days. If you must eat at a buffet style luncheon or dinner while in Yucatan: make sure you avoid raw vegetables, unpasteurized dairy products such as fresh cheese, eggs, etc. Also wash your hands prior to eating, avoid finger food, check the staff to see how they work around the food displayed on the buffet table.
Avoid all fried foods, specially in low budget buffets because they are likely to be cooked and fried with old over-used and saturated frying oils.


Be extra careful in low budget eating places in Yucatan: Mayan rural people are used to chicken, other meats and vegetables that are unchecked by official sanitary standards; Mayan people are not food quality conscious, so you may not have the anti-bodies needed to avoid getting sick. Avoid all open buffet lunches and dinners, such settings are easy for food fermentation and offer poor quality food purchasing to accommodate low sale pricing. If in doubt, ask the restaurant or hotel you wish to order a meal to allow you to visit their kitchen, helping you to have a clear saying. If you got food allergies advice staff at ordering time.
Other Chichen Itza Hotels and Resorts: Breakfast Price $ Lunch Menu Prices $ Dinners: $$


RECOMMENDED CENOTES IN YUCATAN:

Dzinup Cenote (18 min by car from hotel free Hwy to Valladolid) A magical place to swim and enjoy the geological formations of the Yucatan, blue pristine underground "lake like" cenote, impressive rock formations and tree roots.

Yodzonot Cenote Please read our article about this incredible natural ecological wonder. Great swimming, local food palapa and low admission fee. This cenote is under the care and protection of a small group of Maya local females. Your visit to the site will encourage them, help their families' economy, and bring a well deserved sense of success. Food is prepared in a clean simple kitchen and the park offers eco-friendly bathroom facilities.

RECOMMENDED COLONIAL TOWNS IN YUCATAN:

Tabi: A 10 minute drive from Piste via Libre Union and Yaxcaba, this small village has an amazing Colonial masterpiece of the Ascension Virgin at its Church's altar. The elaborated artwork has been recently restored. The sacristy has a secret small chapel with fabulous colonial murals that are sure to enchant you.


Valladolid: Just a 30 minute drive from Chichen Itza, you will find Yucatan's Colonial capital: Valladolid, a city older than its current capital, Merida. The city's Historic Center has wonderful examples of Colonial architecture and flair. The Main Square has a lovely central park and a Cathedral. Visit the San Bernardino de Siena Convent with its many original altarpieces and beautiful 18th Century designs.
Izamal For those traveling to Merida from Chichen Itza, a two hour visit to this Colonial city may be worth adding to your trip. It is a 45 minutes by car if driving on the Toll Hwy to Merida. The Convent San Antonio de Padua is the mayor attraction; the convent holds many Colonial murals and religious images. You can find "Mache butterflies", natural fiver hammock workshops and sisal goods made here and sold in the main market.

Merida This Colonial city is an hour and a half minutes away from Chichen Itza. The city offers many free cultural events each night in its many parks and plazas; it has two public Performing Arts Theatre that show many good plays, concerts, and ballet programs. We recommend you visit public and private Art Galleries. This is a city where you can indulge in good eating, especially seafood restaurants abound, here but do remember they are opened only during lunch time.

RECOMMENDED RIVIERA MAYA BEACHES:

Maya Riviera Coastline: Chichen Itza is just an hour and a half away from the beautiful white sandy beaches of the Riviera Maya, from Cancun, Playa del Carmen, Tulum, Holbox, Cozumel, to Akumal, visitors may find all types of towns ambiances to meet their wants:


Cancun offers long sandy beaches, fabulous Caribbean Sea views, great turquoise blues clear water, waves and romantic sunrises. This is a busy tourist city, with all the international flair and choices of restaurant, malls, night clubs, etc. Ambiance is gear to please the American young crowds.

Playa del Carmen a more European style and ambiance, close shopping streets, cafes, and large all-inclusive hotels are found near the beach. This is the place to take the ferry to visit Cozumel Island for a day trip.

Akumal a charming small beach front residential town with a few hotels, perfect for travelers wishing to avoid crowds and busy tourist sites. Beach front has many large rocky shores with truly interesting wave brake views.

Cozumel Island a relaxed tropical ambiance that offers the best scuba-diving experience in Mexico! Enjoy its white soft sandy beaches and a great meal at Bucaneros Bar and Grill, located at the Club Cozumel Caribe, open to the public, great private beach, pool area, excellent food, fun ocean activities.


Other Eco-Activities and Visit We Recommend:
RIO LAGARTOS' FLAMINGO BIOSPHERE AND NATURE RESERVE

Travelers wishing to have a truly magical encounter with Flamingos in the wild, and enjoy a beautiful fun eco-adventure, should visit Rio Lagartos. Just two hours from Chichen Itza, Yucatan, Mexico, this coastal fisherman's village offers a unique opportunity to encounter the wild beauty of a landscape filled with wildlife and birds. Visit the following website:
http://www.riolagartosexpeditions.com/elmer/rio.htm or contact directly Elmer, a Local Bird-watch Guide we recommend you: elmer_flamingos@hotmail.com; Elmer and his local Mayan fellows have organized fantastic flamingo tours, night visits, and other wonderful fun activities; their tour prices are clearly found in the website (above link) and all profits are directly benefiting this local Mayan guides families, we are not associated or profit from sales but wish to promote their services as an effort to support the Mayan people and local small ventures in the Yucatan.
Contact us now to request articles you would like to read in our website.
MAYA FOUNDATION IN LAKECH A.C. AND HACIENDA CHICHEN"S SOCIAL ACTIVITIES
SUPPORT LOCAL MAYA COMMUNITIES AND NATURE CONSERVATION RESERVE:
The Geotourism Challenge for Sustaining the Future of Destinations, featured our NGO Maya Foundation In Laakeech A.C. and the Hacienda Chichen sustainable tourism innovating programs. The Geo-Challange project sponsors: National Geographic and Ashoka's Changemakers.

Maya Foundation In Laakeech Social Volunteer Work Program
includes ongoing support to:

Xcalacoop Elementary School: Ongoing support to the school needs.

Xcalacoop Health Center: Weekly food supplies to the Nutrition Program held at the XHC, up keeping of the older building to continue the various community programs held at the XHC, while the new building donated by the hotel is under construction; the building will have boy and girls bathrooms, an eco-friendly septic system, kitchen and a multi-purpose room ample enough to gather the 140 malnutrition kids during their daily meal at the center.

Yodzonot Cenote Community Project: Hacienda Chichen actively promotes this eco-park under the care of a local group of females with ongoing publicity and marketing strategies, including paid ads online, articles, etc.

Maya Jungle Reforestation and Nature Reserve: Ongoing protection of flora and fauna programs which include a vast reforestation of hardwoods within the 300 hectares of private land dedicated to eco-friendly activities gear to educate and train local native people to care for the environment and preserve the safety of our water resources.
Education Programs: As part of the commitment to help our staff broaden their opportunities and continue their education, our Maya Foundation Programs pay our staff enrollment in various training workshops and d programs such as Local Archaeologist Tour Guide and Local Bird-watching Certification among other education opportunities offered in Piste, Xcalacoop and Valladolid. Additional education opportunities, such as English classes, computer and job related workshops, are available to our staff in our in-house training programs.

HELP US HELP: Free easy ways to support local communities and our NGO social work, read list of items you can bring to support the Maya communities: http://www.packforapurpose.org/docs/countries/mexico/hacienda-chichen-resort.shtml

If you wish to learn more about these education programs and help fund any of these social projects, please contact our Maya Foundation Board of Trustees via email info@yucatanadventure.com.mx



For truly romantic honeymoon packages and green vacation offers to Chichen Itza, including: day tours to Mayan archaeological sites, cenotes, birding, etc. visit our sponsor's website: www.chichenservices.com www.travelyucatantoday.com
Back to Top

Article exclusively written for Yucatan Adventure © Published November 2007
Updated April, September 2008 July, September, November 2009.
Updated January, April, October 2010, Aug. 2012, March 2013 / January 2014