Nothing compares to the amazing, romantic ambiance a Colonial Mexican Hacienda brings to a destination wedding event. Couples wishing to have an unforgettable wedding may choose to turn their Wedding Day into a mini-vacation, that costs a fraction of a U.S. wedding with the added token of an exotic and magical place. Chichen-Itza, with its impressive Maya cultural legacy and Colonial heritage, is your best wedding destination in Yucatan. Not only does it offer a timeless beauty and magic, but many great cultural and eco-friendly activities to spend a great mini-vacation with your friends and family prior to your wedding ceremony gala.

The property of Hacienda Chichen is truly an unique, magical hideaway embraced by lush, tropical gardens amidst the ancient Maya temples of Chichen-Itza, Yucatan, Mexico. This Colonial Hacienda and boutique hotel is our most recommended wedding destination. It offers couples an exclusive ambiance at a really reasonable price, utmost privacy, hospitality, and refinement; it is the perfect intimate place to fulfill a couple's special day's dreams and celebrate a memorable wedding in style!

Destination weddings should be planned with the help of professional, respected consultants, Chichen Services and Travel Yucatan Today offer exclusive, intimate wedding packages to couples in a variety of personalized plans. A destination wedding starts with a three days, two nights program to create the intimate, friendly atmosphere among guests and family members; the best wedding packages include all major wedding services.


Today, most couples choosing a destination wedding prefer to have a variety of wedding packages that cater to their personal choices and dreams, a good wedding designer or consultant should be ready to cater the couple's wishes without major additional costs for small extra services. Before confirming a destination or any wedding service, it is advisable to request a private meeting or phone call with the wedding designer and ask as many questions as needed for the couple to feel totally comfortable with what is offered and the costs.

Wedding parties may turn out to be a bigger expense than originally budget, if the couple does not clearly define what additional services will be hired; it is advisable to consider into their wedding catering services an additional budget for independent professionals services such as a fine arts photographer, florist, make-up and stylist artist, music band, etc.
We invite our bride-to-be and readers to check the various possibilities a destination wedding in Chichen Itza has to offer, prior to confirming a wedding program in their own town. Chichen-Itza is full of wonderful experiences awaiting those that love nature (flora and fauna). This is the perfect place to become newlyweds; a wedding gala and weekend in Chichen-Itza allows couples to explore the rich cultural legacy of the Maya legacy together, enjoy the nature, indulge in Maya Spa couple rituals a fantastic way to start any newlywed's first getaway adventure and memories!

Be sure to contact Chichen Services Wedding Planners
for their Wedding Gala Packages' information kit.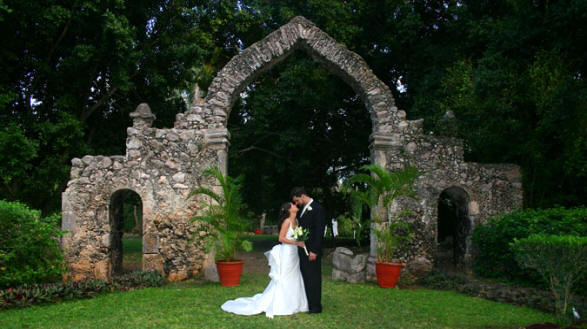 Mayan Wedding Ceremonies:
K'AAM NIKTE' and K'AAM XIIB.
Having a mystical romantic Maya wedding is another choice couples have offered by Hacienda Chichen in Chichen Itza, Yucatan, Mexico. The Mayan weddings called K'aam Nikte' ceremonies are highly spiritual, filled with beauty and respect to life. Those couples wishing to have a spiritual Mayan Wedding Ceremony, may do so at the Sacred Maya Ceremonial Site, within the Maya Nature Reserve of Hacienda Chichen, the site was blessed by the Maya J'Men Wiseman who continue to celebrate their ancient rituals and mystical ceremonies with utmost respect and reverence to love, their Gods and Mother Nature. The Mayan Wedding K'aam Nikte' is filled with ancient symbolism to unite the couple spiritually with the Cosmos and Mother Nature's life giving energies.


The sacred energies of love and life are placed upon the couples' love vows to protect their marriage from the negative forces that daily living bring into a home, the couple undergoes a purification ritual, then they are welcomed by the Wise Elder Priests inside the sacred ceremonial altar, where the J'Men welcome the love energy of their Maya Gods: Noj Yuum k'uj (greater God), Yuum K'aax and all yuumtsilo'ob (godly earth elements), The Aluxes, Yuum Chaak (rain, godly water element) and Junab K'uj, (deities in charge of nature and the elemental energies of life) are then invited to embrace the couples hearts and bring protection to their spirit so that love grows within them as one; then the couple greets each other with a Maya holistic greeting: In Laakeech (also spell In Lakech).
The Maya Wedding Ceremonies celebrated at Hacienda Chichen's Sacred Cermonial Site, are truly beautiful, romantic and magical; each ceremony is a highly spiritual love binding ritual recognized by the Mayan Senior J'Men Wiseman and the Maya People as an official true marriage. Remember each nation has its own legal marriage requirements, in Mexico couples are required to have a Mexican Civil Marriage Certificate register under the national justice system and religious marriage ceremonies or spiritual wedding vows are not recognized as legally binding. Mayan Weddings in Chichen Itza, Yucatan, Mexico are under the spiritual authority of the Mayan Senior Wiseman (Mayan shaman). For couples to understand the legal marriage requirements in, Yucatan, Mexico, Chichen Service has help us create a detailed list for marriages within Yucatan State, (bellow); do request an updated list from your local Mexican Consulate or Embassy. Other countries accept religious marriage ceremonies such as the Mayan Wedding Ceremony as a legitimate marriage status and will not require a civil court marriage certificate, so check your own nation's marriage laws and legal requirements.


Mexico's Legal Nuptial Requirements:


Couples wishing to have a civil nuptial certificate, that is binding under Mexican law, should first have the advice and legal guidance of a good Mexican lawyer to explain the various choices offered by law to them. Below is a list of the basic documents to be presented at the City Hall's Civil Court, such documents require reviewing by the local judge a few days prior to the civil wedding ceremony.

* Original FM3 immigration forms with copies.

o

* Original

Birth Certificates and Spanish translated notarized copies of each.
* Both

Passports and notarized copies, plus two clear facial passport photos




* Parents

' legal Passport, Birth Certificate, or

Death Certificate; plus, copies.


*

Two

legal identifications with photo; passport & driver's licenses are acceptable.


* Four wedding witnesses, two from your own country

and two Mexican citizens.
* Prenuptial

Medical Certificates issued in the Mexican State you wish to marry.




* Prenuptial

Interview with Civil Judge ( arranged at the Hacienda Chichen).

Prior to the wedding ceremony, the judge requires all legal documents to be presented before him or her in order to discuss your legal marriage contract choices. Mexican Law allows two types of financial nuptial certificates: Commonwealth Finances known as "Bienes Communes" and Individual Separate Finances known as "Bienes Separados." Both marriage certificates have different binding laws you need to discuss with Judge; their legal terms will prevail in case of financial issues such as inheriting, wills, credit, bankruptcy, divorce, etc.


Religious Ceremonies require a Civil Wedding Certificate. In Mexico, such ceremonies are optional and do not representa legal binding marriage status for a couple, however social traditions place a higher value to a Spiritual Wedding Ceremony than any other moment in a couples life.

Nuptial Requirement list is a courtesy of
Travel Yucatan Today Wedding Planner Advisor.
Photographs for this article are courtesy of
Moreno Lopez, Weddings, Destination Photographer